Watch: Hall of Fame WR Tim Brown Drills Hole-in-One at Famed TPC Sawgrass 17th
Former NFL wide receiver Tim Brown has a list of athletic accomplishments that would probably make anyone blush. Last weekend, he added another remarkable feat to that list.
On Saturday, Brown played in the Tim Tebow Celebrity Golf Classic at the famous TPC Sawgrass, which is south of Jacksonville, Florida, and home of The Players Championship. It's known as one of the most difficult golf courses in the world.
Brown lined up to fire his shot on the 17th hole, which is known as the "Island Green." The par-3, 100-yard hole consists of mostly water, and it can be a difficult task for even the niftiest golfers in the world. Brown had several people looking on as he shot. The ball flew over the water, and then landed. In. The. Hole.
Brown could not believe the shot himself, as he could be seen running around giving high fives and hugs. Here's the video captured by First Coast News on Saturday.
The 17th hole at TPC Sawgrass has become one of the most-recognizable plays in the entire world. In the history of the Players Championship on the Stadium Course, which has been played since 1982, there have only been nine aces, most recently Ryan Moore's hole-in-one in 2019 during the tournament's first round. It's never been done twice in the same tournament.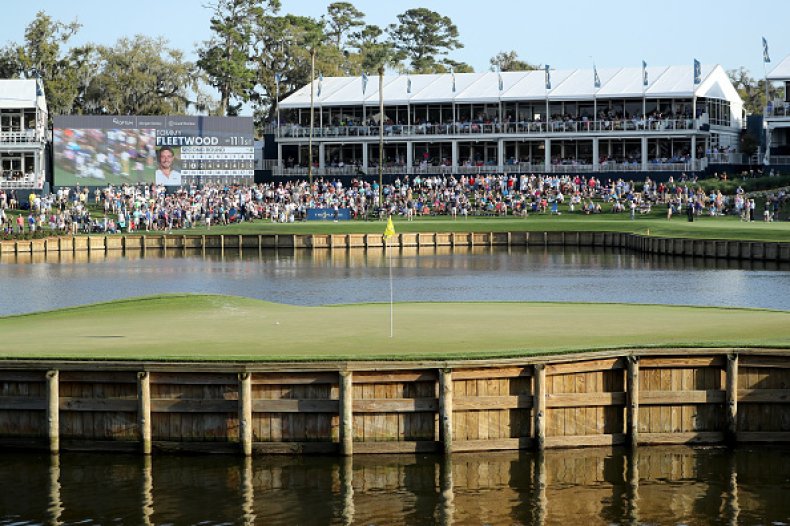 Brown went to Woodrow Wilson High School in Dallas, where he was a standout athlete before attending Notre Dame. He won the 1987 Heisman Trophy, which made Wilson High the only high school to ever have two eventual Heisman winners (Davey O'Brien, TCU, QB, 1938).
Brown was picked by the Los Angeles Raiders as the sixth-overall pick in the 1988 NFL Draft. After five trying seasons, he went on to rack up nine-consecutive seasons with 1,000 yards or more receiving. He was a nine-time Pro Bowl selection as a returner and four-time selection as a receiver.
In 1994, he led the NFL in punt returns and, in 1997, led the league in receptions. In 2004, while with the Tampa Bay Buccaneers, he caught his 100th touchdown in the NFL during a game at the Raiders. He signed a one-day contract in 2005 with the Raiders before announcing his retirement.
Brown was chosen as a finalist for the Pro Football Hall of Fame in 2012 and 2013, but was not selected either year. In 2015, he finally got the call for his enshrinement into Canton. When he retired, his 100 touchdown receptions was third all-time in the NFL. His 104 total touchdowns with the Raiders organization remains a record.