How To Watch 'Harry's House' Live Online
Three years after Harry Styles released his second studio album, Fine Line, the highly anticipated follow-up, Harry's House is finally here.
Ahead of the album's release on Friday, May 20, Styles treated fans to some of the new songs from the album at Coachella and released the single "As It Was," which has topped charts across the world including the U.K, U.S., Singapore, New Zealand, the Netherlands, Ireland, Canada, France, Germany, Australia and more.
Styles also announced two intimate live performances of his new album. One is being held at the UBS Arena Belmont Park, New York, on Friday, May 20 and the other at the O2 Academy Brixton in London on Tuesday, May 24.
As expected, both shows sold out within minutes but Harry Styles fans should not worry as you can watch both shows online.
Newsweek has everything you need to know about the Livestream of Harry's House below.
How To Watch 'Harry's House' Live Online
On Friday, May 20, Harry Styles will perform his entire 13-track new album, Harry's House, live at the UBS Arena at Belmont Park, in Elmont, Long Island.
If you were not lucky enough to grab a ticket, the entire concert will be available to stream exclusively via Apple Music.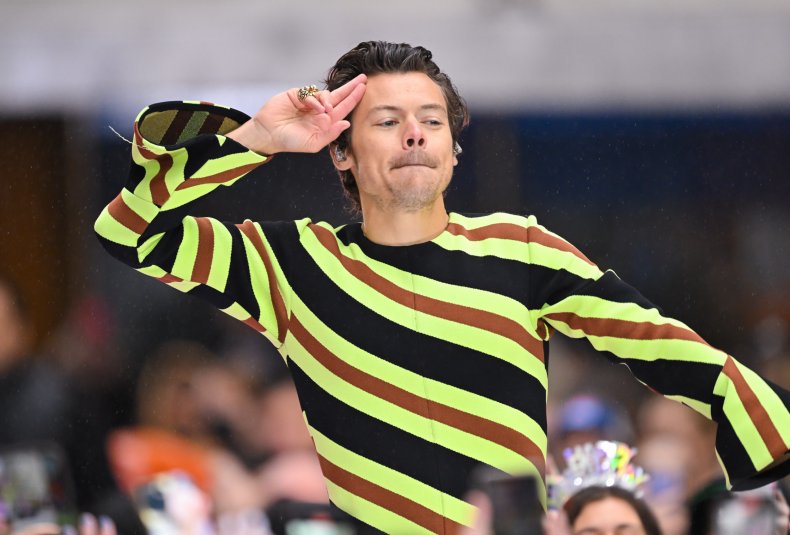 The livestream will begin at 9 p.m. ET/6 p.m. PST. Do not worry if you miss it, a repeat will be shown on Tuesday, May 22 at 12 p.m. ET/9 a.m. PST on Apple Music.
Fans in the U.K., Australia, and Singapore will be able to livestream the concert on Thursday, May 26. Newsweek has the times below so you don't miss a thing:
U.K.: 4 p.m. BST
Australia: 7 p.m. AEST
Singapore 5 p.m. SGT
Harry recently sat with Apple Music's Zane Lowe for an extensive conversation about the making of Harry's House, which is available to watch via Harry Styles YouTube Channel now.
You can sign up for Apple Music now for $9.99 per month. For a family subscription, it costs $14.99 per month and for students, it is just $4.99.
If you are in the U.K., Apple Music begins at £9.99 after a month of a free trial.
In Australia, an Apple Music subscription costs AU$11.99 per month and in Singapore, it costs SG$9.98 per month.
Styles will perform all of the tracks from his new album, including the hits "As It Was" and "Cinema" which have everybody talking with raunchy lyrics.
Here is the full track list below:
1. Music For a Sushi Restaurant
2. Late Night Talking
3. Grapejuice
4. As It Was
5. Daylight
6. Little Freak
7. Matilda
8. Cinema
9. Daydreaming
10. Keep Driving
11. Satellite
12. Boyfriends
13. Love Of My Life
Speaking to Better Homes & Gardens about his latest album, Styles shared it was the "most intimate" by far.
He said: "It sounds like the biggest and the most fun, but it's by far the most intimate."
Styles also spoke about the concept of "home" being at the center of his new music.
He shared: "I realized that that home feeling isn't something that you get from a house; it's more of an internal thing. You realize that when you stop for a minute."
The Harry's House performance will stream on Apple Music from 9 p.m. ET on Friday, May 20.