Watch: Hero Florida Officer Saves Unresponsive Baby's Life
A Florida police department has released dramatic dashcam footage showing the moment one of its officers helped save the life of a 3-month-old boy.
On May 9, Marion County Sheriff's Office deputy Jeremie Nix was on his way home after finishing a shift when he was flagged down by a motorist in Ocala.
After pulling over to the side of the road, a clearly distraught woman got out of the vehicle holding her unresponsive baby, urging the officer to help.
In the footage, Nix can be seen taking the boy, Kingston, and placing him on the ground to perform several life-saving measures.
After not seeing any improvement in his condition, Deputy Nix decided he was going to rush Kingston to the Ocala Regional Medical Center in his patrol car.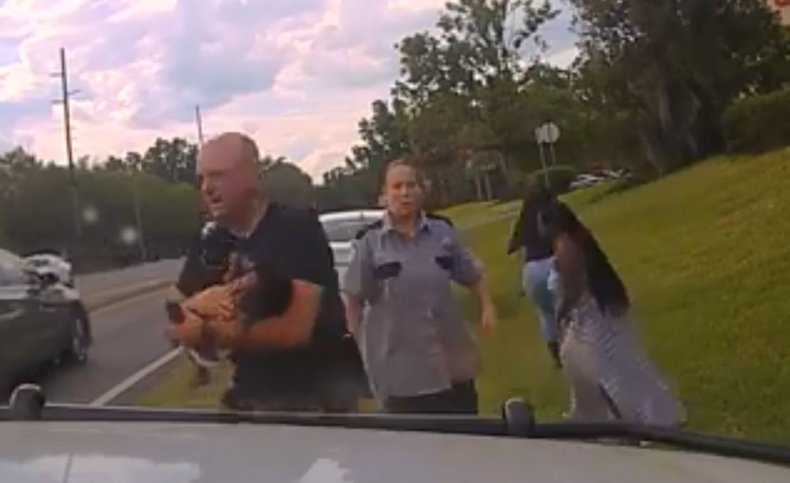 "I'm not waiting on medics. I'm half a mile from ORMC, I'm heading to the emergency room with the baby," Nix tells a dispatcher on his radio.
The footage shows Nix driving the short distance to the hospital to pass the baby on to medical personnel.
"Doctors said that because of K9 Deputy Nix's actions, baby Kingston is alive today," Marion County Sheriff's Office said in a statement.
"We are tremendously proud of Deputy Nix and we can already see that he and baby Kingston will have a deep connection that will last a lifetime."
Giving an update on the boy's condition after posting the video online, the force added: "We are so thrilled to tell you that baby Kingston just left the hospital with his Mom and he is happy and healthy. Thank you for all your prayers for baby Kingston and his family."
In March, police in Ohio released footage showing the moment their officers saved the life of a baby who was choking.
Shaker Heights Police officers Alex Oklander and Ryan Sidders were able to clear the airways of the 2-month-old girl after administering back pats and massages. They stopped to help her mother after she parked in the middle of the road.