Watch: Hillary Clinton Reads Key Passages From Mueller Report in Comedy Central Sketch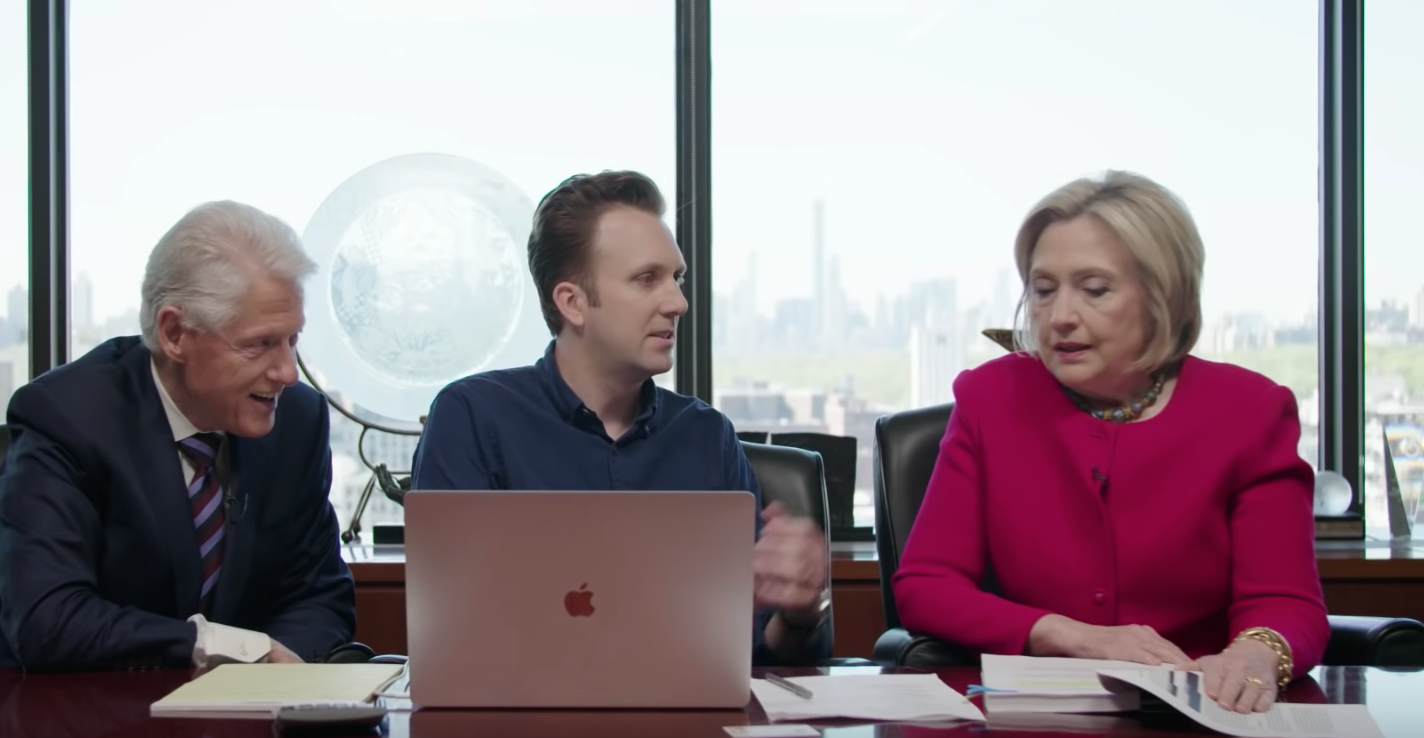 In a video published Saturday, former Democratic presidential nominee Hillary Clinton sat down with comedian Jordan Klepper to deliver a droll reading from Special Counsel Robert Mueller's report into election interference and allegations of obstruction of justice.
The stunt, intended to promote Klepper's new show on Comedy Central, revolved around the comedian enlisting the former secretary of state and her husband, former President Bill Clinton, to wade through GoFundMe listings in search of worthwhile causes. As part of the gag, the trio stumbles upon a page crowdsourcing $200,000 for Clinton to read the nearly 400-page report, released earlier this month.
"Let me start it," Hillary Clinton says in the video. "I'd be happy to."
"The investigation established that the Russian government perceived it would benefit from a Trump presidency," Clinton began reading, leading Klepper to interject.
"Feel it, Secretary Clinton. Feel it, just imagine like you have a history with this," Klepper quips.
Clinton sighs and continues reading, eventually getting to the now-infamous and explicit line in which Trump reportedly first heard that a special counsel had been appointed.
"The President slumped back in his chair and said, 'Oh my God. This is terrible. This is the end of my Presidency. I'm f*cked.," Clinton reads in the censored clip, lowering her voice to impersonate President Donald Trump.
Elsewhere in the roughly five-minute sketch, the Clintons and Klepper find a GoFundMe that purported to pay for law classes for a student who hoped to impeach the president.
Clinton joked that the posting wasn't up to snuff. However, she said she'd happily contribute to a Kickstarter campaign to send Attorney General William Barr, who declined to pursue obstruction of justice charges against the president, "back to law school for continuing legal education."
Bill Clinton concurred: "Yeah, if someone wanted to fund his continuing legal education, I'd be for that."
The special counsel's investigation, released April 18, found no evidence that Trump or any of his aides coordinated with the Russian government's interference in the 2016 election. But it stopped short of exonerating the president, outlining 10 possible instances in which Trump may have attempted to stymy or otherwise interfere with the probe.
The report also documents the length to which Trump pushed former Attorney General Jeff Sessions and others to prosecute Clinton for improperly storing emails on a home server, despite investigators having closed the case in 2016.
Comical television skits aside, Hillary Clinton didn't find the ordeal to be a laughing matter. Shortly after the 448-page, redacted document was released to the public, Clinton released a fiery indictment of her own in an op-ed for The Washington Post.
"Our election was corrupted, our democracy assaulted, our sovereignty and security violated," she wrote. "This is the definitive conclusion of special counsel Robert S. Mueller III's report. It documents a serious crime against the American people."