Watch House Impeachment Managers' 13-Minute Video Recapping Capitol Riot That Opened Trump Trial
House managers opened former President Donald Trump's impeachment trial on Tuesday with a 13-minute video montage recapping the January 6 riot at the U.S. Capitol.
"What will the January exception mean to future generations if you grant it?" lead impeachment manager Jamie Raskin (D-Md.) said in his opening remarks, referring to the argument from Trump's defense team that he cannot be tried since he is no longer in office. "I'll show you."
The video began with footage from Trump's 70-minute speech at a "Save America" rally, where thousands of his supporters gathered to protest the congressional certification of President Joe Biden's Electoral College victory.
"We will stop the steal," Trump told the crowd. "Today, I will lay out just some of the evidence proving that we won this election and we won it by a landslide."
He continued, "And after this, we will walk down—and I'll be there with you—we're going to walk down, we're going to walk down to the Capitol."
The montage then featured footage of the riot, as the president's supporters clashed with federal police and breached the building. The clips include rioters shouting "fight for Trump" and "we are listening to Trump."
Below is the entire montage used by the House impeachment managers, provided by C-SPAN.
Editor's note: This video contains graphic language and violence.
The video pieced together a rough timeline of the events on January 6, including when Vice President Mike Pence and House Speaker Nancy Pelosi were ushered off the floor during the joint session of Congress, and when Capitol Police Officer Eugene Goodman diverted rioters away from where lawmakers were gathered.
The montage also tracked some of Trump's conduct while the insurrection took place, including his tweet criticizing Pence for refusing to attempt to overturn the election while his supporters breached the Capitol.
The video ended with another Trump tweet, which read: "These are the things and events that happen when a sacred landslide election victory is so unceremoniously & viciously stripped away from great patriots who have been badly & unfairly treated for so long. Go home with love & in peace. Remember this day forever!"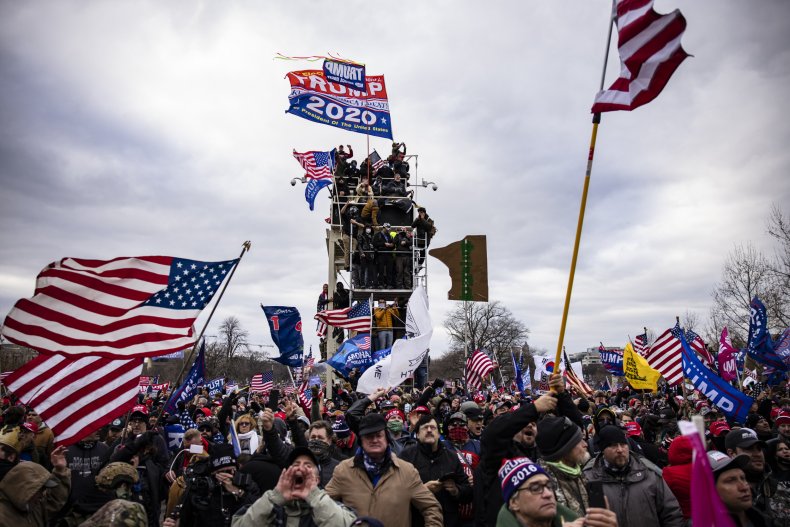 Trump was impeached and charged with "incitement of insurrection" exactly one week after the Capitol riot. Ten Republicans joined Democrats in the House of Representatives in the vote, making Trump the first president in U.S. history to be impeached twice.
After playing the 13-minute video, Raskin addressed the 100 senators gathered for the trial.
"You ask what a high crime and misdemeanor is under our Constitution. That's a high crime and misdemeanor," Raskin said. "If that's not an impeachable offense, then there is no such thing."