Damsels in distress had white knights and for large animals like horses and cattle trapped in Florence's floodwaters, their hero comes in the form of the "Hurricane Cowboys."
Pat Mckann, the original "Hurricane Cowboy," earned his nickname during Hurricane Harvey when he successfully led—and at times rode—horses and livestock out of the rising Texas water to safety. A year later, he once again packed up his trailer with supplies and took off in his truck from his home in Virginia bound for the areas that needed him most.
"Everyone messes with the dogs and the cats. There's nothing wrong with a dog or a cat. My dog is my pride and joy," Mckann told Newsweek. "But, you have to be a special person to handle a 1,200-pound horse or a 2,500-pound bull. You have to be a certain kind of crazy to do what we're doing."
After arriving in North Carolina, he and his companion, Travis Holstein, met Sean Irion and Malachai Huffman, two men who had an airboat and were also looking to help. Irion, a military veteran, shared Mckann's mentality that in a crisis, you can't waste time in meetings, you just have to get to work.
The four men decided to head further south to Conway, South Carolina, which had been ravaged by Florence's flooding but wasn't getting the same level of media attention as North Carolina.
"We're like a football team. We get together and say, 'OK. This is what we're going to do,'" Mckann told Newsweek. "That helps a lot. You can't overanalyze it. We're in a disaster. You're not going to have a perfect plan."
Targeting low income, rural areas, many of the animals they rescue have unidentified owners and are handed over to animal control. However, after seeing his picture in their local newspaper, an older couple from Conway reached out on Facebook to ask for help. They had friends living on higher ground but didn't want to leave their horses behind.
On Tuesday, after about a three mile walk through the floodwaters, Mckann, Holstein, Huffman and Irion reached the stranded animals. The horses' rattled nerves from the storm and unknown debris in the water aside, there was another hurdle facing the rescue—one of the horses had only been ridden four or five times and hadn't been broken.
With decades of experience training and riding horses on his résumé, Mckann was able to not only mount and ride the horse through the water but did it while leading a second horse as well, known as ponying.
"A horse is like a pack animal and they're always looking for a leader. If you have a lot of confidence in you and you slide your leg across like he's any old broken horse you've seen, you instill that confidence into the horse," Mckann explained. "It actually relaxes them and they look to you to help them get through the crisis they're in."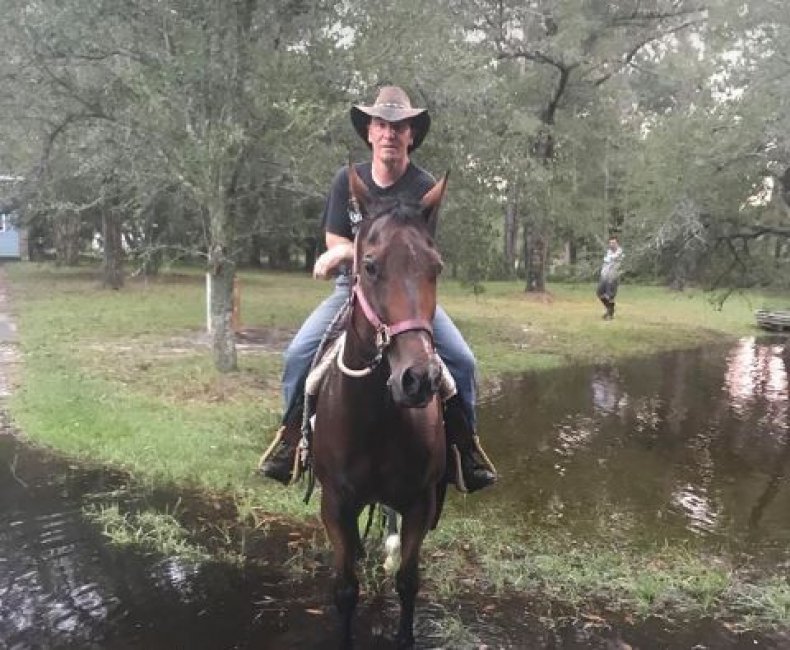 At one point during the miles-long journey through the murky water filled with snakes and bacteria, his horse decided to test Mckann's ability to lead. However, her "shenanigans," as Mckann put it, landed her in a ditch on the side of the road, pulling Mckann and the second horse he was leading underwater with her.
Soaked, but otherwise unharmed, the trio emerged out of the water and once again found the road's center. The trek through water practically as high as the horses' necks took five hours and once on dry land, they were turned over to their grateful owners.
South Carolina has less cattle than Texas, but the dangers posed by Florence's floodwaters are relatively the same as Harvey's.
"You know there's debris under the water. You just hope you're not walking into a car," he said. "It's pretty much just like last year. It's a disaster area. There's no scenario that you can throw out of your head."
Since arriving in the Carolinas, Mckann has received a good number of requests for rescues and as someone who grew up "dirt poor," he plans to stay as long as it's necessary to help whoever needs it. After days of sleeping in his truck or a cheap motel to take a much-needed shower, Mckann floated the possibility that if floodwaters recede and livestock isn't running wild through the streets, they could wrap up this first journey on Sunday.
What began in 2017 with Hurricane Harvey as one man with a truck, a trailer and more importantly, a willingness to help people in need, has led to the gathering of others with the same mindset.
"I thought it was just me and the truck. This year everybody's pitching in," he said. "I dare say, we're gonna become bigger. It's sort of growing on its own without anybody asking it to."
Hurricane Florence hit the Carolinas on September 14 around 6 a.m. EDT as a Category 1 storm. Despite its low category, Florence brought torrential downpours to North and South Carolina, causing deadly flooding and even cutting towns off from the rest of the state.
In South Carolina, the Waccamaw River in Conway reached record flooding and could stay above the flood stage into the middle of October, according to AccuWeather.