Watch: Hurricane Zeta Produces 50-Foot Waves, 150 MPH Winds on Oil Platform
Hurricane Zeta slammed southeast Louisiana early Wednesday evening as a high-level category 2 storm. What does high-level mean? Zeta made landfall with 110 mph winds, and it would have been a Category 3 storm with winds of 115 mph.
Oil platforms and buoys in the Gulf of Mexico register wind speeds, and waves, and send the data back to managers and meteorologists. One platform south of Louisiana in the Gulf of Mexico showed wind speeds near the eyewall of Zeta at 150 mph, and waves greater than 50-feet tall. To put that in context, a Category 5 hurricane would start with wind speeds of 156 mph or greater.
Here's a tweet from Fox10 News meteorologist Jennifer Lambers that shows the platform's video of Zeta—several hours before making its landfall.
The National Hurricane Center announced Wednesday at 3 p.m. CT that Zeta's eyewall had finally reached land after traveling over the warm waters of the Gulf of Mexico and then then the marshy areas of southeast Louisiana.
The southeastern part of the state is low-lying, and the storm surge, combined with rain, is expected to bring heavy floods to the area. New Orleans actually lies below sea level, and it's always prone for flooding during heavy rains and hurricanes. The eyewall of the storm reached New Orleans by 5:45 p.m. CT, and waves from Lake Pontchartrain crashed over the seawall that protects the city.
By 5:30 p.m. CT on Wednesday, there were reports that at least 150,000 Entergy customers were without power in South Louisiana. Boats were also seen floating along major roadways.
The storm is expected to quickly race across the southeastern-most part of Louisiana and into southern Mississippi towns like Gulfport, Biloxi, Bay St. Louis, pass Christian and other cities obliterated by Hurricane Katrina in August 2005.
Katrina also brought massive floods to New Orleans after the levees breached.
The NHC said hurricane conditions will be expected from New Orleans, all the way east to Dauphin Island, Alabama—which is just west of Mobile Bay. NHC said areas should expect "strong, damaging winds" that could cause tree damage and power outages in areas of Zeta's path.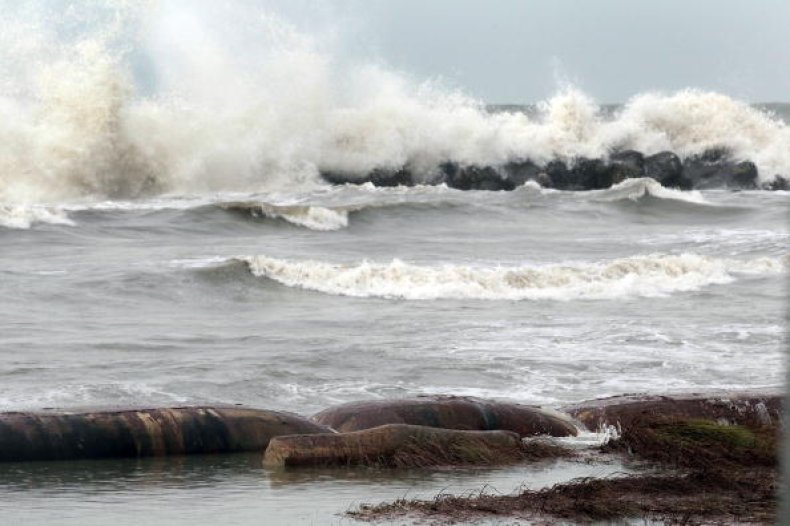 Zeta is the 11th named storm to hit the United States this season, and it's the fifth named storm to make landfall in Louisiana this hurricane season, which doesn't officially end until November 30.
The named storms to hit Louisiana this hurricane season are:
Tropical Storm Cristobal — June 7
Made landfall in southeast Louisiana and then traveled to the northeast part of the state
Hurricane Laura — Aug. 27
Slammed cameron and Lake Charles as a devastating Cat 4 storm
Tropical Storm Marco — Aug. 25
Downgraded to a tropical storm before making landfall in southeast Louisiana
Hurricane Delta — Oct. 9
Hit Jennings as a Cat 2 storm
Hurricane Zeta — Oct. 28
Hit Port Fourchon as a Cat 2 storm, then headed to New Orleans
Zeta became the 27th named storm in the Atlantic Basin this year, which is a record for the earliest there has ever been a 27th named storm. Though the hurricane season begins June 1 every year, the Atlantic was active early, as there were three named storms in May.