Watch Impeachment Hearings Day 5: Live Stream, Schedule, What To Know As Fiona Hill and David Holmes Testify
Next up to testify in the House Democrats' impeachment inquiry against President Donald Trump are former National Security Council official Fiona Hill and State Department official David Holmes.
They will appear before the House Intelligence Committee on Thursday and testify side by side starting at 9 a.m. Eastern time. Their appearance will mark the fifth day of public impeachment hearings.
Their testimony will be broadcast on C-SPAN and will likely be carried by most major cable news outlets. Viewers can also follow along with the events via the live stream below, courtesy of PBS NewsHour.
Hill was the National Security Council's senior director for Europe and Russia and the top Russia adviser to the White House. In her closed-door testimony last month, she outlined some of the key players in the Trump administration's pressure campaign on Ukraine to open an investigation into former Vice President Joe Biden and his son Hunter, as well as a probe of the 2016 election.
Hill also recalled a meeting about the Trump administration's Ukraine agenda that ended with then-national security adviser John Bolton storming out of the room. She told lawmakers that Bolton later told her he was not going to be a part of "whatever drug deal" was being cooked up.
Holmes is a diplomat working at the U.S. Embassy in Ukraine. He is an aide to William Taylor, the top U.S. diplomat in Ukraine, who has also testified in the House impeachment inquiry.
Holmes told House investigators in a closed-door deposition last month that he overheard Trump discuss "investigations" with Gordon Sondland, the ambassador to the European Union, in a phone call on July 26—the day after the president spoke with Ukrainian President Volodymyr Zelenskiy. During their conversation, Sondland reportedly told Trump that the Ukrainian leader "loves your ass" and would do "anything you ask him to" when asked about the probes Trump was seeking against the Bidens.
"I've never seen anything like this," Holmes told lawmakers in his previous deposition. "Someone calling the president from a mobile phone at a restaurant, and then having a conversation of this level of candor, colorful language. There's just so much about the call that was so remarkable that I remember it vividly."
The impeachment inquiry against Trump was launched in late September but entered a new phase this month after House Democrats passed a resolution to begin holding public hearings. The committee has already heard from 10 current or former White House officials.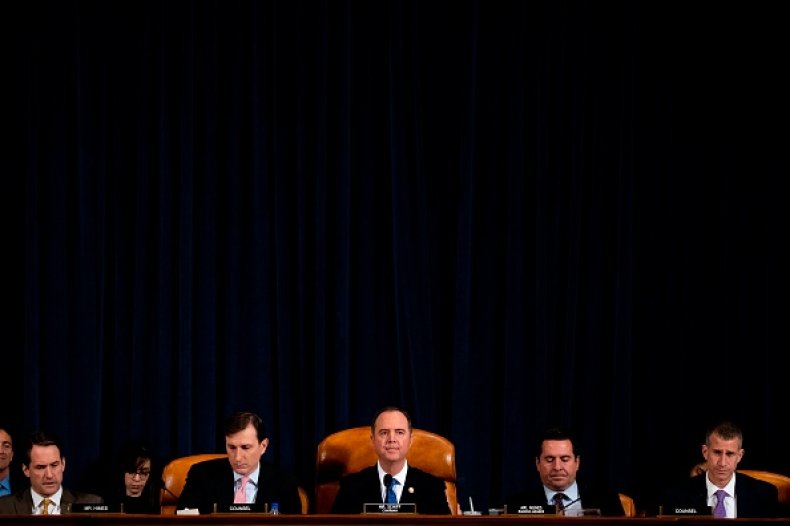 Earlier this week, Trump signaled that he may be open to testifying either publicly or in writing as part of the inquiry. He made a similar suggestion at the start of former special counsel Robert Mueller's probe into Russian interference in the 2016 election. In the end, he refused to sit for an interview and provided Mueller's team with only written answers.
"Even though I did nothing wrong, and don't like giving credibility to this No Due Process Hoax, I like the idea & will, in order to get Congress focused again, strongly consider it!" Trump tweeted, referring to his possible testimony.
Republicans have attacked the impeachment inquiry as a political coup to remove a duly elected president from office. Representative Devin Nunes, the top Republican on the House Intelligence Committee, accused Democrats of relying on impeachment to oust Trump because they fear he will win re-election in 2020.
Representative Adam Schiff, the Democratic chairman of the House panel, used his closing statement on Tuesday to lash out at his conservative colleagues. Schiff asserted that the GOP is upset that "somebody blew the whistle" and not that Trump abused his presidential powers.
"That's their objection, not that the president engaged in this conduct but that he got caught! Their defense is 'Well, he ended up releasing the aid.' Yes, after he got caught. That doesn't make this any less odious," Schiff said.