Watch: Incredible Moment Police Dog Performs CPR on Officer
Dogs are widely considered to be man's best friend—but they are potential lifesavers, too. Just look at Poncho, a police dog in Spain who has been taught to perform CPR.
The Municipal Police of Madrid showcased Poncho's skills in a video shared on Twitter.
In the footage, a police officer pretends to collapse. Poncho, who has a blue police light strapped to his back, runs over to the seemingly lifeless official. The dog then jumps repeatedly on his chest, and nestles his head into the officer's neck in an apparent attempt to check his pulse.
The Police of Madrid praised Poncho in the tweet's for not hesitating to "save the life" of the agent.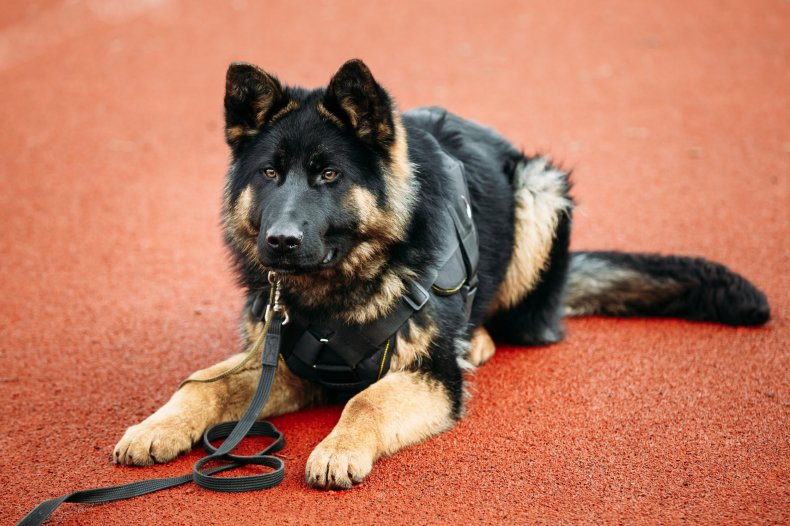 The organization also quoted the 19th-century American writer John Billings, who said: "A dog is the only thing on earth that loves you more than you love yourself."
CPR, which stands for cardiopulmonary resuscitation, is an important life-saving first aid technique which can be carried out when a person's heart stops beating.
Every year, 475,000 Americans die from cardiac arrest. More than 350,000 heart attacks happen outside of the hospital, hospital, and approximately 90 percent of those people will die.
But, if performed correctly, CPR can double or triple a person's chance of living. The latest data from 2014 suggest almost 45 percent of those who experience heart attacks outside of the hospital survived when a bystander performed CPR on them.
The technique works by keeping blood flowing in the body, and can give someone whose heart has stopped beating precious time while they await the arrival of trained medical staff.
Poncho isn't the first dog to learn this technique. In 2017, a German shepherd made headlines after he performed CPR on his owner, who had feigned collapse.
Performing an army-themed routine at the prestigious Crufts dog show in the U.K., Lusy Imbergerova trained her dog Deril to jump on her chest, earning rapturous applause from the audience.