WATCH: Jared Goff Uses 'Halle Berry' Audible, Actress Responds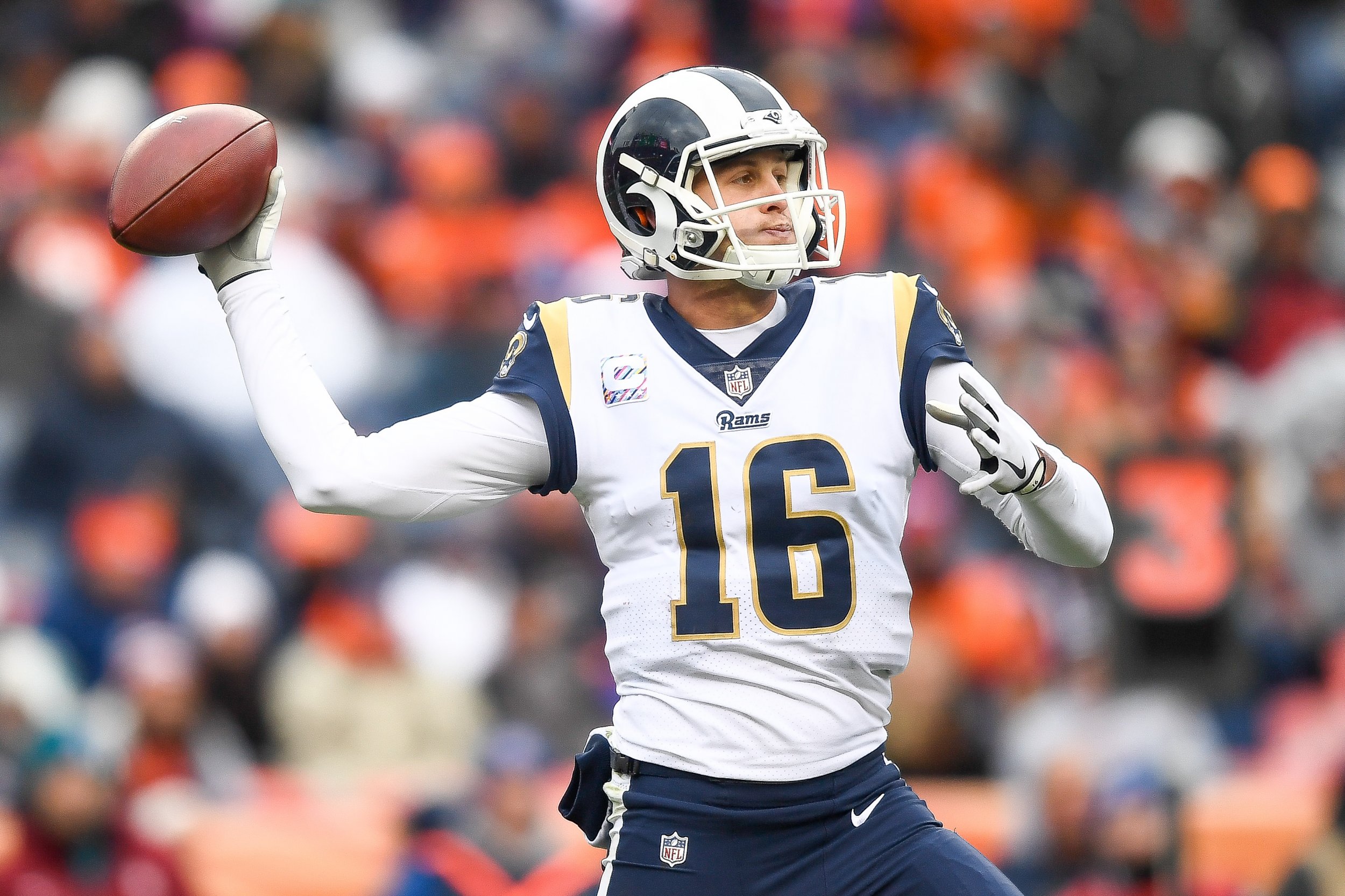 Los Angeles Rams quarterback Jared Goff used an interesting audible in Sunday's 36-31 home win against the Seattle Seahawks.
During the first quarter, Goff yelled out the "Halle Berry" playcall, which was heard clearly during CBS' broadcast of the game -- albeit under color commentator Tony Romo's praise of his development -- as shown in the video below:
Shortly after, the actress responded by asking the quarterback what exactly her name meant in relation to the playcall via Twitter.
"Hold up. @JaredGoff16 @RamsNFL - What is a "Halle Berry"??" Berry tweeted.
Reporters notified the quarterback after the game that Berry was aware of his cadence and Goff, understandably, seemed giddy about the situation.
"Wait, hold on, are you serious?" Goff said. "She heard it!"
Goff didn't tell reporters why the playcall was named after the Academy Award winner, fearing that it would give the play away.
However, head coach Sean McVay claimed he named the play after Berry because of her beauty and meant it as a compliment to the Monster's Ball actress.
Not to be outdone, Goff responded to Berry's tweet hours later, telling Berry that her cadence was his "favorite play ever."
Goff's backfield-mate, star running back Todd Gurley, called out the quarterback for his seemingly flirtatious response, claiming he was a "Thot."
On the field, Goff was just as smooth, throwing for 318 yards and two touchdowns on 28 of 39 passing during Sunday's win.
The former No. 1 overall pick noted that the Rams wanted to provide Los Angeles with a big home win after the city days after a mass shooting occurred less than five miles from the team's training complex and recent wildfires in the nearby hills, which forced a cancellation of practice and the evacuation of many players and coaches from their homes.
"It's just been a tough week for the whole city, the whole area up there," Goff said of the Rams' weekday hometown, one hour northwest of downtown Los Angeles. "Hoping today provided a little bit of joy and regularity for those people."
The Rams bounced back from last week's 45-35 loss at New Orleans, their first of the season, to sweep the division rival Seahawks for the first time since 2015. Los Angeles currently has a 9-1 record and leads Seattle by five games for first-place in the NFC West.
Perhaps that'll be enough for the franchise quarterback to get the attention of the A-list actress.