Watch: Jared Kushner Locked Outside Building as Reporters Ask Him About Anti-Trump Op-Ed
President Donald Trump's son-in-law Jared Kushner had an awkward moment Thursday when he was locked outside a building and ignored questions from reporters on an anonymous op-ed a senior administration official published in The New York Times for nearly two full minutes.
The one-sided exchange, recorded by CBS News senior reporter Katie Simpson, starts with Kushner and another man walking up to the Office of the United States Trade Representative in Washington, D.C., where North American Free Trade Agreement (NAFTA) negotiating talks continued.
As Kushner walked up a few steps to the wooden doors, reporters asked, "Will there be a deal tonight?" "Who wrote the op-ed?" "Are you concerned about it?"
Kushner tried the doorknob. It would not budge. He then pressed the buzzer on the side. The door did not open.
"Is there a deal tonight on NAFTA?" a reporter asked.
The senior White House adviser, who had his back turned to the media, glanced back at journalists for a few seconds.
The man accompanying Kushner, acting like a guard or aide, fidgeted with his hands as they waited for a response.
"Any words on the mood in the room?" a reporter asked. "As for the op-ed, how concerned are you?" another asked.
Kushner tried the buzzer again, then reached for his cell phone in his suit pocket and checked it. He put it to his ear, but did not appear to get on a call with anyone.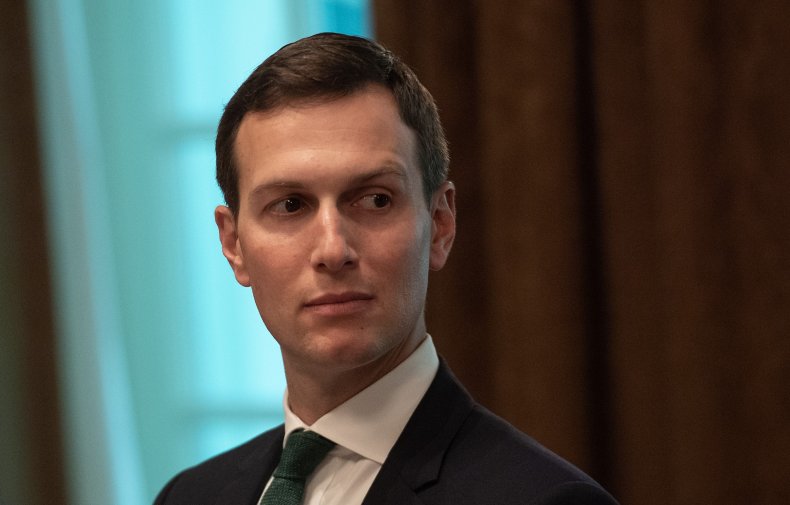 "Is Canada making any compromises?" a reporter asked.
Finally, the door opened and Kushner entered, without looking back.
Kushner has not commented on the op-ed published Wednesday, which stated, "I work for the president but like-minded colleagues and I have vowed to thwart parts of his agenda and his worst inclinations," and, "There is a quiet resistance within the administration of people choosing to put country first."
More than a dozen senior White House officials have denied having written the op-ed, including Vice President Mike Pence, Secretary of State Mike Pompeo, Director of National Intelligence Dan Coats, Homeland Security Secretary Kirstjen Nielsen, Secretary of Housing and Urban Development Ben Carson, Treasury Secretary Steven Mnuchin, Commerce Secretary Wilbur Ross, White House Counsel Don McGahn, Counselor to the President Kellyanne Conway, CIA Director Gina Haspel, Education Secretary Betsy DeVos, Defense Secretary James Mattis, Labor Secretary Alex Acosta, Director of the Office of Management and Budget Mick Mulvaney, Secretary of Health and Human Services Alex Azar and U.S. Ambassador to the United Nations Nikki Haley.