Watch: Jeff Bezos's Company Blue Origin Launches and Lands a Rocket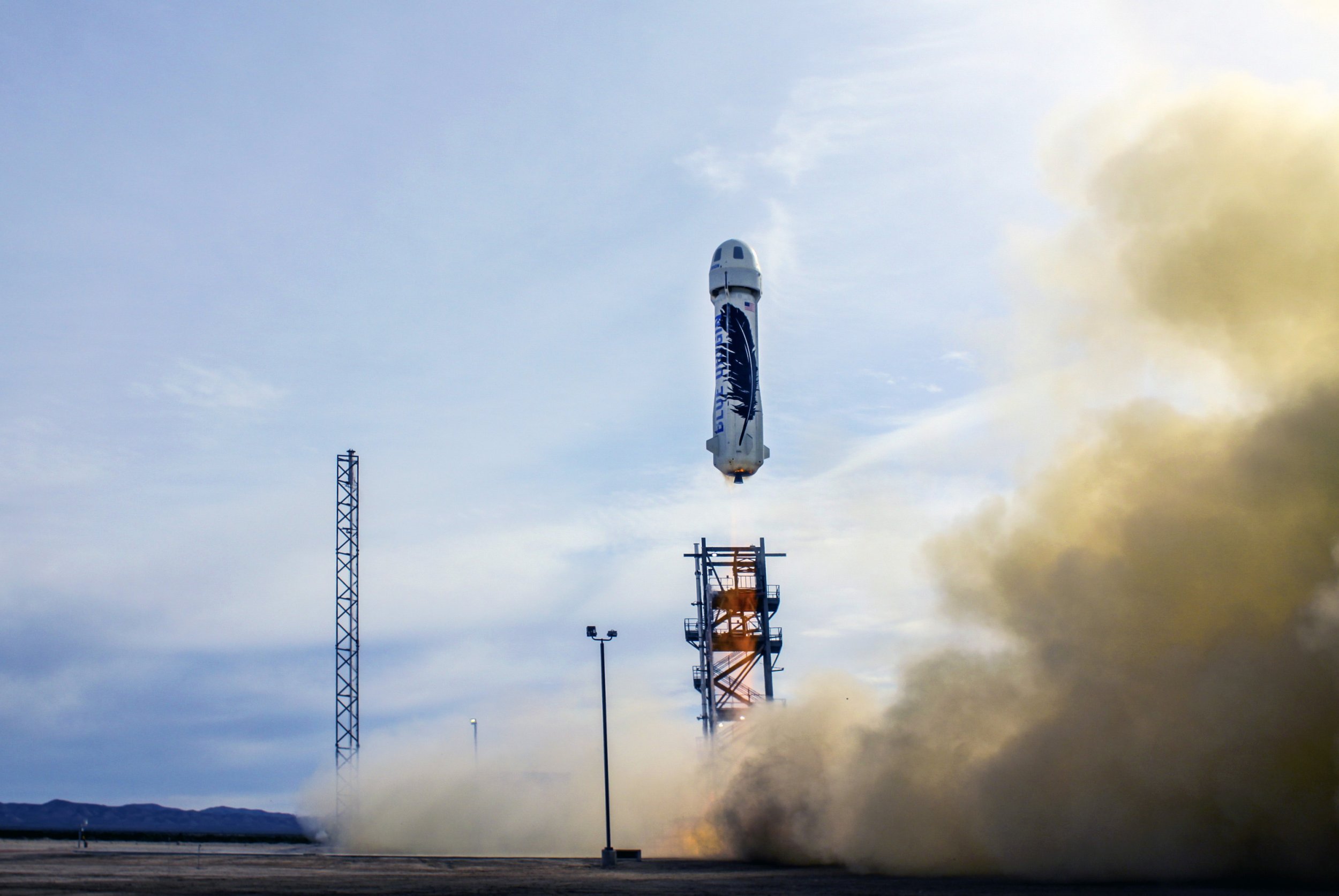 Blue Origin, the private space company founded by Amazon's Jeff Bezos, launched its New Shepard rocket again on Monday. The most important part of the test, however, was not the launch, but the gentle, controlled landing.
When the company attempted to land its rocket booster in April, a hydraulic problem interfered. But this time, both the crew capsule (not occupied at this point) and the rocket booster touched back down successfully, and can be reused for future flights.
"You've seen a lot of rockets lift off but you've never seen one land," Bezos told Good Morning America's Michael Strahan in an interview live from Texas after the landing. "Right behind me is the first fully reusable rocket, and we just flew it into space and brought it back and landed it at the launch site. This is a big game-changer because it totally changes the economics of space travel," he added, comparing expensive rockets that are used only once to flying a 747 across the country and then throwing it away.
The company didn't announce the launch test in advance, and it only issued a press release about the attempt the next day. It also posted a video Tuesday, complete with a dramatic soundtrack, audio feeds from ground control, footage from the ground and the rocket and renderings of what it will be like when one day, if all goes as planned, the crew capsule carries passengers.
"Welcome back New Shepard," says the narrator at the end of the video, as staff in blue T-shirts cheer and spray champagne. "Perfect landing. We made history today," the voice adds. "Now who wants to go to space?" The rocket, fittingly, is named after Alan Shepard, the first American in space.
Blue Origin—whose goal is "to seed an enduring human presence in space, to help us move beyond this blue planet that is the origin of all we know"—isn't the only private space company working to develop a reusable rocket. Elon Musk's SpaceX has been trying to launch and land part of its Falcon 9 rocket on a floating barge in the ocean.
Bezos, who said he's wanted to go to space since he was 5 years old, is quoted as saying in the Blue Origin release:
Blue Origin's reusable New Shepard space vehicle flew a flawless mission—soaring to 329,839 feet and then returning through 119-mph high-altitude crosswinds to make a gentle, controlled landing just four and a half feet from the center of the pad. Full reuse is a game changer, and we can't wait to fuel up and fly again.
Monday's launch and landing, Bezos said on Good Morning America, is part of a long and very deliberate test program that involves many flights. "When we're completely confident in it, we're going to start using it to take people to space." The proud Blue Origin founder also has just one tweet in his feed at the moment: