Watch Jenny McCarthy Learn That She and Banana Have History Before 'The Masked Singer' In This Exclusive Clip
A preview of Wednesday night's episode of The Masked Singer shows a new twist on the classic clues. This week, each remaining singer in Group B will give a judge a friendship bracelet that could reveal something important about their past.
In Newsweek's exclusive clip, Banana is shown giving their bracelet to judge Jenny McCarthy, who he apparently has a history with. Banana clarified he never dated McCarthy, but did spend some time with her as friends.
The bracelet reads "nineties love." While this could be a direct reference to when Banana got to know McCarthy, it could also signify when the celebrity's career took off. The full meaning is unknown.
The Masked Singer is a competition reality show that requires already-famous actors, singers, athletes and more to disguise their identity and prove their vocal abilities. Each week, one singer is sent home. Banana is one of four remaining contestants in Group B.
Banana explained a bit when McCarthy was given the bracelet. "I'm just gonna say we had a little chance to hang as friends," Banana said. "We had a great time and I love you. You're an awesome person."
The remaining Masked Singer contestants of Group B will take the stage for the final time as a group. Only three will remain by the end of the episode. Next week, Group C will be introduced.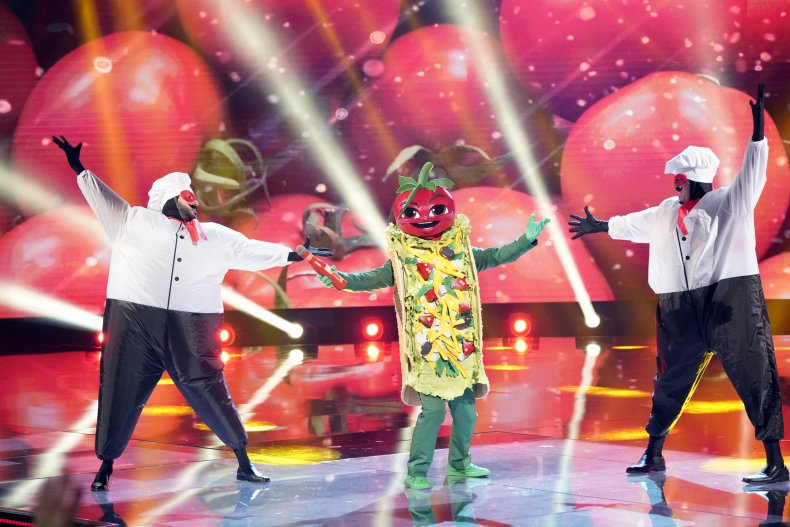 Before Wednesday's episode, the four remaining contestants are Kitty, Banana, Taco and Frog. Whichever three are safe will enter the "Super Nine" with Kangaroo, White Tiger and Turtle.
Another clip shared by The Wrap shows Kitty giving her bracelet to judge Robin Thicke. On it, the word "Fireworks" is seen. This clued Thicke into a new guess: that Kitty could be Katy Perry.
There are dozens of fan theories surrounding the identities of Banana, Kitty and the remaining contestants. One leading theory for Banana seems to be Bret Michaels. The Poison singer has been named by a handful of Twitter users. Other guesses include Jeff Foxworthy and Larry The Cable Guy.
Kitty doesn't have as many agreed-upon theories yet. Lots of Twitter users have mentioned Emma Watson as a possible celebrity, along with other guesses like Sarah Hyland, Kiera Knightly and Elizabeth Gilles.
In past seasons, internet theories have been right. They've guessed not only the winners' identities but most other contestants throughout Season 1 and 2.
The Masked Singer airs on FOX each Wednesday at 8 p.m. ET.