Watch: Jerusalem Attackers Smuggle Weapons Into Holy Site Before Deadly Ambush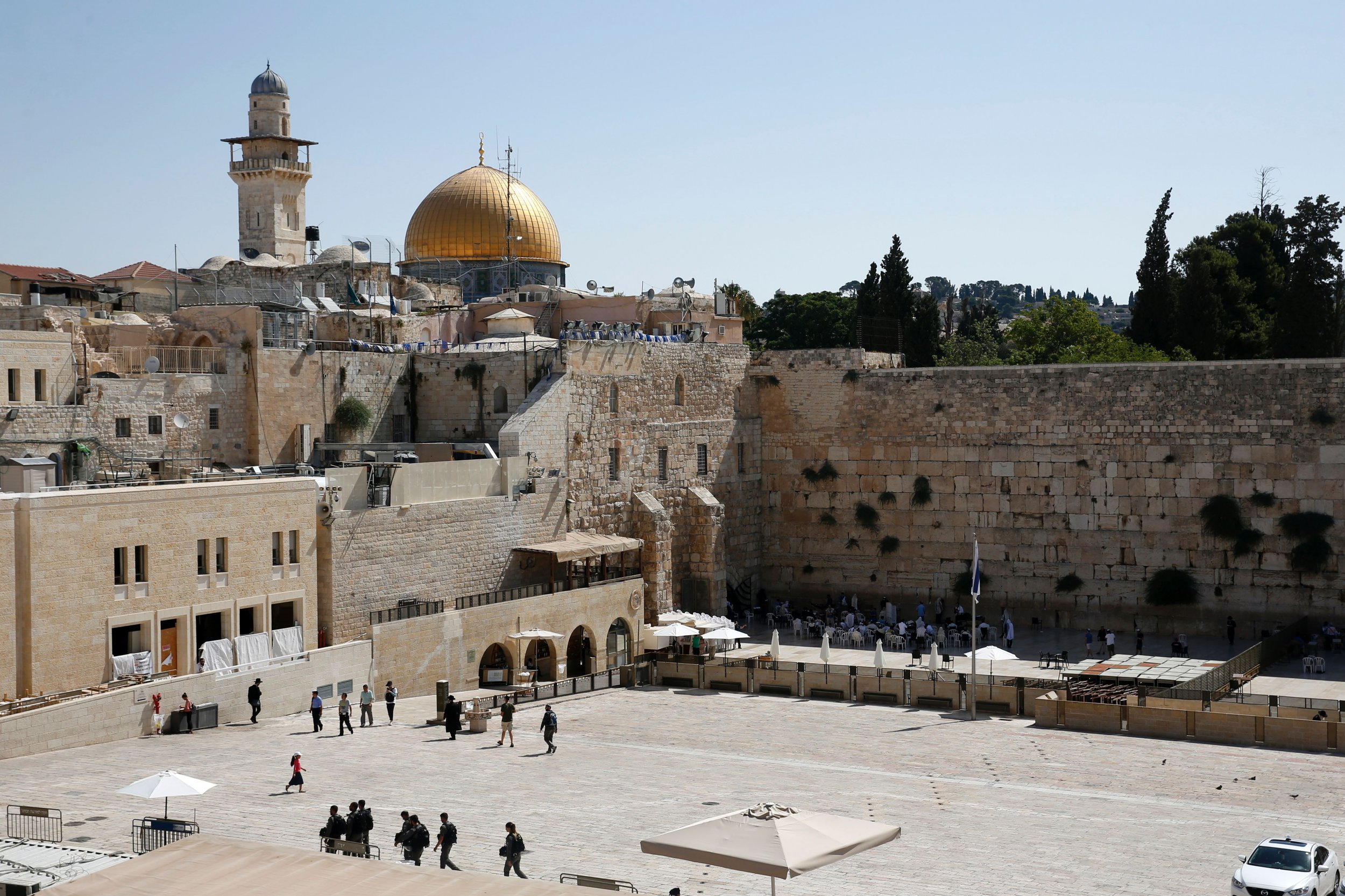 An Israeli court on Thursday released footage of three Arab attackers preparing their ambush, smuggling the weapons that would kill two policemen at a contested holy site in Jerusalem last week.
The footage, published by Israeli newspaper Haaretz, shows the three men, all from the northern Arab town of Umm al-Fahm, with a fourth conspirator smuggling weapons into the compound, known as the Haram al-Sharif, or Noble Sanctuary, to Muslims and the Temple Mount to Jews.
The three attackers arrive in Jerusalem's Old City by bus and proceed to walk into the compound, with the fourth accomplice walking further behind with a bag holding the automatic weapons.
They enter the Al-Aqsa Mosque, the venerated house of worship considered the third holiest in Islam, where the bag passes hands. The accomplice leaves the compound, and the three men change clothes, hiding the weapons on their person.
They then ran to the entrance of the compound, shooting one officer dead. Other officers shot two of the attackers dead. The third shot another police officer dead in a shootout, before other officers shot him dead.
Israel closed the site on Friday after the attack. Israeli authorities then reopened the compound to Muslims on Sunday and non-Muslims on Monday, but with extra security measures, such as metal detectors. The city's police said it was a necessary requirement for the site to open.
The new measures caused uproar among Muslims, who said Israel is interfering with the status quo at the site. Riots have broken out in recent days between Palestinians and Israeli security forces, with dozens of Palestinians injured in the clashes.
Jews cannot pray at Temple Mount and instead pray at the adjoining Western Wall. A Palestinian-Jordanian waqf, or Islamic trust, governs the site, despite Israel's control of the surrounding territory, because of the sensitivity of its status.
Israeli security officials have called for the metal detectors to be removed to prevent an escalation in the contested city, but Israeli Prime Minister Benjamin Netanyahu said they will stay, in remarks made following their implementation on Sunday.
"I understand there is friction around the matter of the metal detectors. But we also understand that we can find ourselves in another terror attack like this, and these means are necessary, including the security cameras that we intend to place around the area," he said.