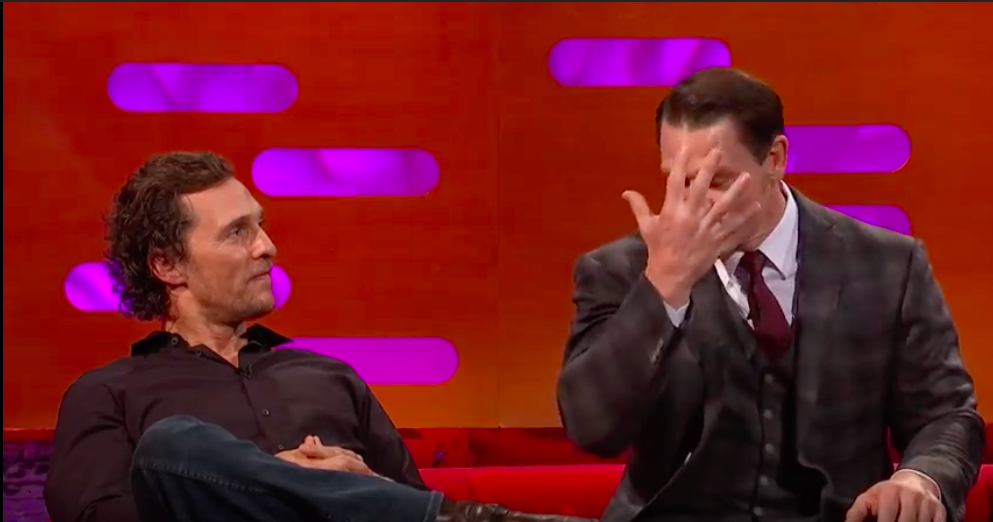 WWE superstar and film actor John Cena revealed the inspiration behind his signature "you can't see me" taunt during an appearance on The Graham Norton Show Tuesday.
Cena, who was promoting his new movie, "Bumblebee," said the famous hand gesture stemmed from his brother imitating a dance in a 50 Cent music video that was popular when he recorded his theme song, "The Time is Now."
"I was dared to do it," Cena told Norton while sitting next to actor Matthew McConaughey, who was also a guest on the show. "So I was actually making the music for my own theme song that you just so heard and [to audience] finally serenaded me to, thank you very much. We played it for my brother and the first time he heard it, 50 Cent's crew had a really popular song, "In Da Club." And [my brother] heard it the first time and instead of dancing -- and he was our litmus test when songs were good, when songs were bad -- he did this [holds hand in front of face and shakes head].
"And I'm like, 'dude, what are you doing?' He's like, 'nah, everybody does this, man. [Continues gesturing] Everybody does this.' And I guess this was from 50 Cent's video. He's like, 'you won't do it on TV.' So I was like, 'what the hell do I've got to lose? Of course I'll do it on TV.' But instead of doing this [hand in front of face], I did this [waves hand back and forth in front of face]. And now, for 15 years, because of a dare, I've been doing this [waves hand back and forth in front of face]."
Cena was referencing G-Unit rapper and former 50 Cent hypeman Tony Yayo's signature dance, which he apparently made untentional tweaks to while doing his now famous "you can't see me" taunt.
The former WWE champion also acknowledged the running joke that people think he's "invisible" because of the "you can't see me" catchphrase.
"I'll do you one better," Cena added. "People actually think I'm invisible. There will be people who look at this couch and be like 'why is there nobody next to McConaughey? You said John Cena would be there but [gesturing] we can't see him.'"
During the appearance, Cena and McConaughey shared their knowledge of several legendary Texas wrestlers, which included the Academy Award winner revealing that he got kicked out of a wrestling show previously.
"I got kicked out of Hershey Coliseum in Shreveport, Louisiana for pelting Skandor Akbar with a bag of tomatoes on the eighth row," McConaughey said. "And he managed King Kong Bundy, who was like 484 pounds. And remember the Missing Link from Parts Unknown?"
When Norton chimed in to acknowledge the outlandish characters, Cena, who discussed his first wrestling character, a robot-man named "Prototype," before using his real name and persona, responded simply with, "...and I'm John Cena."
Cena is a 15-time World champion and one of the most recognizable names in the history of professional wrestling, having been the face of WWE for the majority of his 15-year run with the company.
He has since made a successful transition to acting with several successful film credits, while making sporadic wrestling appearances as a part-time performer.