Watch: Katy Perry Performs 'Rise' for Hillary Clinton at DNC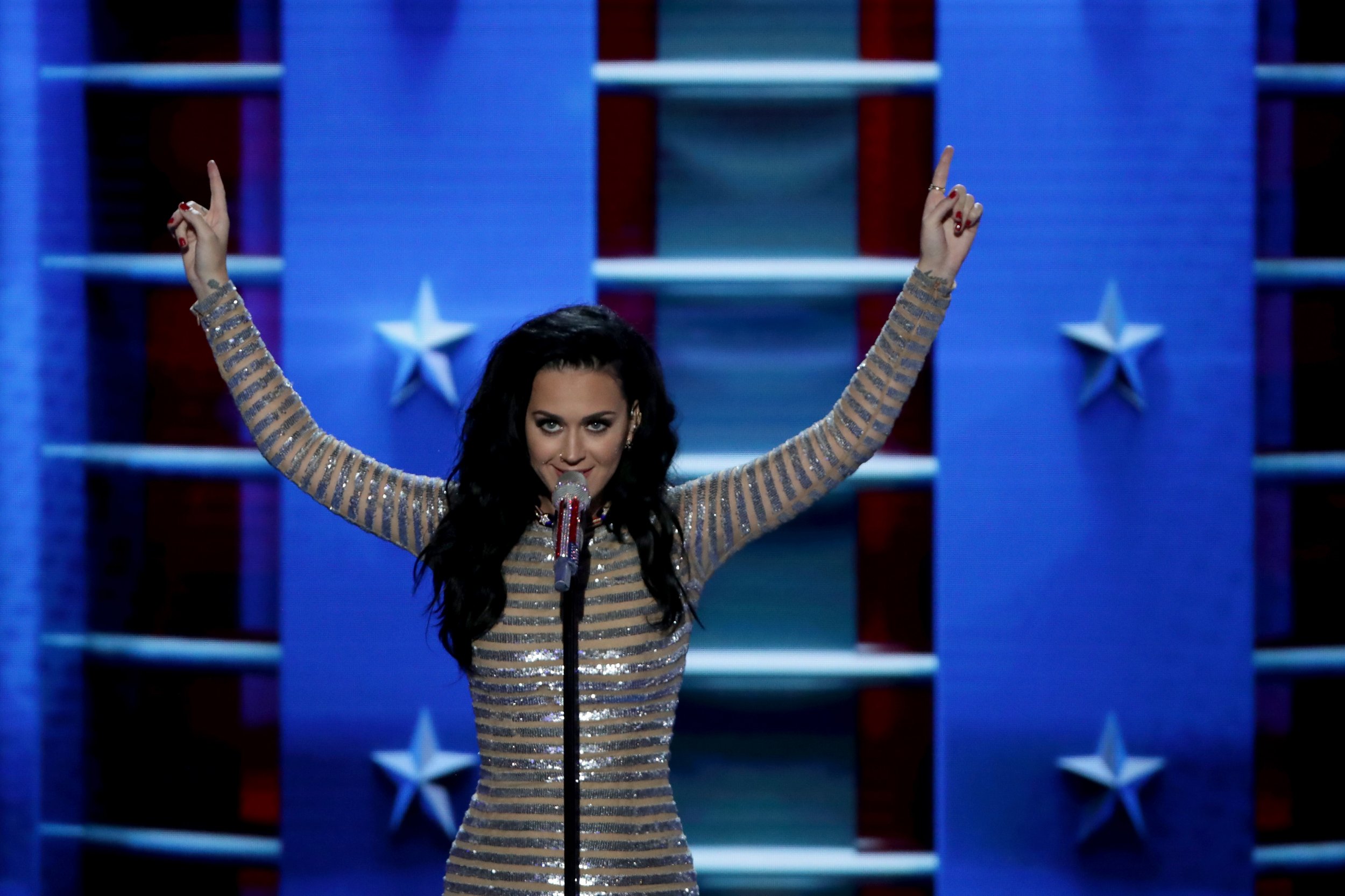 Thursday night saw Hillary Clinton make history as the first female candidate to clinch a presidential nomination at the Democratic National Convention—and pop star Katy Perry was there to help her celebrate.
The singer roused Democatic delegates with two songs suited for such an occasion: the anthemic 2013 hit "Roar," and the first live performance of that song's spiritual successor, her new track "Rise."
"Rise," released earlier in July, marks Perry's first new music since 2014 and serves as the soundtrack to NBC's coverage of the 2016 Rio Olympics.
"Rise," with its inspirational lyrics such as "victory is in my veins," was apt for the DNC, where Perry performed less than an hour before Clinton accepted the Democratic nomination. However, the singer made a couple of subtle changes to the song's lyrics in honor of the would-be president: "Don't be surprised, she will still rise," Perry sang.
Perry told the audience Clinton had her vote in the November election and that she even had a "couple of saved messages on my phone from HRC."
The pop singer also urged Americans to use their democratic right to vote come November. "Both of my parents are pastors and staunch Republicans. I didn't finish high school, and unfortunately I don't have a formal education," she said in reference to her conservative Christian upbringing. "But I do have an open mind and I have a voice. I'm asking you to have an open mind and to use your voice, because on November 8, you'll be just as powerful as any NRA lobbyist."
She added (via Entertainment Weekly): "You'll have as much say as any billionaire. Or you can just cancel out your weird cousin's vote, if you'd like. Because it's not where you come from. It's what you grow into."
Other high-profile names who have thrown their weight behind Clinton, who will face Donald Trump in the November election, took to Twitter Thursday night to congratulate her on securing the Democratic candidacy.
Oprah Winfrey wrote:
Jennifer Lopez tweeted:
Lady Gaga added: