Video: 'I Don't Know if Ted Cruz Would Have Won' Without Trump Support, Laura Ingraham Says
Fox News host Laura Ingraham weighed in on the narrow re-election of Senator Ted Cruz against Democratic challenger Beto O'Rourke, claiming that President Donald Trump's rally for the senator was key to securing his victory.
Ingraham was discussing Cruz's victory Tuesday with former Republican strategist Karl Rove, who claimed that O'Rourke could have been victorious if he had not "alienated any shot he had at getting any moderate, independent or any Republican votes who didn't like Ted Cruz."
Ingraham attributed Cruz's victory to Trump: "This is one thing I do know. If the Republicans were not able to take these seats tonight, there would be a cavalcade of criticism on Donald Trump," Ingraham said.
"I believe if Donald Trump hadn't done that massive rally in Texas last week and hadn't been there… if the president hadn't done those rallies in some of these key areas, I don't know if Ted Cruz would have won. And the party is coming home to Trump. I mean, the party is united.
"That doesn't mean they agree with everything he tweets or they like every position on immigration, I'm not saying that, but I think most of the party realizes that if you're not aligned behind the basic principles of this conservative populist approach of Trump… you're not going anywhere."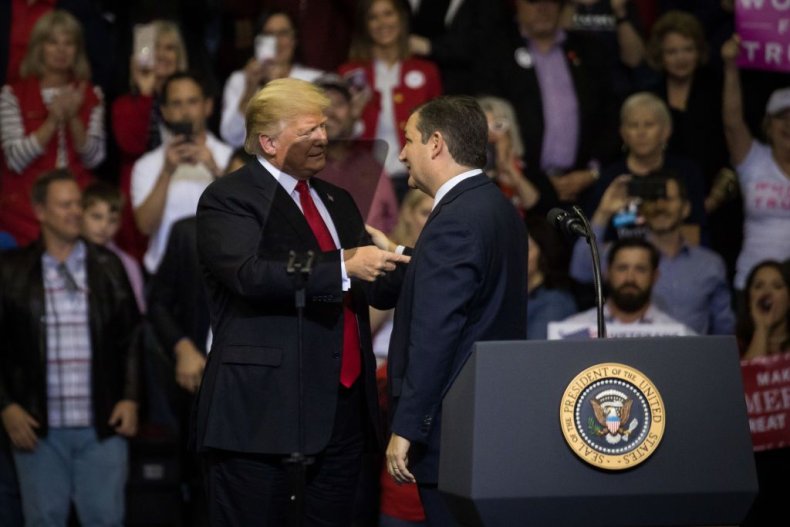 Cruz won re-election in one of the tightest election battles in the country Tuesday night, claiming 50.9 percent of the vote to O'Rourke's 48.3 percent, according to the Associated Press projected result.
An obscure congressman from El Paso, O'Rourke's campaign stunned Republicans and electrified Democrats in a state where no Democrat has held a Senate seat in more than 20 years. Despite trailing Cruz in the polls, O'Rourke's campaign raised $60 million, almost three times as much as that raised by Cruz.
Cruz held his seat, echoing the rhetoric that propelled Donald Trump to power, hammering his opponent as an out-of-touch liberal who was set on allowing illegal immigrants to swamp the country.
The senator put aside his grudge against the president—stemming back to the acrimonious 2016 presidential primaries—appearing at a rally with Trump in the state in October.
At the rally Trump made light of their differences—having branded Cruz "Lyin' Ted" on the 2016 campaign trail, and accused Cruz's father of involvement in the assassination of JFK—declaring "nobody has helped me more with your tax cuts, with your regulation, with all of the things…including military and our vets, than Senator Ted Cruz," Trump said.