WATCH: Leonard Fournette, Shaq Lawson Ejected for Fight During Jaguars-Bills Game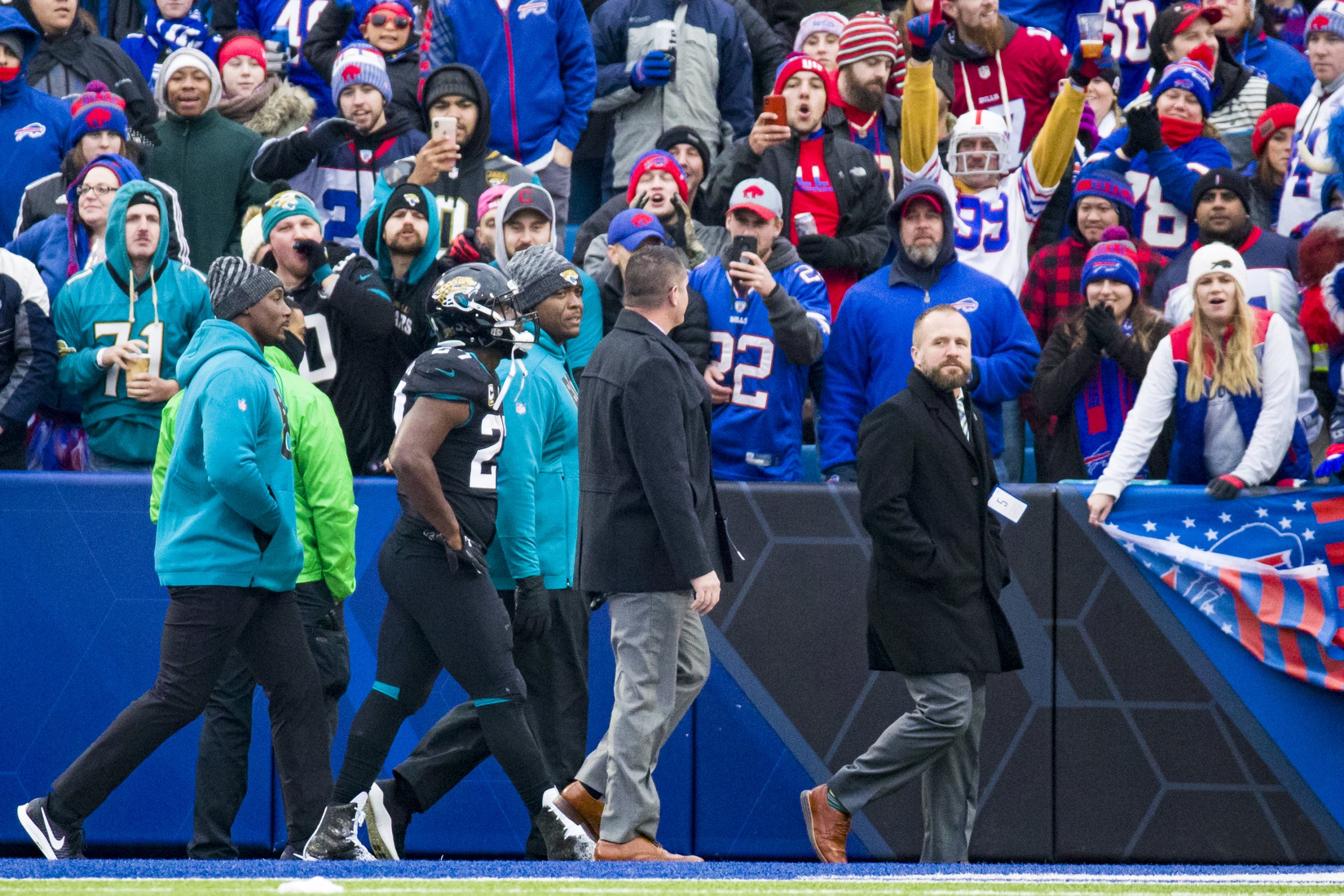 Jacksonville Jaguars running back Leonard Fournette and Buffalo Bills defensive end Shaq Lawson were ejected during the third quarter of Sunday's game at New Era Field in Orchard Park, New York.
Fournette left the Jaguars sideline and got involed in a skirmish that initially began after teammate Donte Moncrief and Bills cornerback Levi Wallace fought for the ball on a deep pass near the sideline, with both players refusing to let go after the play was over.
Jaguars wide receiver Dede Westbrook intervened and pushed Bills safety Micah Hyde, who also came over and stood by the two players. Fournette was among several players from both teams who rushed over, which resulted in more shoving and thrown punches.
"Just want to apologize to the fans and kids out there was totally out of character was in the heat of the moment in a important game, emotions got the best of me apologize again to you all...." Fournette tweeted after the 24-21 loss.
"You are going to have to rise up and also protect your own," Fournette told reporters after the game. "At the same time, you can't have that. I apologize to all the kids who look up to me, and their parents. The biggest thing is, this loss [is] totally on me. I take [full responsibility]."
Both players were separated as they were escorted to their respective locker rooms at the same time through the Bills' only tunnel. A fan in the front row made contact with Fournette as he was exiting, leading to a confrontation before police officers intervened.
"My biggest thing was when the fan hit me. I had a problem with that," Fournette said. "... He [Lawson] was saying what he had to say. I really don't care. Words are just words. They don't mean nothing to me. Just got to move on."
The former first-round pick said he got angry when he witnessed Lawson shove teammate and fellow running back Carlos Hyde.
"I mean, that's my brother," Fournette said. "All of them are my brothers. I don't know [how] y'all was raised, but that's just me."
Moncrief's catch was initially ruled a touchdown, but was overturned upon review after officials saw that he went out of bounds at the 1-yard line. Buffalo stopped Jacksonville from scoring during the next four plays, which included another would-be touchdown that was overturned after a holding call on Jaguars receiver Keelan Cole.
The drive ended with kicker Josh Lambo's missed 42-yard field goal attempt, which would have tied the game at 14-14. Buffalo scored three plays later on a 14-yard touchdown run by quarterback Josh Allen.
"Tensions were high from stuff getting talked about," Alexander said. "That stuff stems back to last year, when we played them. They're very chirpy. We're not going to back down. It's a physical game mindset. Those types of things happen when you're playing football."