Watch Lifetime's Trailer for Its Upcoming Film 'The College Admissions Scandal'
A bombshell report less than a year ago revealed some Hollywood actresses and other socialites were allegedly involved in a bribery scheme to get their children accepted into prestigious universities.
The scandal, also known as "Operation Varsity Blues," has affected not only those allegedly paying bribes to ensure their kids' admission into college, but those accepting those bribes — from college sports coaches and standardized tests administrators to the mediums that brought the parties together.
On Friday — the same day federal prosecutors recommended that one of the famed actresses serve a month in jail for her part — the Lifetime network released a trailer for its upcoming film The College Admissions Scandal.
The trailer released Friday appears to focus on high-profile actresses Felicity Huffman and Lori Loughlin as two wealthy mothers who learn of backhanded ways to pay to get their children into universities. This includes doctoring standardized test scores and falsifying athletic prowess, according to the trailer.
The trailer for the film calls the women "two desperate mothers," and then a voice-over says, "I will teach you how to make an impression," as a girl is seen kicking a soccer ball, while a staged photograph is taken.
It shows a high school-aged boy slamming himself onto a bed, and then quickly shifts the frame to his parents lying in bed with the woman saying, "he's losing his mind."
The trailer shows one mother on the phone telling a man he is "worth every penny" as federal agents listen through headphones.
Then it shows a woman telling a man "you do such great work for so many people" before it quickly cuts away to the high school boy handing an assignment to a test proctor, who is then shown erasing the pencilled exam sheet to change answers. The high school boy then sees his SAT scores jump to the 1500 range.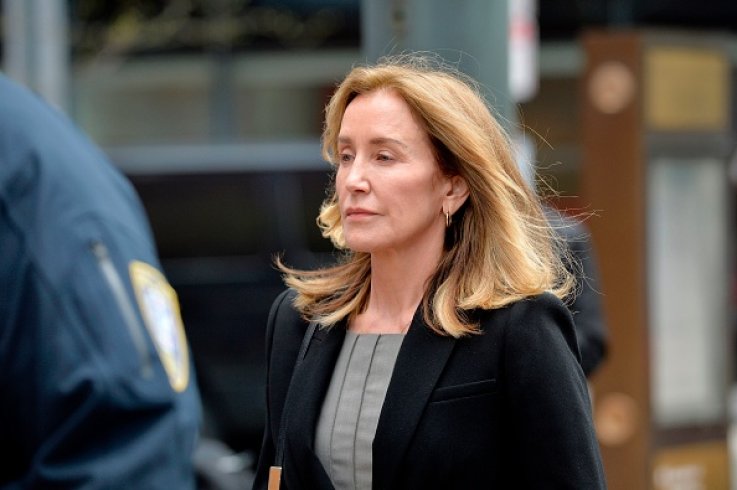 The real-life nationwide scandal rocked college campuses from Yale to Stanford, USC to Texas, Georgetown and other major colleges in between.
Huffman, 56, has pleaded guilty to paying someone $15,000 to boost her daughter's SAT score, and on Friday, her attorneys asked a judge to reduce any sentence to probation and community service. Federal prosecutors, instead recommended that Huffman, a 'Desperate Housewives' star, spend a month in jail for her part.
Next week, Huffman will be the first parent sentenced in the admissions scandal. Huffman's attorney, Martin Murphy, sent U.S. District Judge Indira Talwani a letter on Huffman's behalf.
"Please, let me be very clear; I know there is no justification for what I have done," the letter said, according to USA Today. "Yes, there is a bigger picture, but ultimately it doesn't matter because I could have said 'No,' to cheating on the SAT scores. I unequivocally take responsibility for my actions and will respectfully accept whatever punishment the court deems appropriate."
Up to 50 people were named in a report by the New York Times last spring, and Huffman is the first celebrity to face sentencing, just as the movie by Lifetime readies to depict its version of the scandal.
Watch Lifetime's Trailer for Its Upcoming Film 'The College Admissions Scandal' | U.S.