WATCH: Live Deer Found in Trunk of Car During Traffic Stop
A routine traffic stop was anything but for two police officers in Pennsylvania Thursday evening. During the stop, the officers encountered a live deer inside the vehicle.
Officers pulled over a car in York County on January 6 around midnight after they suspected the driver may have been under the influence. At some point during the stop, the officers found out that the deer had been stuffed into the back of the vehicle.
Police said that both the driver, a 19-year-old woman, and a passenger, a 21-year-old man, them that they had hit the deer "a few miles back," prior to being pulled over. After striking the animal and thinking it was dead, they then placed the creature in the hatchback of their car, Harrisburg news station WHTM reported.
The driver and passenger realized the animal was, in fact, still alive a short time later but made the decision to keep driving, they told police.
Video of the incident from the Newberry Township Police Department shows the officers standing on either side of the vehicle. A few seconds later, the passenger exits the car and opens the hatchback.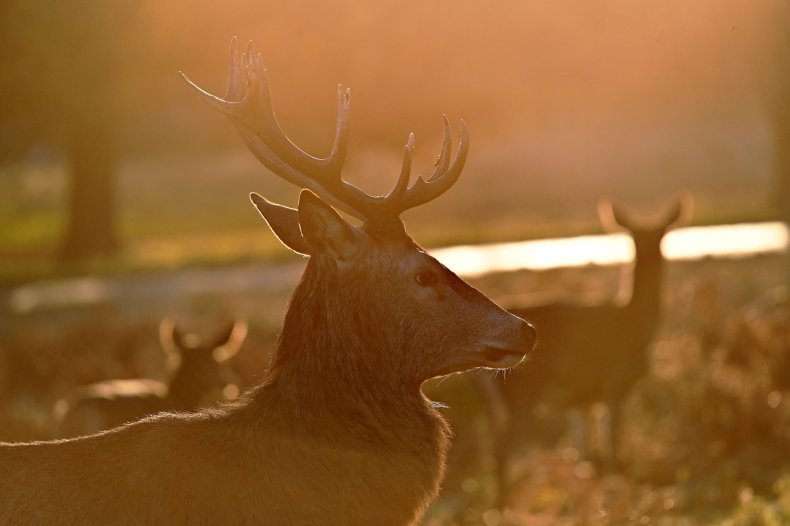 The passenger can be seen standing at the trunk momentarily until the deer appears, kicking and squirming in the 21-year-old's arms. They calmly walk with the deer to the side of the road and out of frame.
Lieutenant Braxton Ditty with the Newberry Township Police Department told Newsweek that both people were cooperative during the stop.
"Officers are taught to expect the unexpected during a traffic stop," Ditty said. "But never in our wildest dreams did an officer imagine he'd find a live deer in a vehicle during a traffic stop."
Ditty added that during his time with the department, this is the first time that he can remember officers coming upon a wild animal in a car during a traffic stop.
Police did arrest the driver for suspicion of driving under the influence. Police said there were no injuries.
On Twitter, one user, @BatsBrewsSaws, said the bizarre incident reminded him of a classic movie moment, writing, "This was a scene from Tommy Boy." In the 1995 comedy starring Chris Farley and David Spade, the characters believe the deer in the back of their car is dead, only to have it wake up and wreak havoc, destroying the vehicle. One person on Facebook also brought up the film, simply responding "Tommy Boy."