Watch Live: John McCain Funeral Service at U.S. Capitol, Featuring Mike Pence, Paul Ryan Memorial Tributes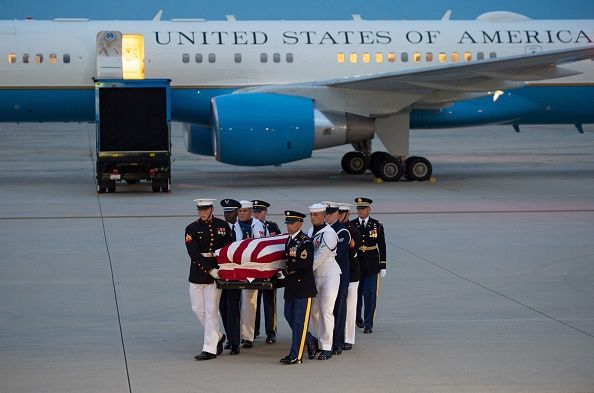 Senator John McCain will lie in state at the U.S. Capitol on Friday as the nation mourns the passing of the political maverick.
A ceremony honoring McCain's life and service will begin at 11 a.m. ET. The memorial service will commence with an invocation by Reverend Patrick Conroy, chaplain of the House of Representatives. Remarks will then be made by Senate Majority Leader Mitch McConnell, House Speaker Paul Ryan and Vice President Mike Pence.
At the conclusion of the ceremony, Cindy McCain will be escorted to view the casket and to lead the procession to the Capitol building. Friends and family can pay their respects to the late senator in person from 2 p.m. to 8 p.m. ET as his body lies in state. A Capitol police guard of honor will be placed at the location and will remain with the casket throughout the night.
The service will be live-streamed and can be watched below.
Newsweek subscription offers >
Following Friday's memorial ceremony, a funeral service will be held in Washington, D.C., on Saturday, September 1. At 8:30 a.m. ET, a motorcade will carry McCain from the Capitol to the Vietnam Veterans Memorial, where his wife will lay a ceremonial wreath. The motorcade will then travel to the Washington National Cathedral, where former Presidents George W. Bush and Barack Obama are expected to make remarks.
Also expected to speak at the funeral service is the late senator's daughter, Meghan McCain, while his son Jimmy McCain will read the poem "The Requiem" by Robert Louis Stevenson.
On Sunday, McCain will be laid to rest at the cemetery of his alma mater, the U.S. Naval Academy, in Annapolis, Maryland. He will be buried alongside his best friend and former classmate Admiral Charles Larson.
Newsweek subscription offers >
President Donald Trump, who will not attend any of the services for McCain, sent Defense Secretary James Mattis, Chief of Staff John Kelly and National Security Adviser John Bolton to represent the administration at the memorial.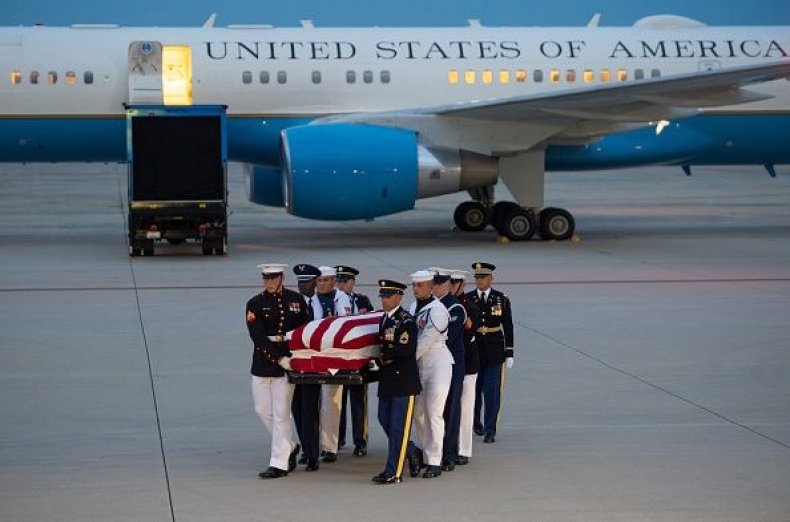 McCain was diagnosed with glioblastoma, an aggressive form of brain cancer, in July 2017. A day before his death, his family announced that he had decided to stop medical treatment.
McCain served in Congress for more than three decades and was a two-time presidential candidate. Prior to his service in Washington, McCain was a naval aviator in Vietnam and spent five years as a prisoner of war in the Hanoi Hilton camp. The senator died at the age of 81, a few days before his 82nd birthday.
Watch Live: John McCain Funeral Service at U.S. Capitol, Featuring Mike Pence, Paul Ryan Memorial Tributes | U.S.