Watch: Live Mice in Parachute Thrown at Senators During Extraordinary Protests in Colombia
It was supposed to be a solemn day at the Colombian Senate, in which two rival senators were going to settle their differences, a minute of silence would be dedicated to a deceased former commander in chief and Human Rights Day was meant to be observed.
But harmony came to a halt when a group of protesters on Tuesday hurled four live mice in a parachute-like bag filled with confetti at former president and Senator Alvaro Uribe Velez and members of his party, the right-leaning Democratic Center—and a heated exchange ensued.
Uribe, known for helping decimate the Revolutionary Armed Forces of Colombia (FARC) during his presidential tenure between 2002 and 2010, was extending an olive branch to Senator Griselda Lobo, who today is a member of FARC, the guerrilla group turned political party following a peace accord with the government. Shortly afterward, a minute of silence was held to commemorate the life of former president Belisario Betancur. But the session stopped when the white mice landed on top of the legislators' desks, prompting Uribe and members of his party to approach and confront the protesters, who were located at the boxes above the Senate floor.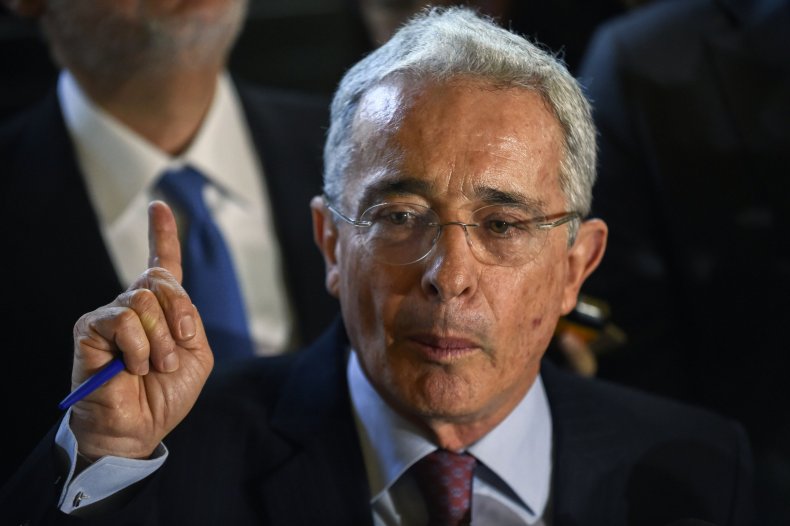 "It doesn't matter who did this," Uribe told the protesters, "but the person who ordered you to do so. It would be great to find out the coward who asked you to do this," he added, according to Colombian magazine Semana. Lawmakers complained about the work of authorities in charge of security, with Representative Edward Rodriguez telling local press, "They could have thrown acid at us."
Senators across political lines voiced their disgust on Twitter. Democratic Center Senator Fernando Araújo wrote a message on Tuesday that seemingly stokes political division: "FARC arrived in the Senate to talk about reconciliation and soon after, from the boxes, protesters threw a bag filled with confetti and mice. Coincidence? We reject this action to sabotage the Senate plenary."
Another Democratic Center Senator, Ruby Chagui, posted a video that shows a mouse attempting to escape. "We reject the actions occurred during the Senate plenary against Democratic Center senators who were attacked with live mice. We demand respect to congresspeople. We hope that authorities act with severity."
Second Senate Vice President Angélica Lozano from the progressive party Green Alliance condemned the move and expressed her solidarity with the Democratic Center. "I respect critique, but this is an assault against the Democratic Center senators and the Senate plenary."
A Twitter user shared a picture that shows a live mouse hiding behind a PC monitor.
Meanwhile, at least 20 protesters—including officials and visitors—claimed that police retained them arbitrarily, Semana reported.
While the motive behind the protest remains unclear, it may point to the fact that Uribe and his party are considered polarizing figures in Colombian politics. He has been alleged to be linked to corruption scandals and human rights violations. Wiretapping, the murder of "false positives"—innocent civilians who were later presented as guerrilla members killed in battle—and collusion of the paramilitary and armed forces under his term have tainted Uribe's image. His staunch rejection of the peace process between FARC and the Juan Manuel Santos administration helped defeat a referendum that sought the legitimacy of the talks in October 2016.
Despite these accusations, Uribe is still considered Colombia's most popular politician in the last two decades due to his hard stance on organized crime and to having had a buoyant economy under his administration. Analysts believe that Iván Duque won Colombia's presidential elections last summer thanks to Uribe's endorsement.
This is not the first unusual form of protest on the Colombian Senate floor. Senator Antanas Mockus of the Green Alliance party took his pants off and mooned legislators during a swearing-in ceremony of a new Congress on July 20, in a bid to quiet down lawmakers who were refusing to let outgoing Congress President, Efrain Cepeda, to read his farewell address.