Watch Live: SpaceX Set to Launch Three Advanced Earth Observation Satellites Aboard Falcon 9 Rocket
Today, SpaceX is set to launch three identical satellites into orbit around the Earth using one of its Falcon 9 rockets.
Lift-off for the RADARSAT Constellation Mission—organized by the Canadian Space Agency (CSA)—will take place at the Vandenberg Air Force Base in California with the primary launch window opening at 7:17 a.m. PDT and closing shortly after at 7:30 a.m.
If you want to watch the launch but can't make it down to the air base, SpaceX will be streaming the whole event live on their website here or via their YouTube channel (see below.)
Shortly after take-off, the 230-foot-high, 1.2 million pound rocket will separate, with its re-usable component—or first stage—expected to fall back to Earth and land at Vandenberg about 8 minutes into the mission.
Get your unlimited Newsweek trial >
About 55 minutes after lift-off, the second stage of the rocket will begin deploying the new generation satellites—which were commissioned by the CSA to boost Canada's Earth observation capabilities—at an altitude of around 370 miles above our planet.
Working together, the RADARSAT satellites—built by Vancouver-based company MacDonald, Dettwiler and Associates, a subsidiary of Colorado firm Maxar Technologies—will monitor Canada's vast territory and the surrounding oceans daily, taking hundreds of thousands of images every year.
The satellites will assist the Canadian government in three main areas. The first is maritime surveillance of the North Atlantic, Arctic and Great Lakes, which involves monitoring sea ice, surface wind, oil pollution and the movement of vessels to aid navigation and the commercial shipping industry.
Get your unlimited Newsweek trial >
The second is disaster management: The satellites will collect data that could help mitigate natural disasters as well as provide early warnings, while also aiding relief and response efforts.
The third service will be the monitoring of various ecosystems, such as agricultural land, wetlands, forests and coastlines. This could provide numerous benefits, for example, enabling farmers to maximize their crop yields while reducing their energy consumption and production of pollutants, according to the CSA.
The main body of each satellite measures about 12-feet-high and 3.6-feet-wide, with a 23-foot-long antenna extending out from the bottom. Each weighs just over a thousand pounds. Once in orbit, they will travel at speeds of around 16,900 miles per hour, completing a full circle of the Earth in approximately 96 minutes.
The RADARSAT Constellation Mission is the successor to the CSA's RADARSAT-2 satellite which was launched in 2007.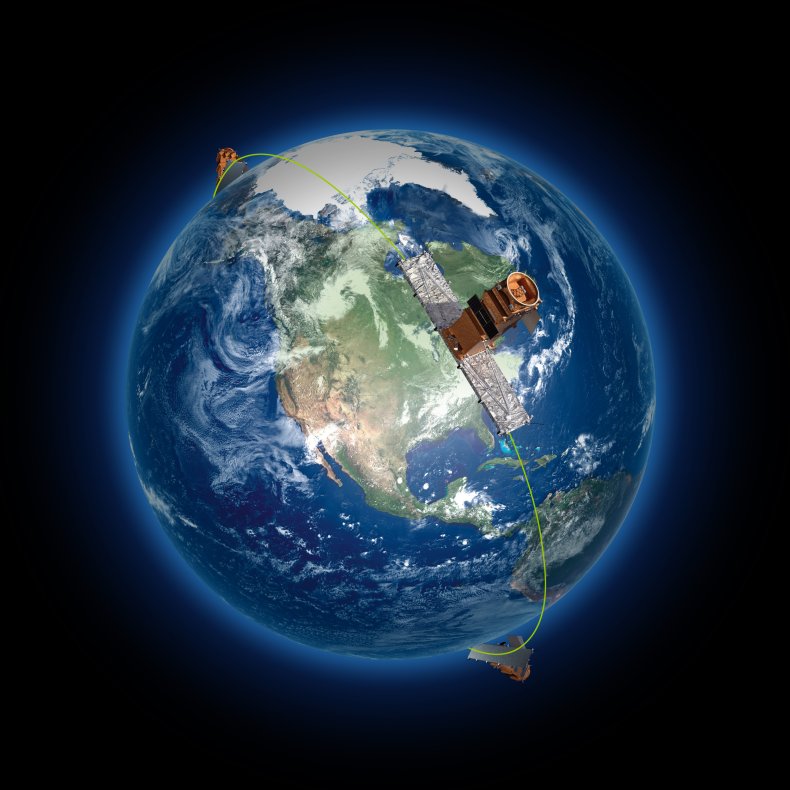 Watch Live: SpaceX Set to Launch Three Advanced Earth Observation Satellites Aboard Falcon 9 Rocket | Tech & Science