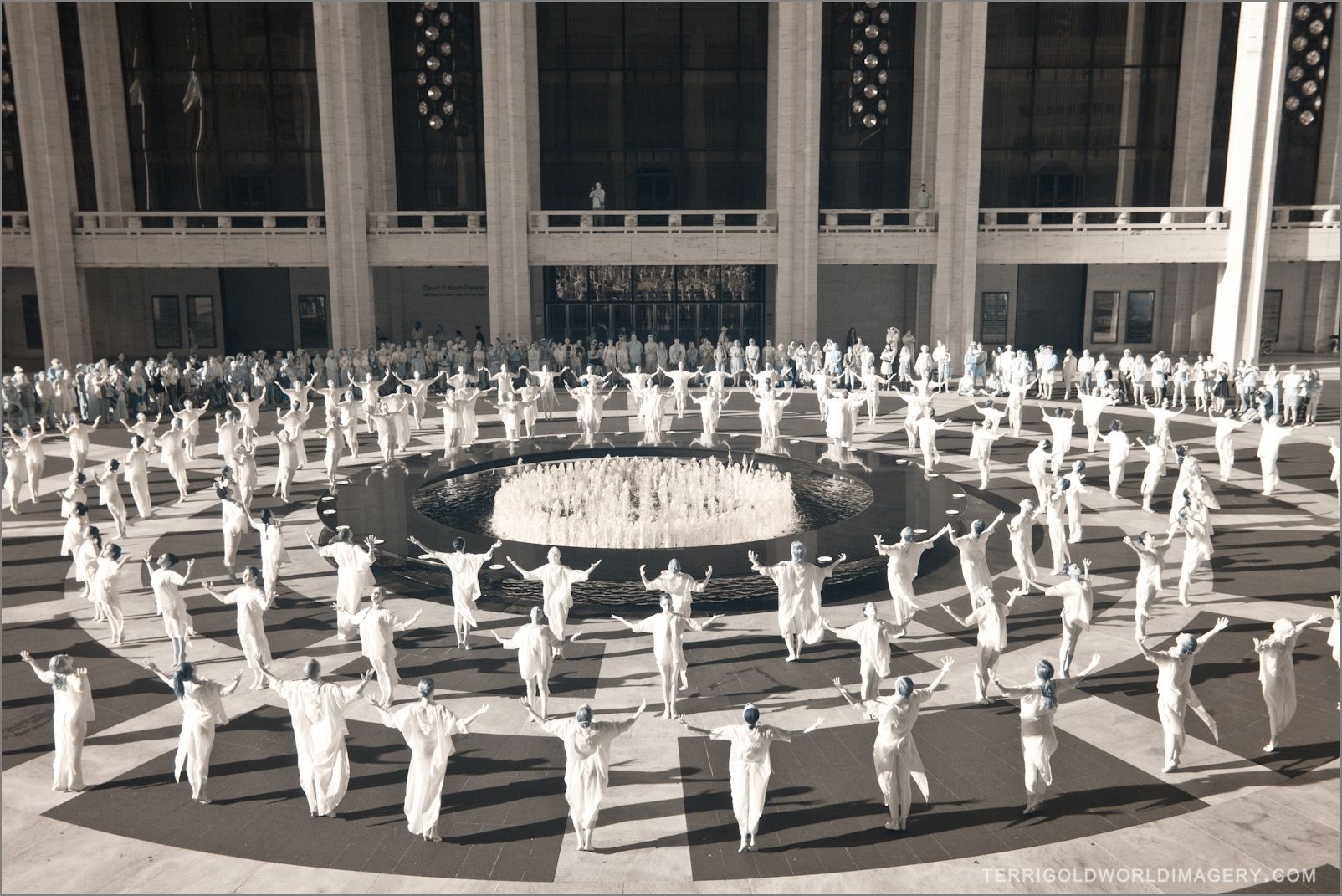 Most days, the central plaza at Lincoln Center is a hodgepodge of tourists and audience members milling about before their shows. Once a year, dancers clad in white appear. First they arrive in small handfuls and eventually they're more than 100-strong, with curious onlookers lining the impromptu stage. They're there to mark the anniversaries of the 9/11 attacks, and this Sunday is no exception.
Beginning at 8:15 a.m., approximately 150 dancers will enter the open space bordered by the Metropolitan Opera House, the David H. Koch Theater and Avery Fisher Hall and perform a simple, ritualistic choreography to the sounds of singers, a flute, a conch and a beating bass drum. They'll move in unison in concentric circles around Josie Robertson Plaza's centerpiece—a fountain that itself seems to dance amid the world-famous performing arts venues that surround it.
After half an hour of motion, the dancers will stop and extend their palms upward for a minute of stillness and silence at 8:46 a.m., 15 years to the minute after the first plane hit the first tower.
The 9/11 Table of Silence Project by choreographer Jacqulyn Buglisi in collaboration with the Italian visual artist Rossella Vasta made its debut at Lincoln Center for the 10th anniversary of 9/11 in 2011 and has returned each year since. The organizers call it "a public performance tribute to 9/11 and prayer for peace and healing."
This year, dancers come together from the choreographer's own Buglisi Dance Theater as well as the Martha Graham Dance Company, the Ailey School, the Juilliard School, Steps on Broadway and other institutions. One young dancer among the crowd, who is participating for the fourth time, lost her father in the attacks. He was an employee of Cantor Fitzgerald, a financial services firm whose New York offices were located just a few floors above where the first plane crashed into One World Trade Center.
"The Table of Silence represents the common threads of humanity which unite all mankind into a single force with common goals and aspirations regardless of race, culture, or religion," Buglisi is quoted as saying. "Through this event, we wish to achieve the dual purpose of celebrating and honoring peace and freedom for all people suffering oppression, through listening, a united moment of silence—a call for peace in our world."
Versions of the work have also been performed in other contexts, including at the University of California Santa Barbara to honor the students who were victims of the 2014 Isla Vista shooting, at Syracuse University's Wall of Remembrance in tribute to the 35 students who were killed in the 1988 bombing of Pan Am Flight 103 and at events in Assisi and Umbria in Italy.
New York Governor Andrew Cuomo said in a statement in 2014 that "each year, the tribute unites the New York City arts community to spread a message of peace and hope, helping to further our ongoing efforts to remember those we lost and honor those who provided such an extraordinary, timeless example of service and bravery that day."
This year, Buglisi Dance Theater launched a Kickstarter campaign to raise the final $7,000 it needed to fund the project, ultimately raising a rather symbolic $9,011 from dozens of backers by its Friday deadline.
The piece, based on a recording of the 2015 performance, isn't fancy or frilly, it doesn't explicitly address the events of 9/11 and it's free of the childish lyrics and crass patriotism of artistic responses like Toby Keith's Courtesy of the Red, White, and Blue (The Angry American). It's not really about America or terrorism or war. The Table of Silence feels instead like a communal mediation, a rare moment in the middle of a frenetic city when hundreds of bodies move to the same beat and around a collective center on the anniversary of a day that disrupted its quotidian bustle in the most profound way. It's a fitting tribute in the sense that it offers a chance to stop and remember, allows space and time for reflection and expresses hope.
The 2016 event is free and open for the public to view in person at Lincoln Center, and available to watch live online for those who can't make it to the plaza.
Watch a replay of the live stream here: