White House Daily Briefing for March 7, 2017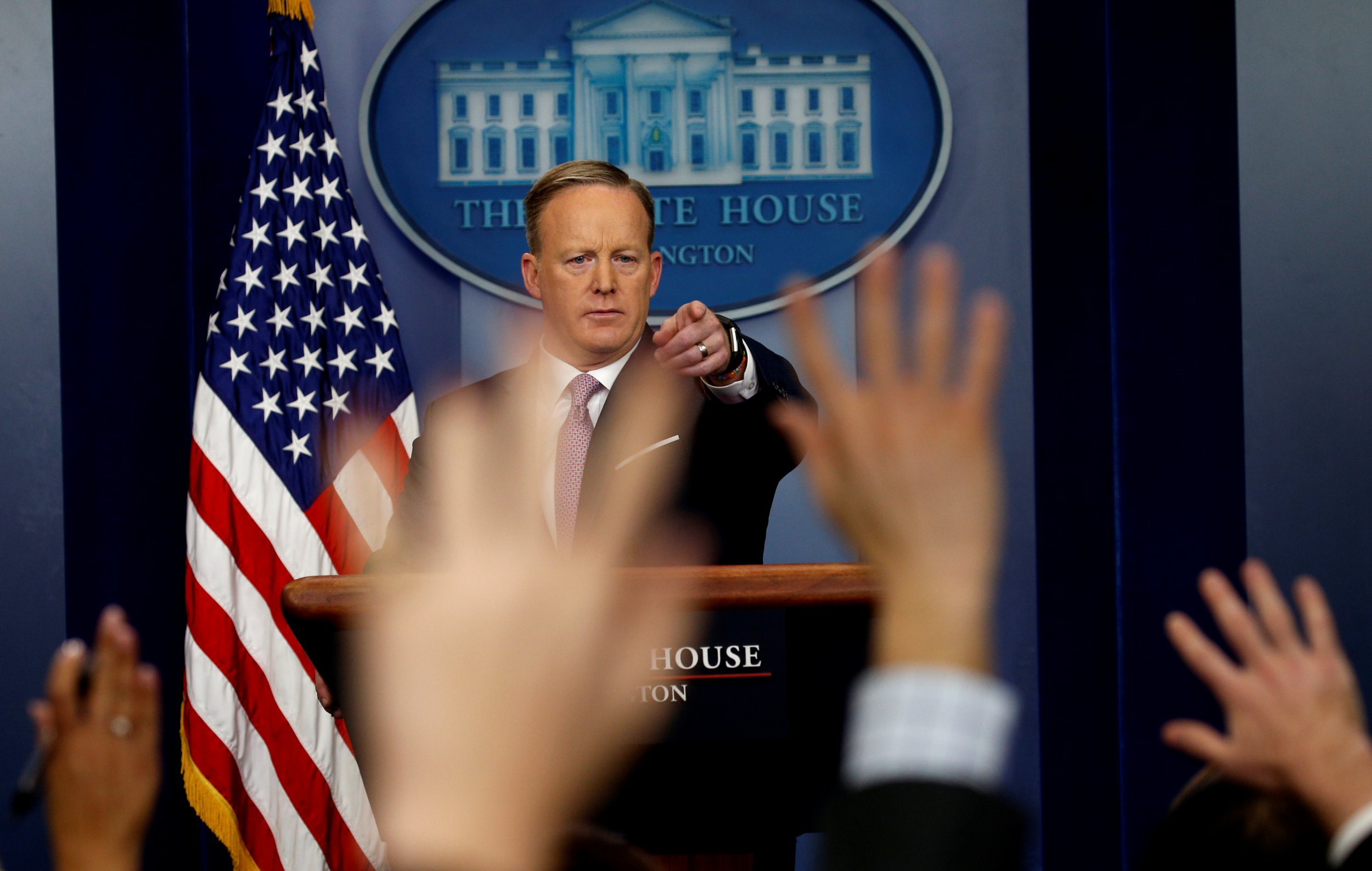 Updated | White House Press Secretary Sean Spicer reappeared on the nation's TV screens Tuesday afternoon, holding his first on-camera daily briefing in more than a week.
The White House press briefings have become must-watch TV since President Donald Trump took office in January, as the administration unveils bombshell policy announcements and Saturday Night Live takes Spicer to task. But many reporters spent last week frustrated by the White House's decision to block cameras from the briefing room; they had been switched off since February 27. Some news outlets livestreamed audio from inside the briefing room instead.
On the agenda today? A lot. Over the weekend, Trump tweeted that former President Barack Obama ordered a wiretap at Trump Tower in New York. The administration has so far not been able to provide proof that this occurred. Spicer repeatedly refused to provide any additional comment on the alleged wiretaps, and confirmed that Trump has not asked FBI Director James Comey whether Obama ordered a wiretap of his phones. He also said that there's "a role" for Congress to play: "They clearly have the resources and the clearances and the staff…to fully and clearly investigate this," he said.
The majority of the briefing was spent discussing the new, long-awaited proposal to replace the Affordable Care Act that was unveiled by Republicans on Monday. Criticism of the plan has been swift, and Health and Human Services Secretary Tom Price appeared at the briefing to address it. Two piles of papers sat on a table next to Spicer's podium, a visual illustration of the new bill's small size compared to the Obama plan, according to Spicer.
"You can't get any clearer that this is government, this is not," said Spicer, referring to the two piles of papers on the small table.
"For many Americans right now, their ability to gain health care and health coverage is a real challenge," said Price. The new bill won't change anything for the 175 million people who receive health care through their employer and those who use Medicare, he said, but individuals and those who use small group markets should expect changes.
"This is about patients," said Price, adding that the bill is a "work in progress." He added: "This is not about money, this is not about something else, it's about patients."
Price was asked about comments made by Representative Jason Chaffetz suggesting that low-income Americans should chose between buying health care coverage and electronic items such as iPhones. Chaffetz later walked his comments back. Price said it was "an important question because Americans right now are having to sacrifice and many individuals can't afford the kind of coverage that they have right now. They have the insurance card but they don't have care."
Responding to a question about plans to defund Planned Parenthood, Price said: "Through community health centers, the bill being proposed right now would allow greater access for women to health care in greater numbers of facilities across this land." Such community health centers are touted by those who support Planned Parenthood's defunding as alternative places for women to receive reproductive health care. However, Planned Parenthood maintains that existing facilities can't always absorb all of Planned Parenthood's patients and would ultimately make it more difficult for patients to receive care.
Spicer later told reporters that "the biggest thing that's missing from the [health care coverage] equation is competition."
Spicer was also asked about new documents released by WikiLeaks that allegedly detail computer hacking tools used by the CIA. He decline to comment as "that's not something that has been fully evaluated, and if it was it's not something I would comment on from here.