WATCH: LSU-Texas A&M 7-Overtime Thriller Ends with Postgame Fight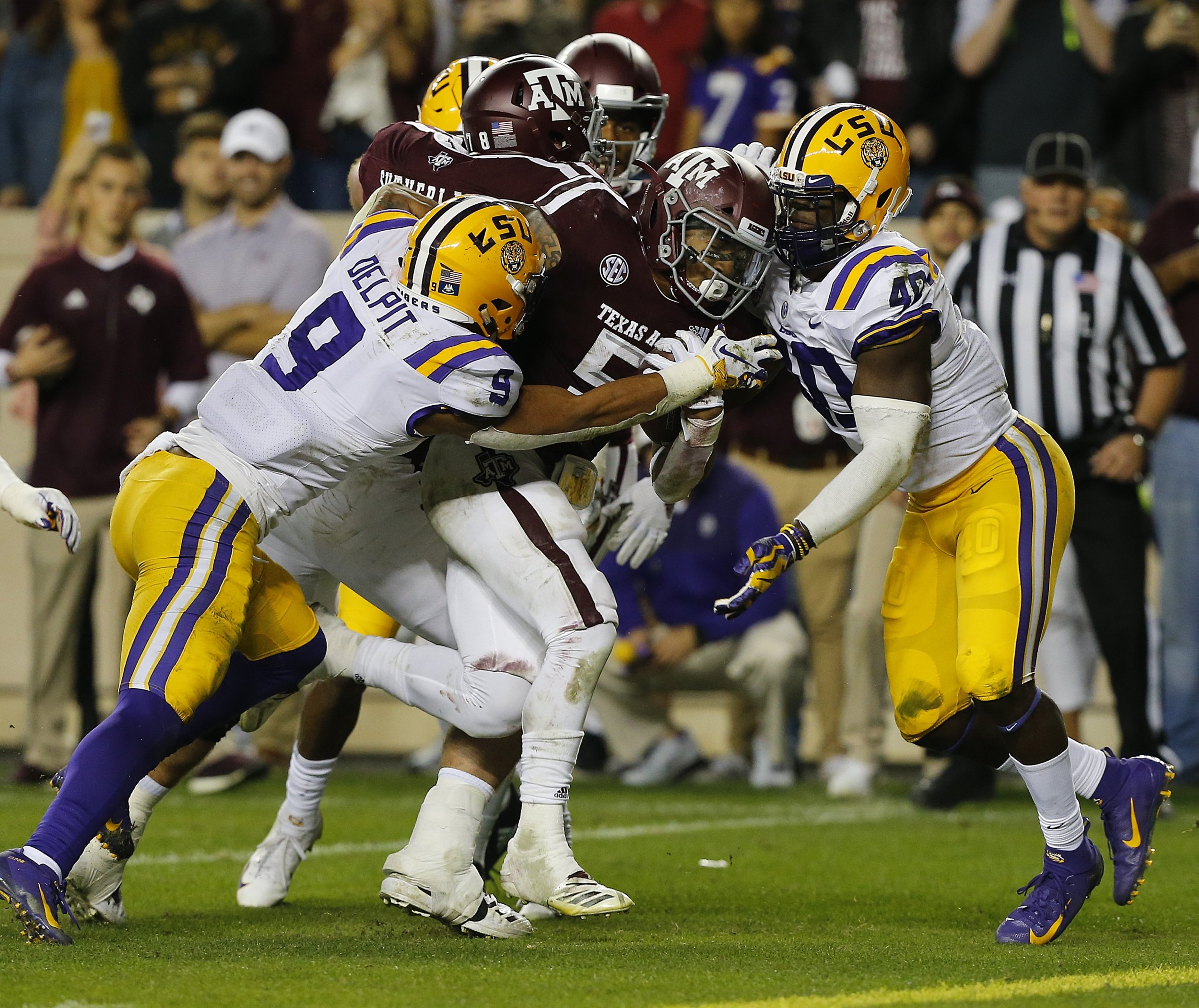 The seven-overtime thriller between LSU and Texas A&M ended with an on-field brawl between director of player personnel Kevin Faulk and an unidentified man who appeared to have credentials to be on the Aggies' bench.
Check out the video below captured by Zach Taylor of WTAW 1620:
A photo of Faulk and the man throwing punches was captured and shared by Hilary Scheinuk of The Advocate after the game via Twitter.
A source told 247Sports that the unidentified man threw punches at LSU analyst Steve Kragthorpe, who is suffering from Parkinson's, which led to Faulk intervening.
Faulk, a former Super Bowl champion with the New England Patriots, was hired by his alma mater in January "to work with LSU's football student-athletes on their academic direction, social development and overall quality of life with the goal of enhancing their development in the classroom, the community and on the football field," according to LSUSports.net.
Faulk is LSU's all-time leading rusher with 4,557 career yards and 46 rushing touchdowns, as well as the SEC's all-time leader in all-purpose yards with 6,833, having played for the Tigers from 1995-98. He appeared in three bowl games, was an Associated Press All-American in 1996 and ranks third among SEC backs in rushing yards and rushing touchdowns.
A&M quarterback Keller Mond's 2-point conversion to Kendrick Rogers provided the decisive score in the game's seventh overtime, which tied the NCAA record for the most overtimes in an FBS game, providing the Aggies with a 74-72 victory.
Mond connected with Quartney Davis on a 17-yard touchdown pass to tie the game at 72. The initial 2-point conversion attempt resulted in a pass interference call on LSU's Greedy Williams, giving the Aggies an additional attempt.
A&M was flagged for a false start on the following play prior to Mond's game-winning conversion pass to Rogers.
LSU's final possession resulted in a 10-yard touchdown run by quarterback Joe Burrow, giving the Tigers a 72-66 lead in the seventh overtime. However, Burrow's 2-point conversion pass attempt failed, allowing A&M to control its own destiny with a game-tying touchdown.
The 74 points allowed by LSU were the most given up by a ranked team in NCAA history, surpassing the 73 allowed by then-No. 24 Fresno State to Northern Illinois on Oct. 6, 1990.
Both teams combined to score 146 total points, which as the most in NCAA history in an overtime game involving a ranked team, as well as the first seven-overtime game involving a ranked team.
It was also the first game during the AP poll era in which both teams combined to score 70 points, according to ESPN Stats & Info.
Newsweek will continue to update this story as it develops.