Watch: LSU's Coach O Trends After Delivering Coronavirus PSA in His Deep Cajun Accent
LSU football coach Ed Orgeron is known for his fiery spirit and passion for coaching, especially the LSU Tigers in his home state of Louisiana. He's also well-known for his scratchy, cajun accent, and ending every interview with "Go Tigers!"
On Saturday, the national championship coach delivered a public service announcement (PSA) to help raise awareness of COVID-19, also known as coronavirus. Coronavirus, which has quickly infected more than 156,000 people worldwide, including more than 5,800 deaths, has been called a pandemic by the World Health Organization on Wednesday, and President Donald Trump on Friday called it a national emergency.
Coronavirus has infected 2,500 people in the United States, including 55 deaths.
Orgeron led LSU to the national title last season after beating Clemson to cap a perfect 15-0 season. And with the NCAA cancelling all championships for the remainder of the academic year, LSU is the last Division I college to be crowned national champion.
Here's what Orgeron said Saturday afternoon about the coronavirus:
"For every winning team, a key to success is learning the playbook. That's true in football, and it's also true as we take on the coronavirus," Orgeron began in his well-known, deep cajun accent. "The spread of coronavirus is a serious battle ... everyone has a role to play as we face this challenge together."
Orgeron went on to say "cover your cough with your elbow, like this," he said while hooking his right arm inward to simulate a cough into the bend of his elbow.
He encouraged viewers to "wash hands thoroughly" for a full 20 seconds.
"If you're sick, stay home. If you think you should be tested, call your health provider first. Avoid close contact with anyone sick."
Orgeron warned to look after friends and family members who may be at risk of contracting the virus, and to "go about your daily business" if you're not at-risk.
"We're all in this together. Let's team up and protect our health," he ended.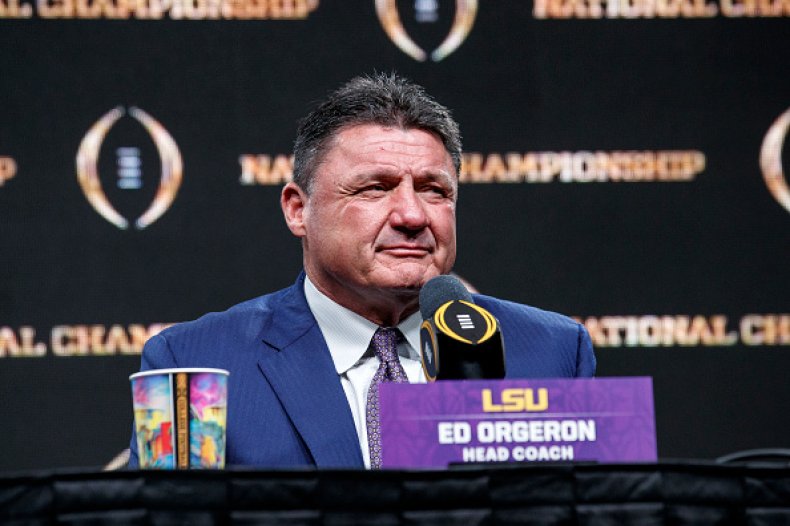 Louisiana Gov. John Bel Edwards first posted the PSA on Saturday afternoon. But sadly, just a couple of hours later, the governor posted about the first death from coronavirus, which was a resident from New Orleans.
"It is with heavy hearts that we announce the first Louisiana death related to COVID-19 today. I have spoken with @mayorcantrell, and we send our prayers and condolences to the family of the deceased."
Before news of the state's first death from COVID-19, Twitter users applauded Orgeron and Gov. Edwards, saying the coach's PSA was must-listen-to material, and some said the coach should do more PSAs.
Here are some of the comments:
"Coach O should have to give all public service announcements from now." Sports on Tap wrote
"Can Coach O be president now?" Charles P. Pierce tweeted
"Thank you Coach O. Geaux Tigers should be at the end of this. We all love and respect you...." Mike McCoy wrote
"Well done Governor & Coach O!" National sports broadcaster Tim Brando tweeted
"I didn't know I needed this from Coach O. But I'm glad It was made lol." Astasia WIlliams wrote