Watch: Marcus Morris Has the Perfect Response to Joel Embiid's Trash Talk
Tempers flared in Game Four between the Philadelphia 76ers and the Boston Celtics and Joel Embiid was at the center of it all.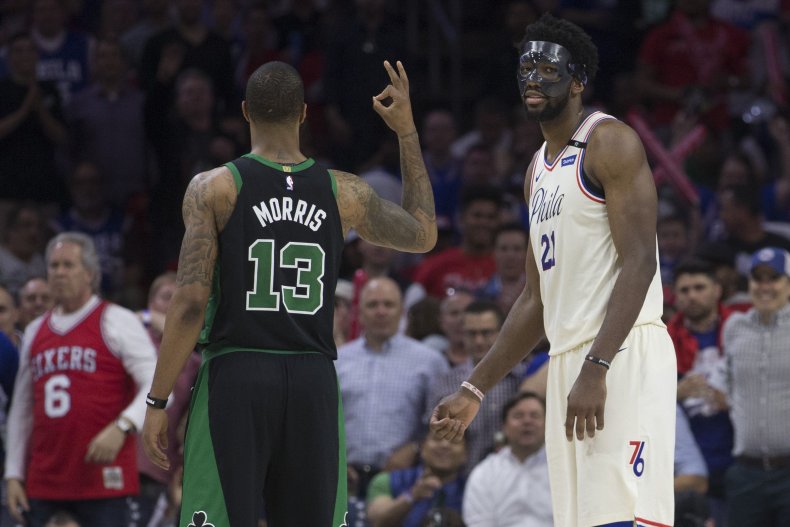 The Celtics have done an excellent job of limiting Embiid's impact throughout the series and his frustration boiled over on Monday night.
Late in the third quarter, Embiid was exchanging words with Celtics forward Marcus Morris, when the latter opted to end the conversation by holding up three fingers to remind The Process the Sixers were trailing 0-3 in the series.
Morris was not the only Celtic to anger Embiid, who was involved in an altercation with Terry Rozier earlier in the game.
Toward the end in the second quarter, Rozier was called for an offensive foul after making contact with JJ Redick as he tried to dribble past the Sixers guard.
With the former complaining to the referee about the call, Embiid was quickly on the scene and attempted to rip the ball off Rozier's hands.
Unsurprisingly, Rozier had other ideas and stubbornly held onto the ball, while Embiid kept trying to get it off him. Eventually, the Celtics guard aggressively shoved the All-Star center away, which resulted in players from both teams joining the fracas.
Whether Rozier was simply trying to push Embiid away or whether he tried to land a punch was up for debate, but the latter appeared untroubled by the incident.
"He tried to punch me twice, but too bad he's too short to reach my face," the Sixers star said when asked about his scuffle with Rozier.
It did not take long for the Celtics guard to respond and set the record straight.
"It's just out there having fun," he told reporters.
"To set the record straight I wake up every morning not worried about nobody, no man on this earth."
Embiid had 15 points and 13 rebounds in 35 minutes, as the Sixers won the game 103-92 to keep their season alive thanks to 25 points from Dario Šarić.
The Celtics host Philadelphia in Game Five on Wednesday.
Watch: Marcus Morris Has the Perfect Response to Joel Embiid's Trash Talk | Sports