Watch: Massive Container Ships Collide Losing Cargo Overboard
Updated | Two mammoth container ships have collided in the Pakistani port of Karachi, sending huge shipping containers tumbling overboard into the water below.
The Karachi Port Trust (KPT) has ordered an investigation into the crash, which resulted in the suspension of container transport for several hours, Pakistani newspaper The News International reported.
The video shows the 8,000-container Tolten ship, operated by the Hapag-Lloyd company, scraping along the side of a 6,350-container, Hamburg Bay, operated by Eastern Pacific Shipping sending multiple crushed and torn containers into the water.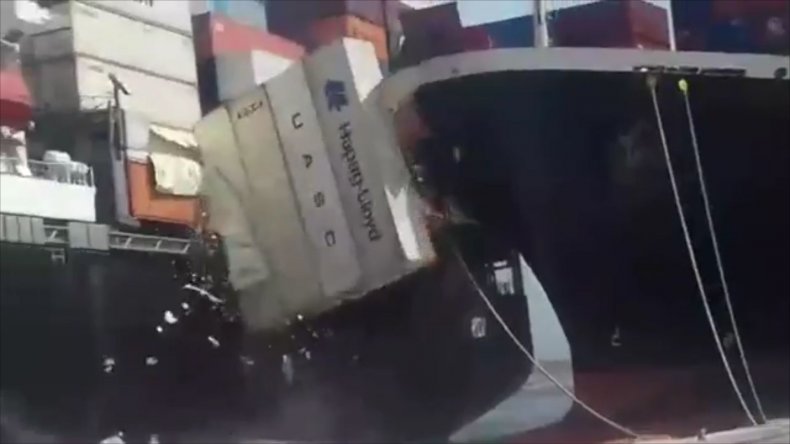 The video was taken by a port worker and quickly gained traction on social media.
According to The Frontier Post, port authorities said, "Approximately 55-60 containers from the ships fell into the sea." Two berths were also damaged in the accident. There are no reports of casualties.
In the video, containers could be seen sinking or floating in the port as workers look on in shock.
The collision happened at the South Asia Port Terminal, which is one of South Asia's busiest seaports. The Post quoted KPT spokesman Shariq Farooqui as saying that the accident happened at the port's commercial terminal, which is operated by private party.
The lost containers are reportedly floating towards channels made for breaking heavy waves, the Post said, and could damage them if they are not quickly retrieved.
A similar collision took place in January and was blamed on negligence of a KPT harbor pilot. Once a container ship approaches the port, a harbor pilot boards and is responsible for maneuvering the ship through the dangerously congested waters.
KPT says the port, which it calls "The Gateway to Pakistan," handles around 1,600 ships every year. The port also deals with an annual volume of 38.73 million tons of cargo per annum, of which 26.96 million tons is dry cargo and 11.77 million tons is liquid cargo. The port employs over 5,000 people and has been in operation since 1857.
A survey conducted by the World Shipping Council found that an average of 1,390 containers were lost at sea each year between 2014 and 2017.
For all its modern advances, commercial seafaring remains a dangerous industry. The International Transport Workers' Federation said in 2015 that some 2,000 seafarers die each year. The International Maritime Organisation calculates that there are more than 85,000 working vessels at sea.
An earlier version of this article incorrectly stated that the Hamburg Bay is operated by Zodiac Maritime. It is actually operated by Eastern Pacific Shipping.