When Is The Masters 2021? Dates, How to Watch on TV and Online
Five months since the coronavirus pandemic forced it to be held in November, The Masters reclaims its traditional slot as the first major of the golf season when it gets underway on Thursday.
Adding to the sense of familiarity, fans will again be welcome at Augusta National Golf Club in Georgia, albeit in limited numbers and with social distancing measures still in place, after the tournament was held behind closed doors last year.
Having donned the Green Jacket for the first time in his career five months ago after carding a record 20-under-par 268, world No. 1 Dustin Johnson is the bookmakers' favorite going into The Masters as he aims to become the first player since Tiger Woods in 2002 to win in consecutive years at Augusta National.
Johnson starts as 19-2 favorite, marginally ahead of Justin Thomas and Jon Rahm, the world No. 2 and No. 3 respectively, who are both 12-1.
Jordan Spieth, a winner at Augusta six years ago, starts at 11-1 after ending a four-year wait for a PGA Tour win by claiming the Texas Open on Sunday, as does world No. 5 Bryson DeChambeau.
The latter captured his first career major last year when he triumphed at the U.S. Open, but finished tied for 34 at The Masters, 18 shots behind Johnson.
Here's all you need to know about this year's tournament.
The Masters 2021 dates
The Masters runs between Thursday, April 8 and Sunday, April 11.
The Masters TV schedule 2021
As it's been the case since 2008, ESPN and CBS will share coverage of The Masters. ESPN will broadcast the first two rounds, with CBS taking over on Saturday and Sunday.
CBS will also show highlights of the first two rounds on Thursday and Friday and broadcast all four rounds on CBS Radio each day between 2 p.m. ET and 7 p.m. ET.
Here's a day-by-day breakdown of the coverage (all times EDT).
Round 1, Thursday April 8
Live coverage: ESPN, 3 p.m.—7 p.m.
Replay: ESPN, 8 p.m.—11 p.m.
Highlights: CBS, 11:35 p.m.—11:50 p.m.
Round 2, Friday April 9
Live coverage: ESPN, 3 p.m.—7 p.m.
Replay: ESPN, 8 p.m.—11 p.m.
Highlights: CBS, 11:35 p.m.—11:50 p.m.
Round 3, Saturday April 10
Live coverage: CBS, 3 p.m.—7 p.m.
Round 4, Sunday April 11
Live coverage: CBS, 2 p.m.—7 p.m.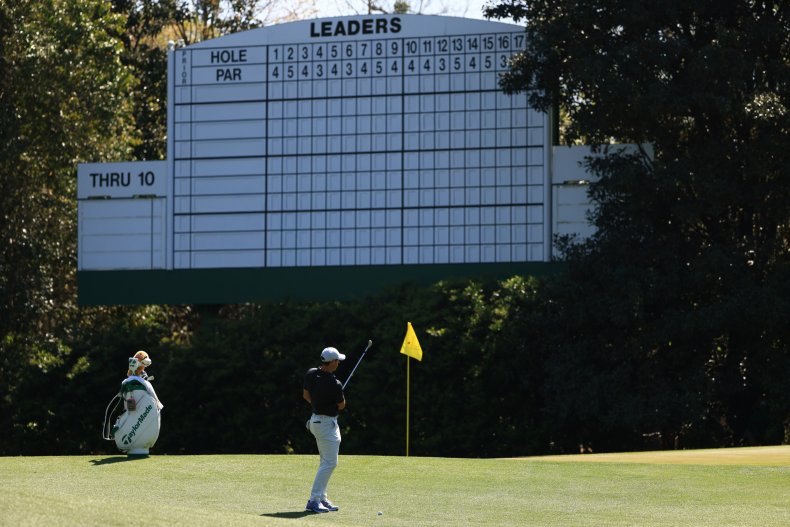 How to watch The Masters: Live stream and online coverage
There are several ways to follow The Masters online, via ESPN+, Masters.com and the official Masters app. ESPN+ will broadcast featured holes and featured groups, while the entirety of the tournament will be available online via Masters.com and the official Masters app.
Here's a breakdown to keep up with the action online (all times EDT).
Round 1, Thursday April 8
Featured Groups: 9:15 a.m.—7:30 p.m., ESPN+, Masters.com
Featured Holes (4,5 and 6): 9:25 a.m.—6:45 p.m., ESPN+, Masters.com
Featured Holes, Amen Corner (11, 12 and 13): 10:45 a.m.—6 p.m., ESPN+, Masters.com
Featured Holes (15, 16): 11:45 p.m.—7 p.m., ESPN+, Masters.com
Round 2, Friday April 9
Featured Groups: 9:15 a.m.—7:30 p.m., ESPN+, Masters.com
Featured Holes (4,5 and 6): 9:25 a.m.—6:45 p.m., ESPN+, Masters.com
Featured Holes, Amen Corner (11, 12 and 13): 10:45 a.m.—6 p.m., ESPN+, Masters.com
Featured Holes (15, 16): 11:45 p.m.—7 p.m., ESPN+, Masters.com
Round 3, Saturday April 10
Featured Groups: 10:15 a.m.—7 p.m., ESPN+, Masters.com
Featured Holes (4,5 and 6): 11 a.m.—6 p.m., ESPN+, Masters.com
Featured Holes, Amen Corner (11, 12 and 13): 11:45 a.m.—6 p.m., ESPN+, Masters.com
Featured Holes (15, 16): 12:30 p.m.—6:30 p.m., ESPN+, Masters.com
Round 4, Sunday April 11
Featured Groups: 10:15 a.m.—7 p.m., ESPN+, Masters.com
Featured Holes (4,5 and 6): 11 a.m.—6 p.m., ESPN+, Masters.com
Featured Holes, Amen Corner (11, 12 and 13): 11:45 a.m.—6 p.m., ESPN+, Masters.com
Featured Holes (15, 16): 12:30 p.m.—6:30 p.m., ESPN+, Masters.com