Video: Maxine Waters Starts Anti-Trump 'Impeach 45' Chant at Award Ceremony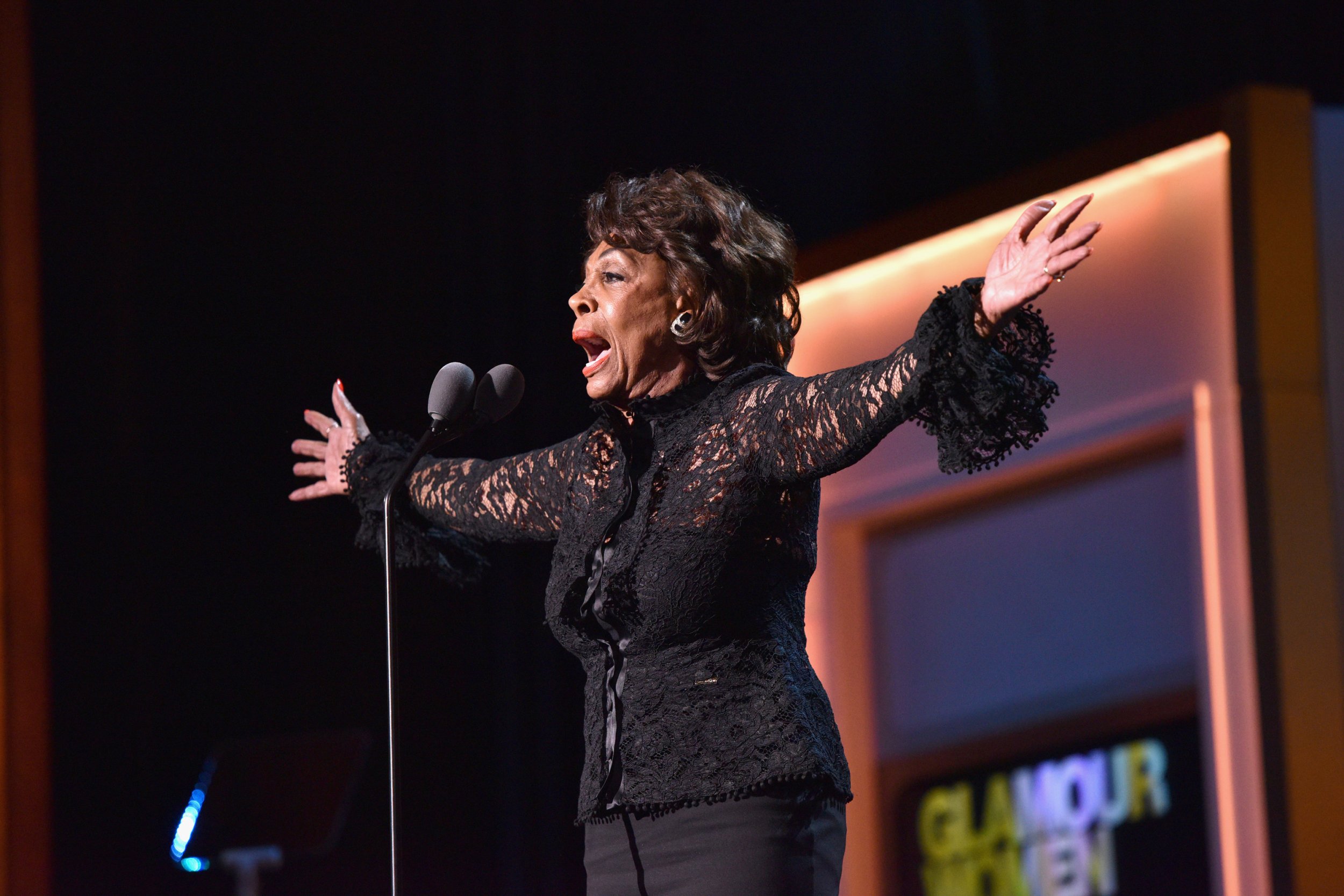 U.S. Representative Maxine Waters guided a crowd of powerful women, celebrities and other influencers in a raucous chant demanding the president's impeachment Monday night in New York City.
Waters, a California Democrat leading the charge to remove Donald Trump from office, was wrapping up her remarks at the GlamourWomen of the Year Awards when she began shouting into the microphone. As the audience gave her a standing ovation, she led a call-and-response chant, exclaiming "Impeach 45," raising her arms and encouraging spectators to get louder.
Attendees quickly shared videos of the speech on social media. Glamour magazine named it one of the "biggest moments" of the ceremony.
This wasn't the first time Waters has used the "Impeach 45" chant to attack the 45th president. She also yelled it at the Los Angeles pride parade over the summer and riled up the crowd at the Women's Convention in Detroit last month, according to The Huffington Post.
"This is a man with no good values, no good intentions and no good respect. That's why I know we must keep fighting and that women must lead this resistance," Waters said at the time. "We cannot afford to be shut down or shut up by any man, particularly not one as indecent and deplorable as Donald Trump."
Waters is one of the most high-profile lawmakers calling for Trump to be impeached—something that political observers say is unlikely, given that both chambers of Congress are controlled by the Republicans. Nevertheless, her colleague Representative Al Green, a Texas Democrat, said last week that he wants the House to vote on impeachment before the end of December.
"I now announce that before Christmas, there will be a vote on the chief inciter of racism, bigotry, hatred, xenophobia, sexism, ethnocentrism," Green said. "Whatever others will do is their choice. My conscience dictates that I will vote to impeach. Let others do what they may. History will judge us all."
Green introduced articles of impeachment against Trump on October 11 but then effectively withdrew them.
Other top Democrats have been hesitant to get on board the impeach Trump train. House Minority Leader Nancy Pelosi, for example, recently told CNN impeachment is "not someplace that I think we should go."
History also indicates impeachment could be a difficult goal. Only two presidents have ever been impeached—Andrew Johnson in 1868 and Bill Clinton in 1998—and neither were forced out of office.