It took until the 62nd minute, but Team USA took the lead in the Fifa Women's World Cup and used that momentum to propel themselves to a second consecutive title.
Megan Rapinoe scored the goal for the women's team after a penalty was issued to the Netherlands following contact with Alex Morgan in the box.
The penalty kick was the first in the game, though Team USA had taken seven other shots in the contest that had either missed the goal or been blocked by Netherlands goal keeper Sari van Veenendaal. Veenendaal recorded four saves in the first half of the match.
Team USA has seen a couple of injuries in the game as Kelley O'Hara left as the second half began with what is believed to be a head injury. Additionally, Becky Sauerbrunn briefly exited the game with a cut above her eyebrow that required her to be bandaged up.
Rose Lavelle put Team USA up 2-0 in the 69th minute, which became the final goal of the match.
Rapinoe left the game in the 79th minute, being subbed by Christen Press. As Rapinoe exited the field, Team USA fans rose to their feet to give her a standing ovation.
Rapinoe has been the source of controversy throughout the World Cup tournament after a video of her speaking to a reporter in January went viral. In the video, Rapinoe responded that she would not go to "the f---king White House" if invited by President Donald Trump.
Trump responded to Rapinoe via Twitter days later, telling the soccer star that she should stop talking and win. Some of Rapinoe's teammates have stood up for her since Trump's tweet, with at least one other Team USA member - Ali Krieger - saying she also would not attend if the team were invited to visit the president at the White House following the World Cup.
"I refuse to respect a man that warrants no respect. I feel that staying silent, you know, at times can side with the oppressor and I didn't want [Rapinoe] to feel like she was having to kind of process this all alone, because a lot of us do have those similar feelings," Krieger told CNN on July 4. "I wanted to make sure that as one of her close friends, she didn't feel that and I feel like we're able to focus — as women it's funny, imagine that, we can multitask — on two things at once."
The 2-0 win over Netherlandsgives Team USA it's second consecutive World Cup title, with the 2019 tournament final marking the third consecutive time that the team has reached the final game.
Team USA's 2019 title marks the fourth for the program, which is a record.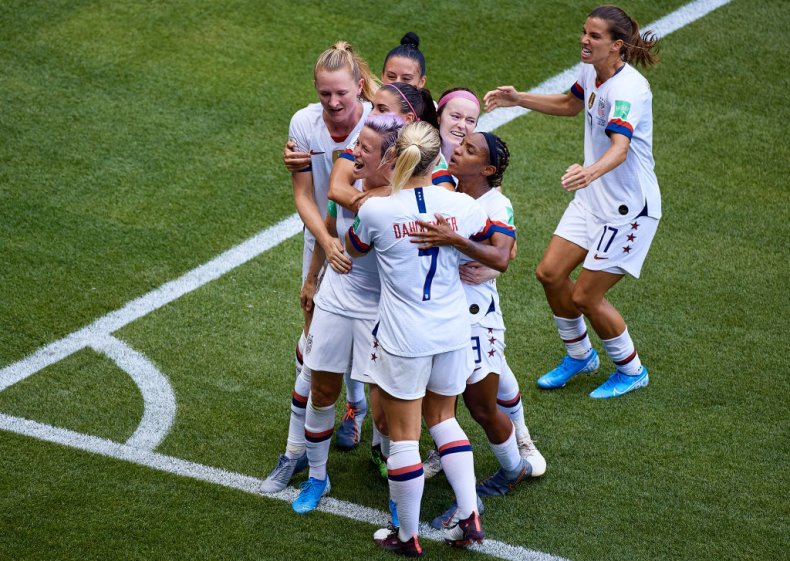 Uncommon Knowledge
Newsweek is committed to challenging conventional wisdom and finding connections in the search for common ground.
Newsweek is committed to challenging conventional wisdom and finding connections in the search for common ground.