Watch: Meghan McCain Says Donald Trump 'Will Never Be a Great Man' and Leads a 'Pathetic Life'
Late Senator John McCain's daughter Meghan McCain slammed President Donald Trump's latest tweetstorm Monday morning, saying the commander-in-chief "will never be a great man."
"Listen, he spends his weekend obsessing over great men, because he knows it, and I know it and all of you know it: He will never be a great man," McCain said on ABC's The View, which she co-hosts.
McCain was responding to Trump's tweet last Saturday that mentioned her father, who died of brain cancer in August 2018.
"Spreading the fake and totally discredited Dossier 'is unfortunately a very dark stain against John McCain.' Ken Starr, Former Independent Counsel," Trump tweeted. "He had far worse 'stains' than this, including thumbs down on repeal and replace after years of campaigning to repeal and replace!"
Trump has repeatedly reenacted Senator McCain's thumbs down while voting against repealing Obamacare, and clearly not let go of it.
McCain tweeted in response: "No one will ever love you the way they loved my father.... I wish I had been given more Saturday's with him. Maybe spend yours with your family instead of on Twitter obsessing over mine?"
On Sunday, Trump referred to the late senator as "last of his class" at the U.S. Naval Academy, and blamed him for allegedly taking part in bringing forth the opposition research document claiming Trump had connections to Russia.
"So it was indeed (just proven in court papers) 'last in his class' (Annapolis) John McCain that sent the Fake Dossier to the FBI and Media hoping to have it printed BEFORE the Election," Trump tweeted. "He & the Dems, working together, failed (as usual). Even the Fake News refused this garbage!"
McCain quote-tweeted that post by Trump and commented, "My father lives rent free in your head." She later deleted it.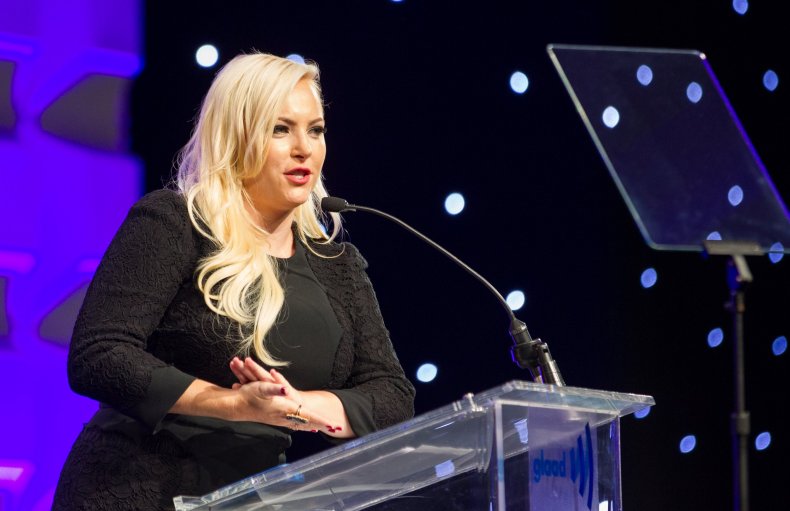 On her show Monday, Meghan McCain said, "My father was his kryptonite in life," then bashed Trump's relationship with his family.
"All of us have love and families, and when my father was alive up until adulthood, we would spend our time together cooking, hiking, fishing, really celebrating life ... and I think it's because he almost died," she said.
"And I thought, your life is spent on your weekends not with your family, not with your friends, but obsessing, obsessing about great men you could never live up to," she said, contrasting Trump with her father. "That tells you everything you need to know about his pathetic life right there."