As part of her first major foreign trip without President Donald Trump, first lady Melania Trump visited a hall in Ghana on Wednesday named after her husband's predecessor, Barack Obama, as well as a former slave holding facility.
Melania Trump went to Obama Hall, which was named after the 44th president after he visited in 2009, to meet the chieftain of the regional Fante tribe Osabarimba Kwesi Atta II and request permission to tour the Cape Coast Castle. Melania Trump watched and participated in a procession at the palace hall that has a large photo of Obama with the chiefs in the lobby.
The chieftain addressed her as "Your Excellency," said, "We welcome you to Cape Coast." They wished her a memorable stay. She responded that she was "very honored" and accepted a cloth and slippers as gifts.
With permission granted, Melania Trump went to the Cape Coast Castle, which is a former slave trading fort where African captives were held before being sent off on ships during the transatlantic slave trade era. She spent about an hour exploring the 17th-century castle.
"I will never forget [the] incredible experience and the stories I heard," she said. "The dungeons that I saw, it's really something that people should see and experience."
Melania Trump spent about 10 minutes inside a dungeon where male slaves stayed and saw the "Door of No Return" where slaves left on their journey overseas. The first lady laid a wreath at the castle before leaving.
"It's very emotional," she said.
The first lady arrived in Ghana on Tuesday to start a five-day trip that will include Malawi, Kenya and Egypt, to promote her "Be Best" initiative for children's wellness and education, healthcare, conservation and tourism.
"Day two in #Ghana was so impactful. My visit to Cape Coast castle was a solemn reminder of a time in our history that should never be forgotten," she tweeted. "Thank you to Chief Osabarima Kwesi Atta & the chieftains for the warm welcome & cultural ceremony. #FLOTUSinAfrica2018"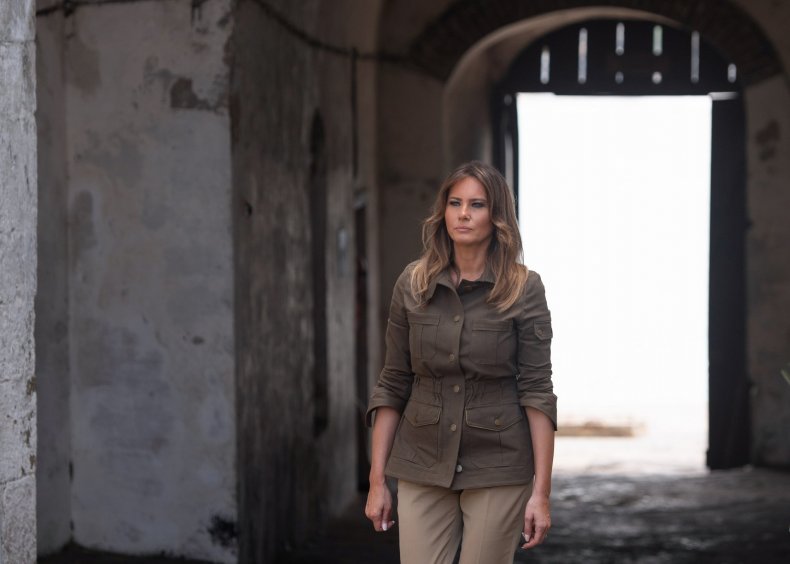 Melania Trump in August announced she would travel to Africa, about seven months after her husband reportedly said that African nations are "shithole countries" in a meeting with lawmakers about immigration.
The media and public have interpreted her Africa trip as a slight toward the president. Her visit to Obama Hall also falls in that vein, as Donald Trump strongly dislikes his predecessor and continues to bash him and attempt to seemingly undo his policies.