Watch: Melania Trump Impersonators Reemerge After #FakeMelania Body Double Conspiracy Theory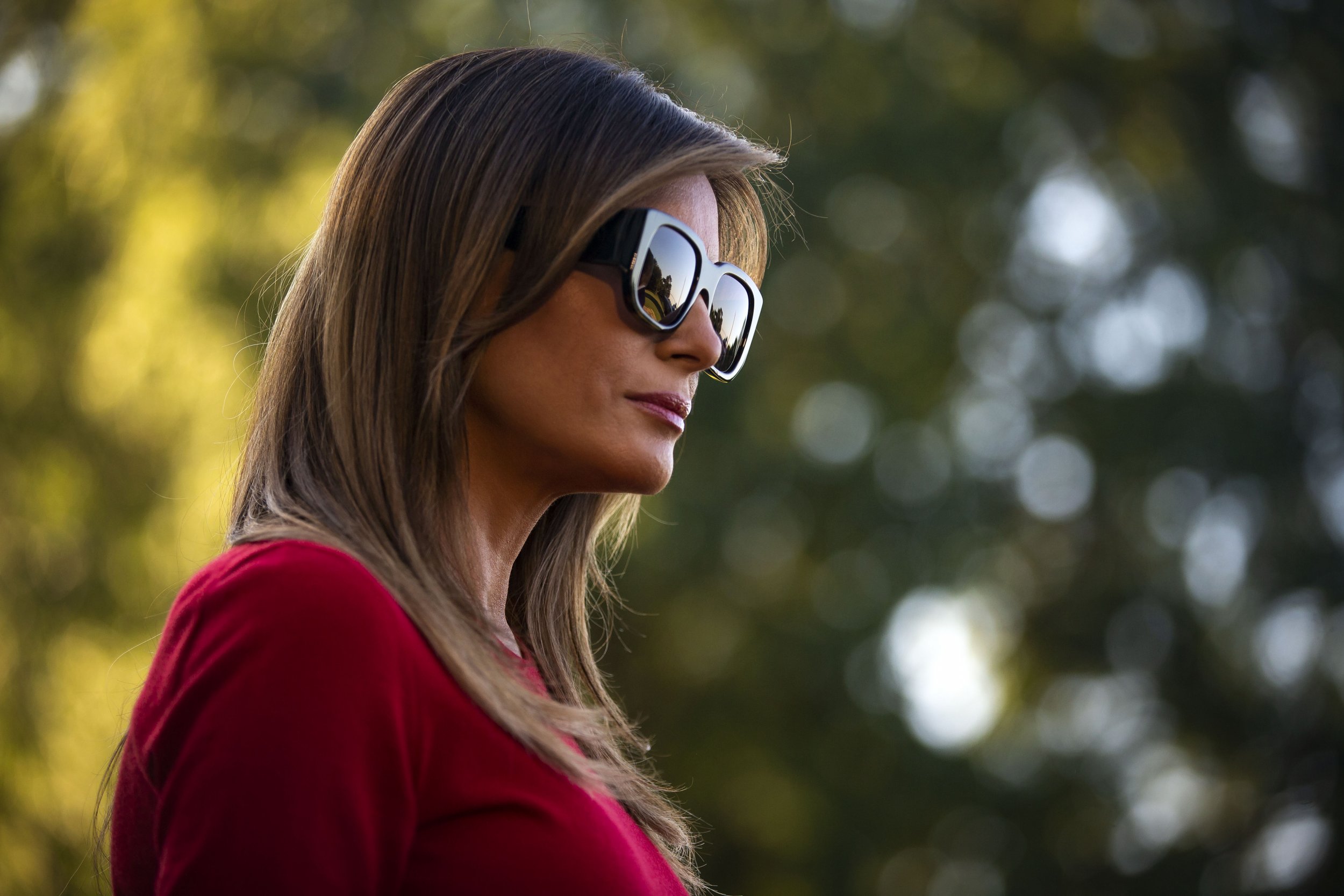 Impersonators of first lady Melania Trump made a comeback on the Late Show with Stephen Colbert Friday night, following the latest reemergence of social media memes and conspiracy theories that Melania has a body double.
#FakeMelania trended again on social media last weekend after the first lady accompanied her husband, President Donald Trump, to a tornado-ravaged area of Alabama. Some social media users, and then hosts of ABC's The View, claimed the woman seen with the president seemed to have a different face shape and looked shorter than the third Mrs. Trump.
Late Show host Stephen Colbert said the body double rumors were "nothing more than wild conspiracy theory," and that his show had a "source" that could end it — none other than its own fake Melanias.
First, Colbert's go-to Melania Trump impersonator, actress Laura Bennati, appeared on the show dressed like the first lady.
"Yes, it makes no sense. How can there be two Melania Trumps?" Benanti, as Melania, asked. "Think about it! Doesn't it seem crazy that there is even one?"
Colbert acted skeptical that Benanti was the first lady and said, "Say something Melania Trump would say."
"Be Best?" Bennati said, and shrugged, mocking the first lady's initiative aimed at helping children fight cyberbullying and other challenges they face.
Benanti, as Melania Trump, then said that if she were to use a body double it would not be for the purpose of appearing in public.
"If I were going to use a double, it would be in private when Donald knocks on my bedroom door," Benanti said, drawing laughs from the audience.
When Colbert asked for a comment on the president's opposition to chain migration — the practice of recent immigrants using their new citizenship to bring additional relatives to the U.S., and the process the first lady used to help her Slovenian parents obtain U.S. citizenship — Benanti mocked "Be Best" and imitated a common Trump family reaction of dodging questions.
"No more questions, Stephen, this is bullying," Benanti said. "Bye bye!"
Then another actress, Christine Baranski, appeared on the show impersonating Melania Trump.
Baranski as Melania Trump bashed the media for focusing "on my appearance instead of all the important work that I do."
She then mocked the first lady's love for the president.
"Yes, of course I'm married to Donald Trump and we are in lo-, in lo-, I can't do this," Baranski said and walked off.
Then a third Melania Trump impersonator emerged, dressed like the first two but the least believable, comedian Brian Stack.
"Oh yeah, I love Donald Trump," Stack said.
Colbert said, "You're definitely an imposter," and the extended joke ended with all three impersonators appearing at the same time.
The recent resurrection of the body double conspiracy theory caught the attention of the president, who blamed the media for it on Twitter Wednesday.
"The Fake News photoshopped pictures of Melania, then propelled conspiracy theories that it's actually not her by my side in Alabama and other places," the president tweeted. "They are only getting more deranged with time!"
Rumors first ciruclated that Melania Trump may have a body double in October 2017 when social media users claimed that the woman wearing black sunglasses alongside the president at a press conference on Puerto Rico hurricane relief had a different shaped nose.