Watch: Melania Trump Shoved by a Baby Elephant in Kenya During First Lady's Africa Trip
First lady Melania Trump got friendly with some baby elephants in Kenya on Friday—and one of the youngsters responded by giving her a shove.
The episode occurred when the first lady stepped forward toward a baby elephant at the David Sheldrick Wildlife Trust elephant orphanage. An elephant behind it appeared to nudge and cause the elephant closest to Trump to run toward her and push her backward.
Two people who appeared to be Secret Service agents quickly put their hands on Trump for support. The first lady did not appear to have been injured, smiled and stood back.
The shove did not deter Trump from approaching the baby elephants again. She stroked one's head and smiled as she spoke some words that were inaudible on videos.
Prior to the shove, Trump held a big bottle of formula for a baby elephant to drink. It gulped all the liquid down.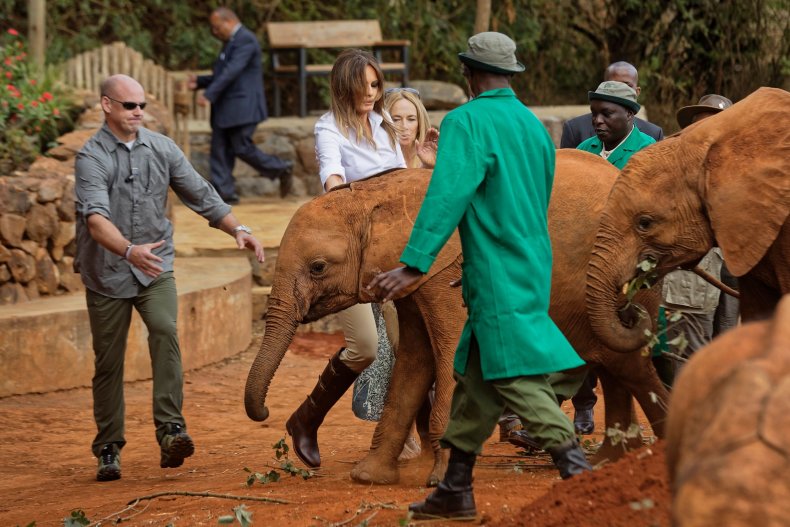 Trump's caring gestures for the elephants are in sharp contrast to the actions of her stepson Donald Trump Jr. The first son, an avid hunter, was heavily criticized when photos of a 2011 hunting trip he went on with his brother re-emerged during Donald Trump's 2016 presidential campaign.
In one photo, Trump Jr. holds the tail of an elephant he killed in one hand, and a knife in the other. The dead elephant lies at his feet. The Trump sons also killed a leopard and a buffalo on that safari.
On her safari Friday, Melania Trump simply took pictures with her phone. She chose Africa as her first major trip abroad without her husband, and over her five-day tour is promoting conservation, tourism, education, health care and her "Be Best" initiative for children's well-being.
But Charisma Troiano, a spokeswoman for the watchdog group Democracy Forward, told Newsweek on Friday that the first lady's visit to the wildlife conservatory in Kenya, which has long banned commercial hunting, "doesn't make up for President Trump's efforts to expand trophy hunting through an illegal International Wildlife Conservation Council." Democracy Forward is among groups that sued the Trump administration earlier this year alleging that the council is stacked with people with financial or personal interests in killing or importing endangered animals from overseas.
The first lady's decision to visit Africa, which the president reportedly referred to as "shithole countries" in an immigration meeting with lawmakers in January, has been interpreted by the media and public as an effort to repair some of the diplomatic damage.
Melania Trump has already traveled to Ghana and Malawi, and still has Egypt on her schedule. In Ghana, she visited a palace hall named after her husband's predecessor Barack Obama and said it was "very emotional" to walk through a former slave trading post.
"I will never forget [the] incredible experience and the stories I heard," she said on Wednesday. "The dungeons that I saw, it's really something that people should see and experience."