Video: Melbourne Terror Attack Suspect Sets Car on Fire, Attacks Police, Gets Shot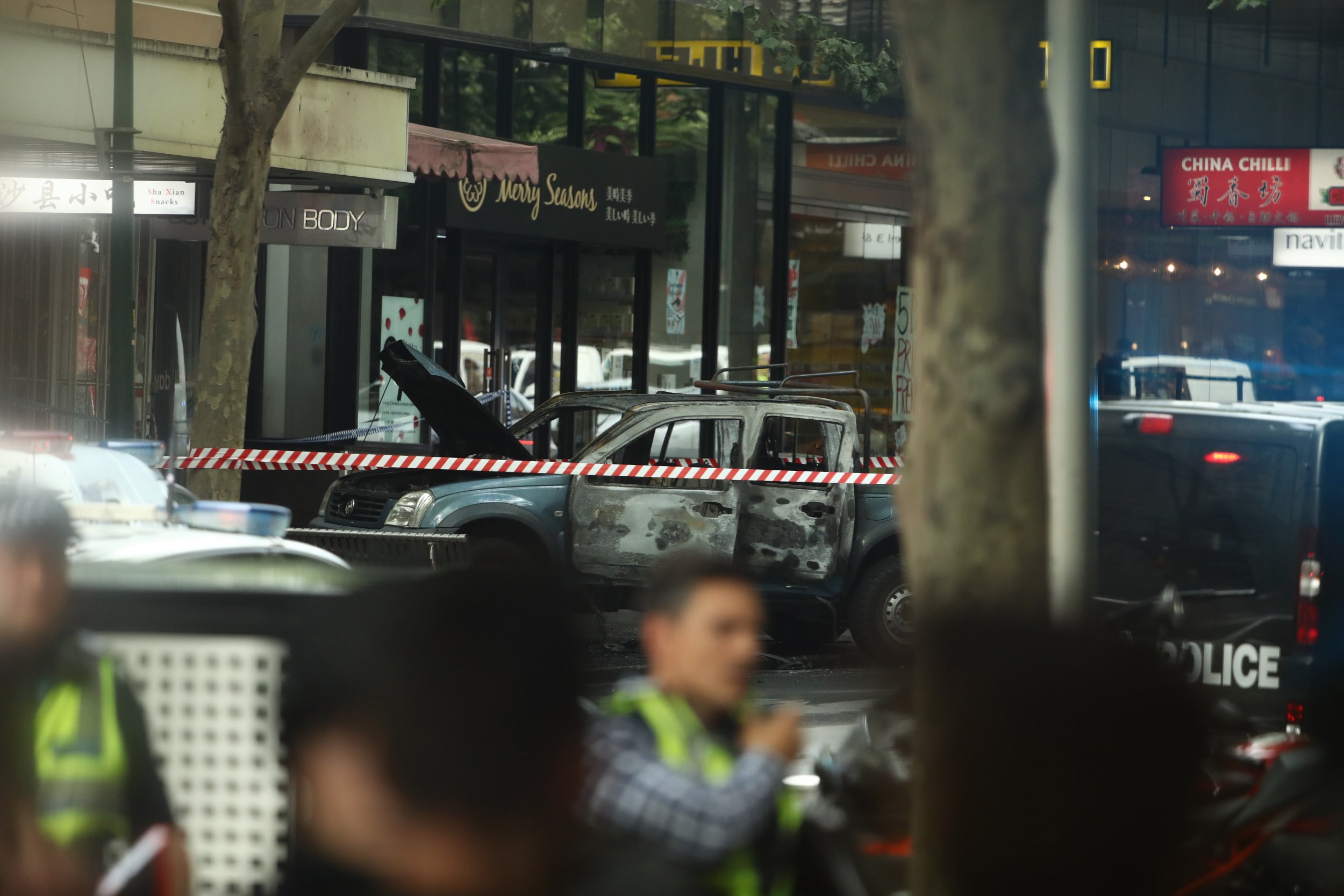 A man has been shot by Australian police after launching a knife attack in downtown Melbourne, killing at least one person and injuring two others.
Witnesses reported hearing a loud explosion as a car burst into flames in the city's business district around 4:20 p.m. local time on Friday, The Guardian reported.
Police were called to the scene where they were confronted by a man wielding a knife who attempted to stab them multiple times. One officer eventually shot the man in the chest, wounding him. The attacker died in the hospital around half an hour after arriving. The car he was driving had "barbecue-style gas cylinders" inside, police said.
Superintendent David Clayton said the man had been taken to hospital "in a critical condition" and had been put under guard. He said that three people had been stabbed. "Unfortunately one is deceased at the scene, two other victims are currently in hospital," Clayton explained. Police said they were not looking for any other suspects in relation to the attack.
Footage posted to social media showed the attacker standing in the street holding a knife as a car was consumed by flames nearby. The unidentified man was also filmed lunging at police officers repeatedly before falling backwards after what sounded like a gunshot. One officer has his gun drawn at the time.
Witness Aaksh Verma said the man attacked officers as soon as they arrived at the scene. With the door of the police car open, the man began to stab at one officer before his colleague forced the attacker to back off.
Both officers reportedly used pepper spray and stun guns but neither method managed to subdue the man. "The person didn't look like he wanted to run away, he wanted to stay and fight," Verma said.
Bystanders attempted to assist police while they waited for backup, one trying to hit the man with a shopping cart and another with a chair.
Clayton initially said police were keeping "an open mind" as to the motive behind the attack, but authorities later confirmed it was terror-related and that the man was known to Australian security services, Sky News reported.
The perpetrator had a minor criminal history of drug, theft and driving offences, and was a resident of Melbourne's northwestern suburbs. He came to Australia from Somalia in the 1990s, The Guardian reported.
The attack took place at a busy intersection in the center of the city. The site is within a busy shopping mall, and hundreds of curious tourists and onlookers gathered around the police cordon. The buildings close to the attack site were locked down to protect those inside.
The premier of Victoria state, Daniel Andrews, said residents should avoid the area. "Details are still unclear—but please avoid the area and always follow the instructions of emergency services personnel," he tweeted.