Thursday, February 20th, 2020, following his stint in rehab, Metallica frontman, James Hetfield, returned for an acoustic rendition of "Baby Hold On" at a tribute concert for the late singer, Eddie Money. Hetfield marked his first live solo performance since the cancellation of Metallica's WorldWired tour in September 2019.
During a benefit concert for the late "Two Tickets to Paradise" singer, musicians such as Sammy Hagar, George Thorogood, and Rick Springfield performed at The Saban Theatre in Beverly Hills, California. According to Rolling Stone, Hetfield surprised attendees with his unscheduled performance.
Before performing "Baby Hold On" on his acoustic guitar, Hetfield reminisced, "I got to hang out with Eddie for probably three years of his life. I saw the cleaned-up version of Eddie. I remember meeting him at a Raiders game. He was about to go on. I didn't have the balls to sing. I played guitar. He would go up there and sing the National Anthem."
The Metallica singer described his first experience meeting the real Edward Joseph Mahoney, "So it was like two big dogs going in a circle around each other, which was kind of funny. I saw through it. I saw through that ego, and he saw through mine, and we got to be friends. Because I think our egos matched the size of our insecurities."
On September 27th, 2019, Hetfield announced he would be returning to rehab, canceling Metallica's tour of Australia and New Zealand. Fellow Metallica bandmates Lars Ulrich, Kirk Hammett, and Robert Trujillo released a statement on their official website, "We fully intend to make our way to your part of the world as soon as health and schedule permit. We'll let you know as soon as we can. Once again, we are devastated that we have inconvenienced so many of you, especially our most loyal fans who often travel great distances to experience our shows."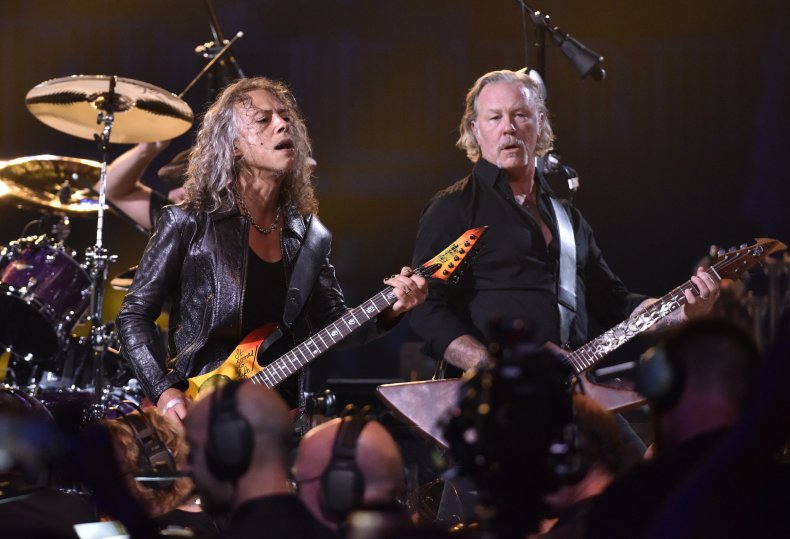 While promoting Metallica's tenth album, Hardwired...to Self-Destruct, Hetfield told Newsweek about the rigors of touring, "As we get older, there is other things going on. Back then, there was touring, but it was not as intense as it became post-Black Album. Being on tour for three years didn't happen back then, so we were basically going back into the studio. And also no families to raise or to be around, wanting to be there for your kids and watch them grow."
The money raised from tribute concert went to benefit MusiCares and the USC Eddie Money Cancer Research Fund. Hetfield is expected to rejoin Metallica later in 2020.