At SXSW Keynote, Michelle Obama Launches Next Phase of Let Girls Learn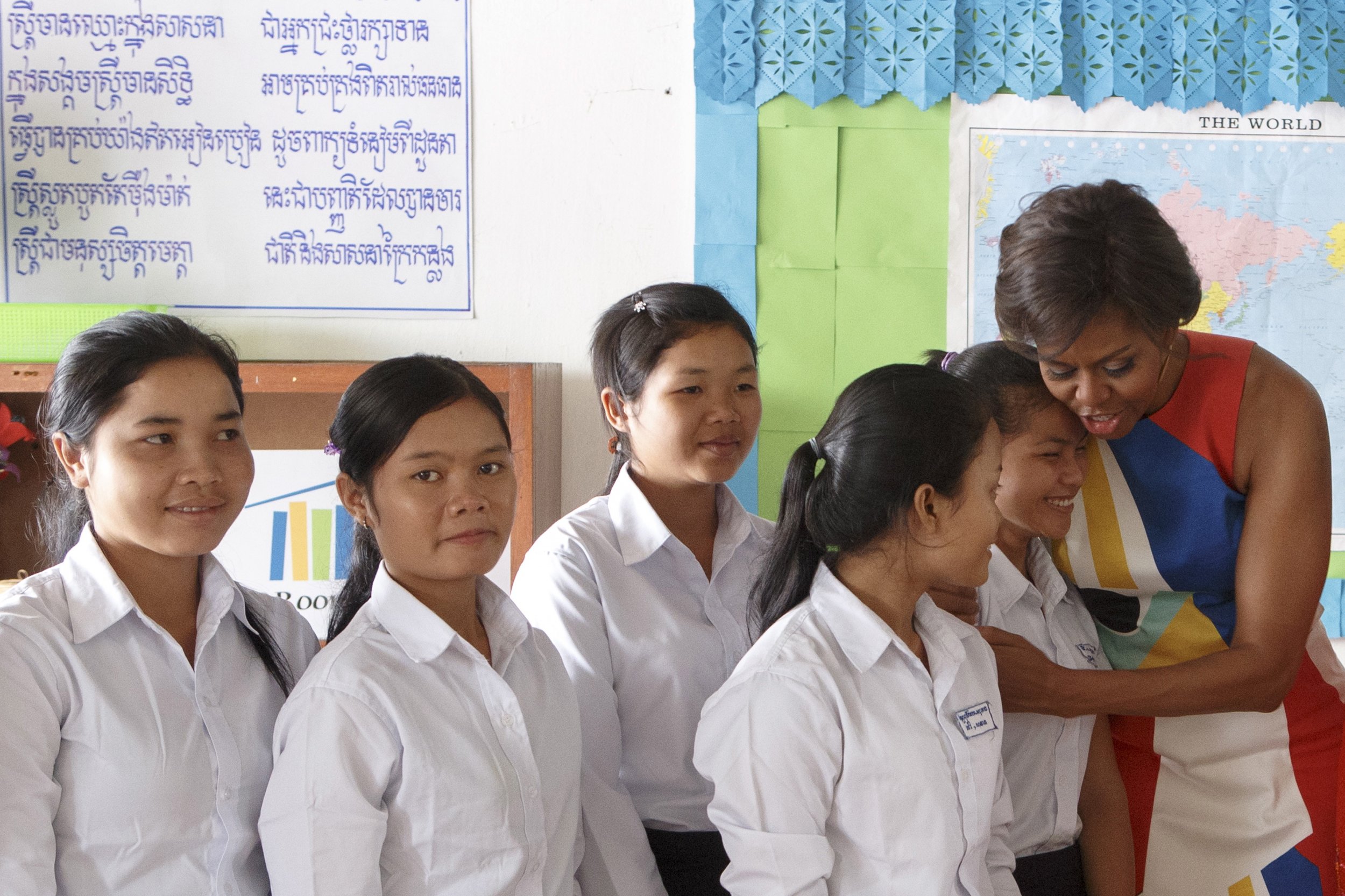 First lady Michelle Obama wants to make sure girls around the world have the opportunity to go to school throughout their adolescence and "become who and what they are meant to be." With these goals in mind, she and President Barack Obama put their efforts behind the Let Girls Learn initiative last March.
A year later, the first lady is poised to launch the next phase of the education campaign Wednesday, during her keynote address at the South by Southwest Music festival. In this phase, she is "calling on people not just to care about this issue but to do something about it," she wrote in a Lenny Letter essay published Wednesday morning, just a few hours before her SXSW appearance.
In the essay, titled "Michelle Obama: Why Global Girls' Education Is So Personal for Me," she ticks off some of the obstacles often cited as preventing girls from attending school, including schools far from home, high fees, and inadequate bathrooms that force girls to stay home while on their periods.
But "the fundamental point," the first lady writes, is "that this issue isn't just about access to resources like scholarships, transportation, and school bathrooms. It's also very much about attitudes and beliefs: the belief that girls should be valued for their bodies, not their minds; the belief that girls simply aren't worthy of an education, and their best chance in life is to be married off when they're barely even teenagers and start having children of their own."
Having traveled around the world, she writes, "I see myself in these girls—in their ambition and their determination to rise above their circumstances. And I believe that because you're Lenny Letter readers—women who are talented, passionate, and ambitious—you'd see yourselves in these girls too," she adds. "We wouldn't dream of accepting this fate for ourselves—or for our friends, sisters, or daughters. So why would we accept it for any girl on this planet?"
Building on the awareness the campaign has already raised—through efforts like the hashtag #62milliongirls, which reflects the number of school-age girls around the globe who are not attending classes—Michelle Obama will kick off the next phase at SXSW. She says this second phase of the campaign is the "action phase"; in her letter, the first lady urges people to visit 62milliongirls.com and "and pledge to take action to help girls worldwide go to school." The website suggests many ways to help, such as organizing a fun run, hosting a battle of the bands, leading a trivia competition or having a bake sale or car wash.
The SXSW event will feature the first lady, Missy Elliott, Diane Warren and Sophia Bush, in a conversation moderated by Queen Latifah.
The campaign will also release an "anthem" Wednesday. "This Is for My Girls" was written by Diane Warren and features Chloe x Halle, Jadagrace, Janelle Monáe, Kelly Clarkson, Kelly Rowland, Lea Michele, Missy Elliott and Zendaya. Chloe x Halle will perform the new song at the SXSW session Wednesday. Proceeds from iTunes downloads in the U.S. will support the Peace Corps Let Girls Learn Fund.
Watch the SXSW session live at 11:30 a.m. ET here: