Watch: Missouri Police Officers Search Pancreatic Cancer Patient's Bags for Marijuana in Hospital
While at a Missouri hospital, a man with stage 4 pancreatic cancer was visited by multiple officers who reportedly searched his possessions for marijuana.
Nolan Sousley posted a video of the encounter on Facebook on March 6. It began with officers, whom Sousley later identified as being from the Bolivar, Missouri, police department, in his room at a hospital in Bolivar. While one officer looked through multiple bags and what appeared to be a jacket, another officer stood to the side and explained the situation.
"If we find marijuana we'll give you a citation, we're not taking you down to the county jail," said the officer.
The officer said that the department had received a call from someone who said they smelled weed coming from Sousley's room. Sousley said that was impossible since he never smokes or uses ground-up plants. He said he used capsules with THC oil instead.
"It's the only choice I got to live, man," Sousley told the officers. "We're Americans. I was born here, it's my right to live."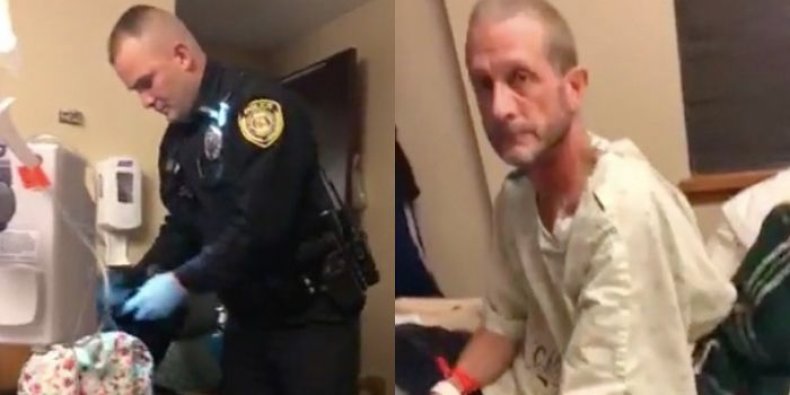 A doctor entered the room, and after filling her in on the situation, an officer said Sousley had a bag they hadn't yet searched. Sousley argued that he'd already shown the officer the plastic bag containing the THC capsules, but the officer requested to search the entire bag. Sousley said the bag was filled with medications and would not allow the officers to "dig through that."
"It has my final-day things in there, and nobody's gonna dig in it," Sousley said. "It's my stuff."
In the end, he allowed one officer to look through the bag, and the officers didn't find any marijuana. Newsweek reached out to Sousley, who declined to comment until he could speak with an attorney. Newsweek also reached out to the Bolivar Police Department but did not receive a response in time for publication.
Citing the Health Insurance Portability and Accountability Act, Citizens Memorial Hospital told Newsweek it could not comment on any specific treatment or situation. However, the hospital said it was against its policy to spoke or vape on the campus.
"It is also our policy to call appropriate law enforcement any time hospital personnel see or reasonably suspect illegal drug use in patient rooms or otherwise on campus," the hospital said.
Missouri voters approved Amendment 2 in November, which permits state-licensed physicians to recommend marijuana for medical purposes to patients. Although the amendment passed, as of March 8 Missourians could not legally possess medical marijuana, and the Missouri Health & Senior Services Department said it wouldn't be available for purchase until at least January 2020.
During his conversation with the police officers, Sousley mentioned the approved amendment, to which the officer replied that medical marijuana wasn't legal yet.
"I don't have time to wait for that," Sousley said. "Tell me what you'd do."
Sousley was admitted to the hospital in May 2018 for jaundice and a blockage, according to his Facebook page. A week later, an oncologist told him he had pancreatic cancer.
On Wednesday morning, Amber Hedrick-Kidwell posted on Facebook that she'd brought Sousley to the hospital because he was experiencing fevers, chills and sweats "to the point of drenching his bed." She explained they needed to find out what was causing the fevers and asked for everyone to keep him in their thoughts and prayers.