Watch the Moment Fans Realized 'Borat 2' Was Being Filmed in Front of Them
TikTok user, @alexandheir, recently caught a brief moment of what they believed to be the upcoming Borat 2 being filmed in Long Beach, California. Sacha Baron Cohen and his satirical characters have been popping up lately and getting caught on video.

In the short video, Borat's iconic black mustache and ill-fitting gray suit are spotted inside a moving vehicle. We're not sure, though, if that was actually Cohen himself or a stunt driver behind the wheel of a pick-up truck. Due to the pandemic, the film crew is wearing face masks during production.
About two months ago, Cohen appeared in disguise at a Washington State Three Percenters event in Olympia. The Golden Globe winning actor was dressed in overalls and wearing a beard at the right-wing rally. During a controversial sing-a-long, Cohen caused quite a stir with the crowd as he sang, "Nuke 'em up like we used to do."
On their Facebook page, the Washington State Three Percenters were not fond of the "juvenile prank Cohen had orchestrated." The militia group accused the Warren G Hardings Band and Cohen for attempting to tarnish "the image of our attendees."
"We were informed that Hardings and Cohen had gotten on stage, sang racist lyrics and made multiple hateful remarks. Then escaped in a private ambulance when security and attendee's attempted to stop their hateful rhetoric," stated the conservative organization.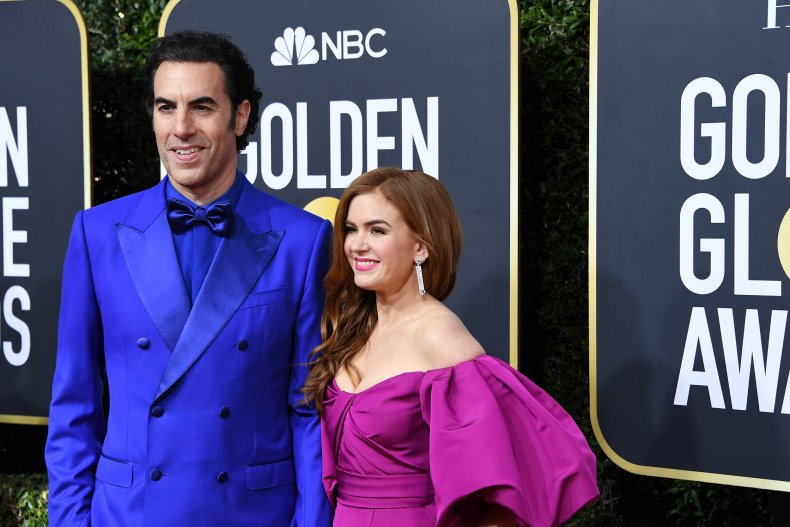 About eight years ago, Cohen doubted he would reprise the role of the Kazakh journalist in an interview with Deadline. Due to Borat's popularity, there are challenges to pulling off stunts when the character is instantly recognizable. This is possibly one of the reasons why audiences have waited 14-years for a sequel.
"I mean there probably are places but the reality is you want to have — when you make a movie like that, you want to make sure that the people you're interviewing are deserving targets," Cohen said.
"So, you don't just want to interview some doorman at a hotel; you want to interview the incredibly wealthy guests at the penthouse, high-ranking politicians or people who are threatening. The problem is it is definitely challenging, especially now with Twitter and Facebook. It's very, very hard to get away with," he added.
About 13 years ago, 21st Century Fox's Chief Executive Rupert Murdoch confirmed that the mockumentary was getting a second installment. He did not mention when the studio planned to start production or release the movie.
"He's signed up to do a sequel for us," Murdoch told Reuters.
Newsweek reached out to a representative of Sacha Baron Cohen but did not hear back before publication.