Watch the Moment the RNC Censured Liz Cheney, Adam Kinzinger in Voice Vote
Republicans Liz Cheney and Adam Kinzinger have been formally censured by their own party.
The Republican National Committee (RNC) approved the censure resolution on Friday in a voice vote, as part of a package with four other unrelated measures. Committee chairwoman Ronna McDaniel said it's the "first time" she's aware that the Republican Party has censured sitting members of Congress.
The rebuke came in part because of the representatives' participation in the House's select committee investigating the January 6 attack at the U.S. Capitol.
The vote was captured on video and shared on Twitter by NBC News reporter Allan Smith. Smith said the 168-member body contained an "overwhelming" number of yes votes and only a "small handful of nos."
"The Conference must not be sabotaged by Representatives Liz Cheney and Adam Kinzinger, who have demonstrated, with actions and words, that they support Democrat efforts to destroy President Trump more than they support winning back a Republican majority in 2022," the censure resolution said.
Cheney and Kinzinger are the only two Republicans on the House panel, and have been outspoken critics of former President Donald Trump. The censure means that the RNC will immediately stop supporting them as members of the GOP caucus.
Cheney is running for re-election in November and faces Trump-backed candidate Harriet Hageman in a primary challenge. Kinzinger will retire at the end of his term but has vowed a '"broader fight nationwide" against Trumpism.
Ahead of the RNC's vote on the censure resolution, Cheney accused GOP leaders of making themselves "hostages" to Trump.
"I'm a constitutional conservative and I do not recognize those in my party who have abandoned the Constitution to embrace Donald Trump," the Wyoming Republican said in a statement. "History will be their judge. I will never stop fighting for our constitutional republic. No matter what."
"Rather than focus their efforts on how to help the American people, my fellow Republicans have chosen to censure two lifelong members of their party for simply upholding their oaths of office," Kinzinger said in his own statement in advance of the censure vote. "They've allowed conspiracies and toxic tribalism hinder their ability to see clear-eyed."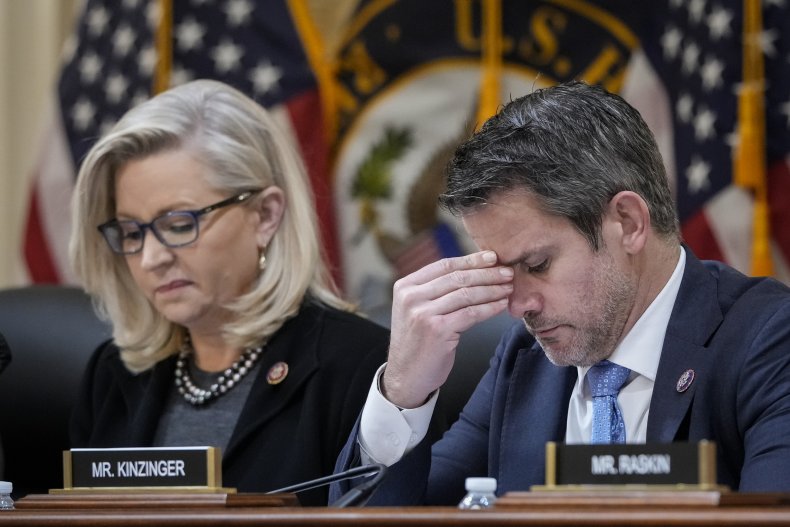 Some Republicans had pushed back on the censure resolution. Former RNC political director Mike DuHaime said the committee was "insane" if it followed through on the resolution.
"The party that long valued individuality and differences of opinion now demands fealty to the election results lie. And it stupidly keeps the focus Trump instead of Biden," DuHaime wrote on Twitter.
Utah Senator Mitt Romney also tweeted just before the vote that "shame falls on a party that would censure persons of conscience, who seek truth in the face of vitriol. Honor attaches to Liz Cheney and Adam Kinzinger for seeking truth even when doing so comes at great personal cost."
Update 02/04/24, 2:00 p.m. ET: This story was updated with more information and background.