Watch: New Ellen-George W. Bush Video Highlights Hurricane Katrina Evacuees
One week after Rafael Shimunov released a video of Ellen DeGeneres explaining her friendly relationship former President George W. Bush, with a backdrop of rotating images from the Iraq War, he has released another video. Shimunov on Monday evening released a similar video, this time with evacuees from Hurricane Katrina in the background.
Shimunov, in a brief interview Monday with Newsweek, said he was moved to make the video last week after he saw the liberal DeGeneres "lie to her audience" when she said she believes in staying friends with people regardless of their difference in opinion.
On her Tuesday show last week, DeGeneres stood before a blue screen in the backdrop explaining her time with the former president at a Dallas Cowboys football game while saying, "I'm friends with a lot of people who don't share the same beliefs that I have. We're all different, and I think we've forgotten that that's OK, that we're all different."
Shimunov listed groups affected by the Bush presidency from 2001-09, and lingering effects of his administration well into 2018. He said her reasoning behind staying friends with Bush alienated many liberals who follow her.
"It was deeply dishonest to erase millions of Muslims, black Gulf Coast residents, LGBTQ and women targeted by him from Iraq before, and to being a major force in the appointment of Supreme Court Justice Kavanaugh today," said Shimunov, who will have an opinion piece published here on Newsweek Tuesday.
"When she reduced us to an unreasonable mob upset by the idea of a liberal and conservative being friends, she decided to erase his victims, and watching her do it in front of a blue screen that would be easy to edit, allowed me to unerase them."
Here's the video released on Twitter from Shimunov's personal page.
Here's a quick backstory: DeGeneres was spotted sitting next to Bush and chatting in a box suite at AT&T Stadium on October 6 for the Dallas Cowboys home game against the Green Bay Packers. Then there was the backlash on social media, with her followers questioning her reason for sitting next to the former president. Her explanation during her show last week left many people like Shimunov furious, so he took action.
He considered using many different images from the Bush presidency during last week's video, but decided to stick with photos from the war in Iraq. He said some of the images he came across were too gruesome to publish, and that was the first censoring of the video.
"My intention was always to include frames reflecting Bush's entire legacy, but I decided to focus on Iraq first because each group targeted by Bush deserves their own discussion," Shimunov said. "Visually, it is also much more powerful tell one story at a time."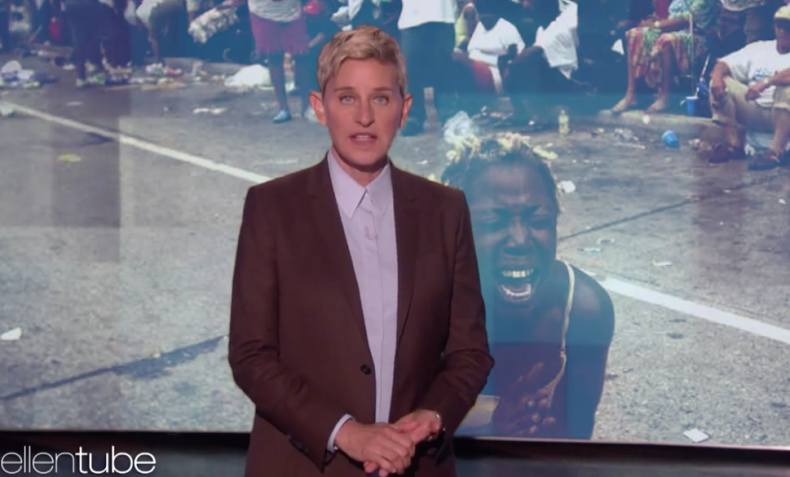 Then another censoring happened, this time on a corporate level.
Once the video began making its rounds on the internet, the DeGeneres team got the video removed from Twitter over copyright infringements. However, the video was copied and shared by multitudes of people who risked getting their own social media accounts shut down, no matter how big or small they were.
"I was most moved by Twitter users, even those with smaller followings, inspired by their own collective power to take a video with 10,000 views before it was censored, and turn it into one that has a now collective view of over 2 million across the web," Shimunov said.
Shimunov said he intends to tell stories surrounding the Bush presidency and black, Muslim and LGBTQ survivors.
"In doing so, we must not forget to tie those stories together because they are all targeted for the same reason," Shimunov said. "Each black, Muslim and LGBTQ victim and survivor has much more in common with each other than they do with most of our global leaders, even their own leaders."
Shimunov said he is currently working on promoting a petition to compel Vijaya Gadde, Twitter's Legal, Policy and Trust & Safety Lead to uncensor every single instance of the video he uploaded himself and other uses, and to also make a commitment with groups like Color of Change and Electronic Frontier Foundation to rework their copyright reporting system to no longer automatically favor the powerful without review.