Watch NHL Player Kevin Hayes Honor Late Brother Jimmy After Scoring First Goal of Season
Philadelphia Flyers player Kevin Hayes paid tribute to his late brother, Jimmy, on Tuesday night after scoring his first goal of the season.
Immediately after scoring during the second period of the Flyers game against the Calgary Flames, Hayes was seen pointing to the sky to honor his brother, former NHL star Jimmy, who died in August at the age of 31.
The Flyers went on to win the game in overtime and Hayes spoke to reporters after the game about his goal and the tribute to his late brother.
"I'm happy it happened sooner than later, honestly. It was a big goal," Hayes said. "The trainers got the puck for me. I'm gonna give it to Jimmy's son, Beau."
"It'll be one I remember forever," he added.
Hayes' teammate, Cam Atkinson, who played with Jimmy at Boston College, was also asked about the goal on Tuesday night and said, "I think everything happens for a reason. I was the first guy to hug him."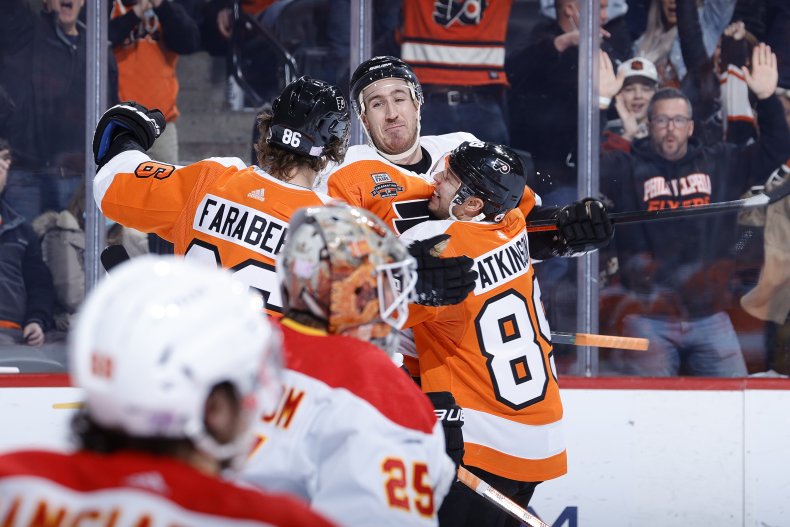 "It's a big goal, not only for our team, but for Kev, and like he said, I think we'll remember this for a long, long time," Atkinson said. "It was special."
Hayes, who previously missed the Flyers' first 12 games with an injury, made his debut with the team this past Saturday in a game against the Dallas Stars. Before the start of the game, Hayes said, "This is probably the first game of my NHL career where I won't be able to text my brother after the game and kind of talk about it and joke about it and chat with him," according to the Philadelphia Inquirer.
"I don't really know the emotions I'm going to have when I go out there, honestly," Hayes added.
Hayes recently announced the launch of "The 11 Fund" after the number his brother wore while in the NHL. "All funds raised by The 11 Fund will be utilized for tuition assistance and scholarships for Dorchester youth with demonstrated financial need," the fund's website says.
Hayes said he reached out to one player on every NHL team about donating to the fund, and received responses within an hour. Jimmy Hayes had played for the Chicago Blackhawks, Florida Panthers, Boston Bruins and the New Jersey Devils before retiring after the 2017-18 season.
"Just to see guys—some guys I don't even know—I had to text other guys to get their numbers, and having them respond and saying how good of an idea it was and without a doubt, we're in; anything else they can do?" Hayes said, according to the Philadelphia Inquirer. "Without a doubt, it's a cool league."