Watch North Korea's Latest Ballistic Missile Being Fired At Japan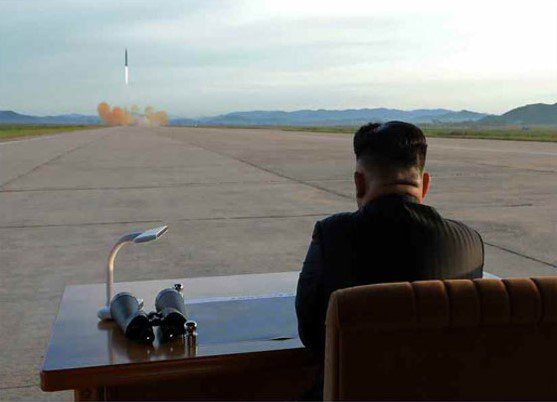 North Korea has released footage of what it claims was its latest ballistic missile test.
Video and images released by the state run North Korean Central News Agency (KCNA), show a Hwasong-12 intermediate range missile being fired. It is the same model as the missile that flew over Japan on Friday, as well as on August 29.
The photographs cannot be independently verified but Joseph Dempsey, a researcher in defence and military analysis at the International Institute for Strategic Studies, said that both missiles appeared to have been launched from the north runway of Sunan Airport, Pyongyang's international airport, which is 24km north of the city centre.
Friday's launch was North Korea's longest ever ballistic missile test flight. The missile travelled 2,300 miles and reached an altitude of 478 miles as it flew over Japan before crashing into the northern Pacific ocean.
It follows North Korea's sixth and largest ever nuclear test on September 3.
North Korean leader Kim Jong Un expressed satisfaction over the "combat efficiency and reliability" of the missile as demonstrated by the launch, according to KCNA, and said the tests showed that North Korea was increasing its military strength.
"Our final goal is to establish the equilibrium of real force with the U.S. and make the U.S. rulers dare not talk about military option for the DPRK (Democratic Peoples Republic of Korea)," Kim said.
South Korea responded within minutes of the launch by firing two ballistic missiles into the sea in a simulated strike on the North.
The test followed a new round of sanctions passed against North Korea by the UN Security Council Tuesday.
Following Friday's missile launch, Secretary of State Rex Tillerson said in a statement, "These continued provocations only deepen North Korea's diplomatic and economic isolation ... United Nations Security Council resolutions, including the most recent unanimous sanctions resolution, represent the floor, not the ceiling, of the actions we should take. We call on all nations to take new measures against the Kim regime."