Watch: NRA Blasted For Cozying 'Up To Putin' In Latest Video Trolling Gun Rights Group At Convention
One of the largest gun safety groups in the country released a new ad campaign that slams the National Rifle Association for alleged links to a Kremlin-backed lawyer. The series of advertisements, produced by Everytown For Gun Safety, include Russian text and allege that the massive pro-gun group has "cozied up" to Vladimir Putin's regime.
The ads will play for the duration of the NRA's annual convention this week in Dallas, which is expected to draw thousands of gun enthusiasts to the state—including President Donald Trump and Vice President Mike Pence.
In both English and Russian, the ads ask the NRA, "Why have you cozied up to Vladimir Putin's Kremlin?" and "How much money have you taken from Russia?" It includes digital spots and a more low-tech ad buy: giant billboards affixed to trucks are expected to spend a combined 50 hours circling the convention center.
"The drumbeat of alarming news about the NRA and Russia is only getting louder as the NRA prepares for its annual convention," Andrew Zucker, the federal media relations director for Everytown For Gun Safety, said in a statement to Newsweek. "It's time for the NRA to come clean—on Russian money and its ties to Russia—and this year's NRA convention is the perfect time to do it."
In a statement to Newsweek, a spokesperson for the gun rights group said it is used to protesters at the convention.
"While the protestors provide some entertainment for the nearly 90,000 NRA attendees, it's a non-event for our members who respect the protestors' First Amendment rights in spite of their contempt for our Constitutional rights," the spokesperson said.
The organization has faced mounting criticism in the wake of the February 14 mass shooting at a Parkland, Florida, high school.
Last month, it was also revealed that the gun group had accepted money from 23 Russia-linked donors, including Russian national Alexander Torshin, one of the 17 Russian officials the U.S. Treasury Department slapped with sanctions in early April. In January, McClatchy DC first reported that FBI officials were investigating whether Torshin, who is also a deputy head of Russia's central bank, had illegally funneled money to the NRA to boost Trump's odds during the 2016 election.
The NRA had previously said it had only one contribution from a Russian individual during an ABC interview.
Aside from drawing thousands of people, the NRA convention attracts vendors who sell controversial wares. Student activists and criminal justice reform advocates have already blasted the group for promoting a gun that is shaped like a cell phone, and the convention has also courted controversy for a gun product that features a racially-charged slur.
On Twitter, several students from Parkland blasted the convention and its notable attendees.
"Trump will attend the @NRA Convention this weekend, but didn't attend one funeral for the victims of the Marjory Stoneman Douglas High School massacre," read one retweet from Delaney Tarr.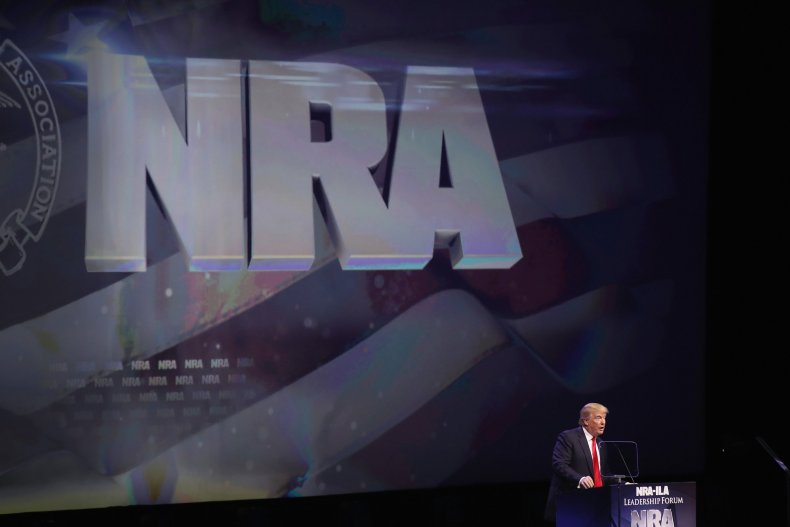 Watch: NRA Blasted For Cozying 'Up To Putin' In Latest Video Trolling Gun Rights Group At Convention | U.S.