Watch Omarosa's Full Interview with Stephen Colbert: Former Donald Trump Aide Says President's Decisions Made Her 'Very, Very Concerned,' Denies Firing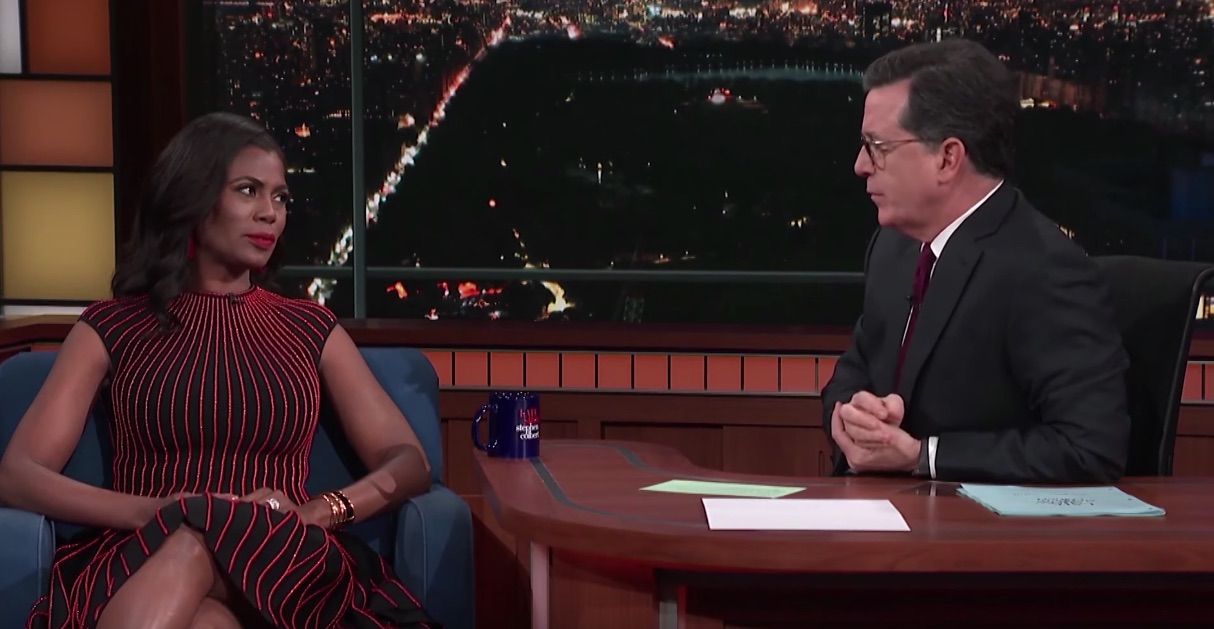 Omarosa Manigault-Newman has left the Celebrity Big Brother house and she is ready to unleash.
President Donald Trump's former advisor spilled all about her tumultuous 11 months in the White House on The Late Show with Stephen Colbert on Wednesday night. Omarosa, as she is mononymously known, admitted that Trump's presidency often caused her to be "very, very concerned" and denied that she was fired from her role as communications director for the Office of Public Liaison and escorted out of the White House.
Host Stephen Colbert grilled the former aide about her infamous comments in the Big Brother house that America would not "be OK" under Trump. In a conversation with comedian Ross Mathews, Omarosa said: "It's not going to be OK, it's not. It's so bad."
Omarosa said that her comments were part of a broader conversation about Trump's immigration policies, particularly in relation to the repeal of the Deferred Action for Childhood Arrivals (DACA) act. "We were talking about immigration and roundups … Ross was expressing his concern. It was part of a bigger discussion," Omarosa explained.
"I was a bit emotional, because what's happening with Haitians, El Salvador, what's happening with a lot of the immigrants who are being put out of this country without being given consideration that this nation is a nation of immigrants," she said.
Colbert pressed her again, "Is everything going to be OK under Donald Trump?"
To that, Omarosa said, "We'll have to wait and see"—a response Colbert deemed "not a message of hope." Omarosa then laughed.
On Twitter Wednesday night, Omarosa's Big Brother co-star Ross Mathews denied that Omarosa made her "not OK" comments specifically about Trump's immigration policies.
He said: "No shade, but Omarosa is mistaken. This convo was not about the Dreamers (we discussed that at another time). This convo was about President Trump. When asked, she said we would not be okay. Simple as that."
Omarosa touched on her departure from the White House and called reports that she was fired by chief of staff John Kelly, or escorted out of the White House by security personnel, "hype, hyperbole" and "drama."
"I love the dramatic … the way they describe this White House sounds reality TV-ish," she said. "There were reports that there was a Christmas party with 600 people, alarms going off, my bridesmaids came. It was less sexy than that."
Omarosa said she had agreed with Kelly that she would leave in January. "We were restructuring the Office of Public Liaison and that seemed like a good time for me to leave," she said. "I committed to doing one year. And I think one year in the Trump White House was more than enough for me."
Talk then turned to the resignation of Trump's communications director Hope Hicks, news of which broke Wednesday night as Omarosa joined Colbert on his late-night talk show. Colbert brought up Hicks' House Intelligence Committee hearing a day earlier, in which she admitted part of her role included telling "white lies" for the president.
Omarosa speculated that "crowd size" might have been one of the things Hicks had to lie about, referring to the Trump administration's infamous boast that he had the highest attended inauguration in history.
"I got to attend the inauguration of Bill Clinton, [George W.] Bush, [Barack] Obama. When we got to the Trump inauguration and they said this is the largest crowd size, I was like, man, I've been to a lot of inaugurations...this wasn't the biggest crowd size. I didn't want to be the one to break it to him," Omarosa said.
Omarosa saved her most scathing criticism of Trump for the end of the interview when Colbert asked her about things she thinks Trump shouldn't have done. Colbert proceeded to read off a laundry list of slights that included: "Grab 'em by the pussy," Trump's response to Charlottesville, defending Roy Moore, likening Mexicans to rapists, fighting with a Gold Star family, attacking John McCain for being a prisoner of war, picking a fight with John Lewis, throwing paper towels at hurricane victims in Puerto Ricans, the Muslim ban and attacking U.S. federal judge [Gonzalo P.] Curiel for being Mexican.
"Awful, awful, unacceptable, unacceptable, awful, awful, awful, awful, unacceptable, unequivocally unacceptable, awful," Omarosa responded.