Watch Out Melania Trump, Someone Else is Fighting Cyberbullying: Monica Lewinsky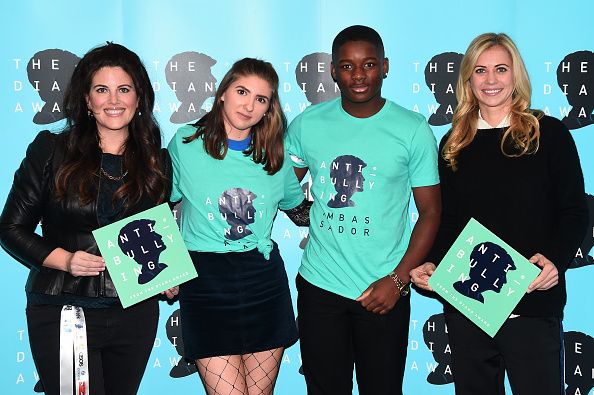 Monica Lewinsky knows firsthand what it's like to be the target of very public judging and shaming. In 1998, she was thrust into the spotlight as the center of a sex scandal involving then-president Bill Clinton. And in those early days of the Internet, Lewinsky was the target of a new kind of intimidation: cyberbullying. Nearly 20 years later, she has drawn on her experiences to help combat the type of harrassment she faced.
"At the time, there was no one who had gone through some kind of an online scandal in the same way, losing a digital reputation overnight. So there was no handbook," she told the British television station ITV in an interview published on Tuesday. "It's not like at school or if I made a gaffe at a dinner party where it's a contained audience. When it happens online it literally feels like the whole world is laughing at you."
In the interview, Lewinsky described the gap between the countless times people said terrible, cruel things to or about her online versus the number of people who confronted her face to face. That experience has fed into the #ClickWithCompassion campaign, an anti-bullying project she's working on with other groups. Earlier this month, they launched the PSA video "In Real Life."
The goal behing the project is to encourage people to "think before you click." Would you say what you're about to post online to someone's face? Are you clicking on stories that shame or harass others? The campaign also helps people understand how they can use your click "to support the target of bullying behavior," Lewinsky said.
Lewinsky isn't the only one who's made cyberbullying her issue of choice. First Lady Melania Trump decided to focus on online harassment during her time in the White House. It's an issue she addressed even before entering the White House, drawing on her experiences working in fashion where there "are ups and downs, high highs, and ridicule, and rejection too."
"Technology has changed our universe. But like anything that is powerful, it can have a bad side," she said in a campaign speech a few days before the 2016 election. "It is never OK when a 12 year old girl or boy is mocked, bullied or attacked. It is terrible when that happens on the playground. And it is absolutely unacceptable when it is done by someone with no name hiding on the Internet."
Trump has also implored adults to think about their actions so they can set good examples for kids. Yet while she has advocated for less cyberbullying, her husband, the President of the United States, routinely bullies opponents and critics on Twitter.
Lewinsky should get her #ClickWithCompassion PSA to air during Fox & Friends. Maybe then the Bully-in-Chief will start to hear the kind of anti-bullying message advocated by his wife.