'Watch Out': Woman Warns Against Opening Door for 'Strangers' in Video
A woman took to TikTok to caution people against opening their doors to strangers, recalling a recent experience she had when she met with a man who claimed he was there to inspect the fireplace.
TikTok user Alexis Hill posted the video to her account @alexishill_ where it was viewed nearly 5 million times and liked more than 500,000 times.
"Do not open the door for strangers, just don't do it," Hill said in the video. "No matter what they say, don't do it."
She explained that she was walking to her kitchen table when she noticed a car in her driveway and saw a man walk by the window. The two made eye contact when the man glanced through the window, and he soon knocked on the front door.
"I couldn't not answer the door since he did see me," she said.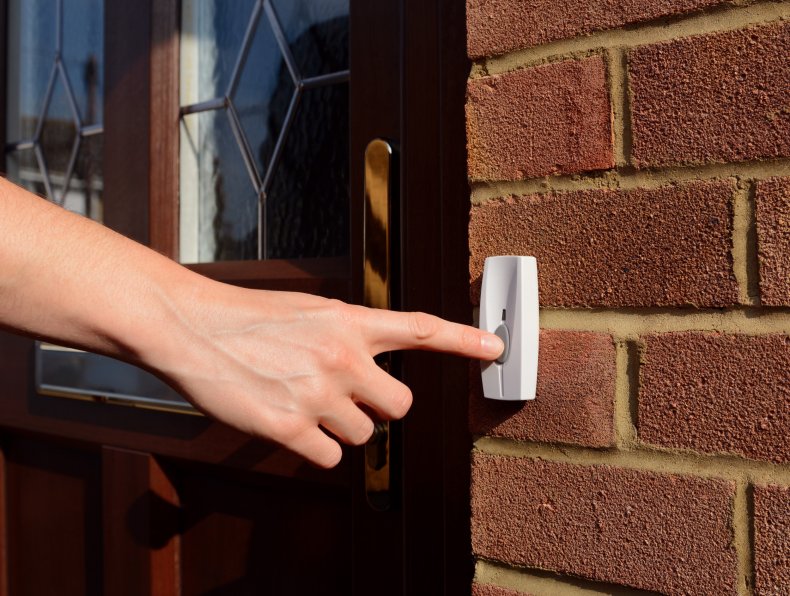 Hill said she opened the front door but spoke to the man through the closed glass storm door.
"When I opened the door, something told me to keep the storm door shut and not let him in unless I got approval from my landlord," Hill told Newsweek.
She said the man claimed he was at her house to conduct a "fireplace inspection." However, Hill said he looked past her, saw her fireplace and then told her what his visit to her house concerned.
"He didn't tell me his name, he didn't tell me the company he worked with and my landlords didn't tell me anyone was going to be coming," Hill said.
She explained to the man that she did not receive notice from her landlords that anyone would be coming to her house and gave them a call. When her landlord did not answer the phone, she told the man he would have to come back another day.
Though she said the man seemed to try to make her feel guilty for sending him away, she stood her ground. Hill also made note of what he was wearing and the car he drove, which was neither a company nor a municipal vehicle.
"I also noticed his badge is perfectly straightforward, he has a clipboard in his hand and everything was very propped and forced, it felt," she said.
When the man eventually left, Hill received a call from her landlord who told her she did not call for a fireplace inspection.
Just a few hours later, she noticed the same car slowly driving by her house.
"It's just bad vibes, so watch out," Hill concluded.
Hill told Newsweek she was shocked when she heard from her landlord.
"I expected her to call and say she made a mistake and forgot to inform me of his arrival," Hill said. "The man seemed like just your average Joe. I live in a small, quiet and safe town where many people don't expect crime."
A blog post published by Alert 360 outlined a number of ways residents can keep themselves and their homes safe.
Devices like home security cameras help residents see who is at their door without opening it. They should also request the person at the door to show an ID.
The piece assured residents that they should not feel obligated to open the door.
"Even if you don't open the door, it's a good idea to let the person know someone is home," the blog post stated. "Have a loud conversation with another family member that can be overheard. Ask the person to leave information at the door."
Hill indicated in the video caption that she called the police and they checked her community.
"I have cameras but he was wearing a mask the entire time," the caption stated.
She told Newsweek she installed a doorbell camera and is saving for a home security system. Hill said she is also looking into getting motion sensors installed.
Since contacting the police, there have been no updates on the man despite police conducting several neighborhood checks.
Many people commended Hill for her quick thinking.
"You did the right thing," viewer Cathy Pedrayes commented. "This kind of thing happens a lot."
Some said they rarely answer their front door when someone comes knocking.
"Please remember just cause someone sees you inside DOES NOT mean you have to answer the door," aleigha commented. "It's your home, you're not obligated."
"I won't even open the door for my doordash," viewer Cheyenne wrote.
Other viewers urged Hill to find ways to ensure she is safe and protected.
"Please, please get security cameras, [Ring], curtains or reflective film, a dog, anything and all the things," user91472150772 wrote.
Hill told Newsweek she's heard from another viewer who reached out after watching the video.
"Another woman in town found me on Instagram to share a similar experience she had two weeks ago," she said. "She decided to report her own experience to the police after finding my TikTok."
In addition to hearing from someone nearby, other women commented on her video to share similar stories, which Hill called "heart-wrenching" to read.
She said she hopes her video reaches more women and families to serve as a reminder to stay vigilant, no matter where they live.