Watch: Pit Bull Attacks Woman On NYC Subway
New York City Police are investigating after a video emerged recently showing a violent dog attack on the subway. In the footage, a pit bull could be seen attacking a female passenger after she and the dog owner started fighting.
The incident began on Friday around 3 p.m. when the dog owner entered the 4 train near Wall Street. Witness Tahysi Kyng, who recorded the incident, told WCBS-TV that the pet's owner sat his dog in a seat right next to the woman.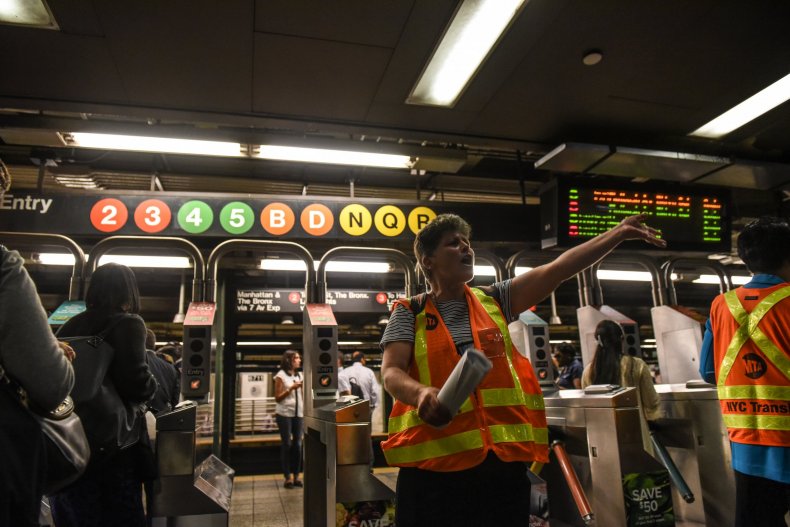 "She's like, 'The dog doesn't belong on the seat.' He's like, 'I'm not moving my dog,'" Kyng said.
Fellow passenger Denise Leon said the woman pushed the dog and asked "What is this dog doing on the chair?" The man then told the woman not to push his dog and when she pushed again, he swung at her.
Kyng said the woman and man began to fight with the man's pet dog in between them. "He's jumping on her, but she moves back. That's when he catches hold of her shoe and he was not letting it go," Leon said of the dog.
The woman could then be heard yelling, "Get him off of me!" The dog owner struggled to get the dog off the woman by pulling it by its collar. He later threw the woman's shoe back at her, WCBS-TV reported. "He never told the dog to let her go at all," Kyng noted.
Other passengers are seen keeping their distance, but one other male rider yells, "You're not telling the dog to release!"
"At the same time, you want to help her, but you don't want the dog to turn on you," Leon said.
Passengers said the train conductor had everyone exit the subway car at the next stop. Kyng said he was not able to ask the woman if she was okay, but said she was walking and did not appear to be bleeding.
Some passengers are questioning how the dog was allowed on the train in the first place. The MTA does not allow animals on the subway "unless enclosed in a container and carried in a manner which would not annoy other passengers." An MTA spokesperson told WPIX that video of the attack was "disturbing and a clear violation of our rules."
"The NYPD is aware of the video and the incident is under investigation," NYPD Detective Sophia Mason said in a statement to Newsweek.